15 years helping Canadian businesses
choose better software
What Is Rentman?
Resource management and planning software for the Audiovisual, Event & Party industries. Only pay for the products and add-ons you need. Manage your rentals and event productions in one place: schedule your crew and/or equipment, organize and track equipment with RFID, QR or barcodes and create and send quotes. All in one platform. Integrated CRM and tools for customer and employee communication. Rentman is also constantly updated with new features and improvements.
Who Uses Rentman?
AV & Event companies of all sizes in the following industries: AV & Event Production, Equipment Rental, Party Rental & Catering, Event Staffing, Media & Broadcasting.
Where can Rentman be deployed?
Cloud-based
On-premise
---
About the vendor
Rentman
Located in Utrecht, Netherlands
Founded in 2011
Rentman pricing
Starting Price:
US$39.00/month
Yes, has free trial
No free version
Rentman does not have a free version but does offer a free trial. Rentman paid version starts at US$39.00/month.
About the vendor
Rentman
Located in Utrecht, Netherlands
Founded in 2011
Rentman videos and images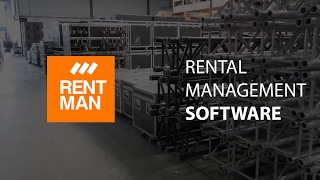 Features of Rentman
Activity Dashboard
Activity Tracking
Alerts/Notifications
Asset Lifecycle Management
Asset Tracking Software
Attendance Tracking Software
Audit Trail
Automated Scheduling
Availability Management
Barcode/Ticket Scanning
Barcoding/RFID
Billing & Invoicing
Budgeting/Forecasting
Calendar Management
Calendar Sync
Capacity Management
Check-in/Check-out
Client Management
Collaboration Tools
Contract/License Management
Cost Tracking
Customer Database
Customer Management
Depreciation Management
Digital Signature Software
Document Management Software
Employee Database
Employee Scheduling Software
Equipment Maintenance Software
Event Scheduling
Forecasting
Inspection Management
Inventory Management Software
Inventory Optimization Software
Inventory Tracking
Invoice Management
Labor Forecasting
Location Tracking
Maintenance Management Software
Maintenance Scheduling
Mobile Access
Multi-Location
Online Time Clock
Order Management Software
Product Identification
Project Management Software
Quotes/Estimates
Rate Management
Real Time Updates
Real-time Scheduling
Reminders
Rental Management
Reporting & Statistics
Reporting/Analytics
Reporting/Project Tracking
Reservations Management
Resource Scheduling
Scheduling Software
Search/Filter
Skills Tracking
Third Party Integrations
Time & Attendance
Utilization Reporting
Jonathan
Operations Manager in Canada
Verified LinkedIn User
Events Services, 2–10 Employees
Used the Software for: 1+ year
Reviewer Source
Easy to setup with great support.
Pros:
The integration of invoicing and inventory management is the best of the software we have used, and the customization of document templates allows us to provide our clients with professional documents with exactly the right amount of information.
Cons:
There are some features that need work on kit and case building but with that said the rentman team are continually listening to the end user and implementing requests.
Liam
Managing Director in New Zealand
Events Services, 2–10 Employees
Used the Software for: 1+ year
Reviewer Source
A great (nearly) all in one solution for the event industry. Better then the competition!
Comments: I used to use Current RMS, however, I moved to Rentman as it has a better system and backbone.
It makes more sense with the layouts and with time can become a powerful tool for the business.
I've had this for about 1-2 years and still learning new things, but as a small company, it's not been a quick setup. I do however love the support that Rentman offer and they are always listening and improving, which is why I 100% recommend Rentman. They are working on this product for us and the changes are always coming in. I love using Rentman and seeing the bugs corrected and fixed as it gets better and better.
Pros:
- Great customer support. Very quick and helpful. -Easy flowing steps for creating projects. Very powerful. -Can create nice documents....(just need alot of time). -Always moving forward company and listening to the users for the direction they will take.
Cons:
-Hard and slow learning curve. -The interface looks a little dated, needs a modern refresh. -Still has many bugs, from language bugs to just things that don't work as smoothly as I would hope. -CRM is lacking and needs a bit more work. -Would be great to see short "how to" videos of tips and tricks.
Alternatives Considered: Flex
Reasons for Choosing Rentman: Current RMS was just not very nice to setup projects, you always have to jump from page to page, where as Rentman you can work all within one page easy.
Switched From: Current RMS
Reasons for Switching to Rentman: The support is amazing. It's features are getting built and released very quickly. It's by far the most powerful out of the products and software I've looked at.
Alexander
Warehouse Coordinator in US
Events Services, 11–50 Employees
Used the Software for: 1+ year
Reviewer Source
Rentman Rules!
Comments: Great layout, easy to use, and keeps track of gear in a great manor.
Pros:
Being in the warehouse, I like to start my day by browsing the "projects" tab. I feel it is layed out nicely. I know right away which jobs are in the works, or have the greenlight for me to prep. It's a great tool for me to wrap my head around each job. I can easily go to projects, and open up a production breakdown for a job. Very helpful!
Cons:
I have to refresh a lot. The windows time out quickly.
Josephine
Accounting in Germany
Used the Software for: 6-12 months
Reviewer Source
confusing user interface
Pros:
Nice functions, online based, electronic signature at offers, easy to create invoices without project,
Cons:
settings are often not individual adjustable like First Day of Work in hours counter for new employes or national holidays. Its not possible to set a sabbatical for a employee in the hours counter Creating forms is very difficult. Finding Projects by name is very complicated
Rentman Response
6 years ago
Hey Josephine, thanks a lot for taking the time to review Rentman and your honest feedback. We are sorry to hear that some functions of Rentman are not clear to you yet. It would be great if you could let us know what parts of the interface are confusing for you as we just recently updated the whole interface to fit even better with the workflow of event and production rental companies. Our intention is to keep the options for staff administration understandable and easy-to-use for everyone. To ensure we offer an intuitive product for all users, we choose not to focus on workforce administration after time registration. Instead we aim to optimize Rentman so that it can be seamlessly used with dedicated staff administration software. Also, please remember that free support and training are included in every Rentman package. Give us a call when you need help setting up forms so that one of our support experts can guide you through it. Thanks again!
Sten
Sound engineer / CEO in Estonia
Events Services, 2–10 Employees
Used the Software for: 2+ years
Reviewer Source
Great rental management tool
Pros:
Good layout and workflow. Easy to use after initial set up.
Cons:
Poor rental management in app. Sometimes lagging.