15 years helping Canadian businesses
choose better software
What Is Atera?
Atera's all-in-one platform provides IT professionals with various integrated solutions that help them get access, visibility, and control over daily IT work. This includes Remote Monitoring & Management, Helpdesk, IT Automation, Ticketing, and Reporting – all under one roof. Our pay-per-tech model allows IT teams & MSPs to optimize and scale operations across unlimited devices, while reducing menial tasks so they can focus on the work that matters most.
*New: Atera integrates with Azure OpenAI
Who Uses Atera?
Atera is the ultimate all-in-one IT management platform. With unlimited devices for a fixed cost, Atera has everything you need in one solution. Try Atera for free: https://www.atera.com/signup
Where can Atera be deployed?
Cloud-based
On-premise
---
About the vendor
Atera
Located in Tel Aviv, Israel
Founded in 2011
Languages
English, French, German
Atera pricing
Starting Price:
US$99.00/month
Yes, has free trial
No free version
Atera does not have a free version but does offer a free trial. Atera paid version starts at US$99.00/month.
Pricing plans
get a free trial
About the vendor
Atera
Located in Tel Aviv, Israel
Founded in 2011
Languages
English, French, German
Atera videos and images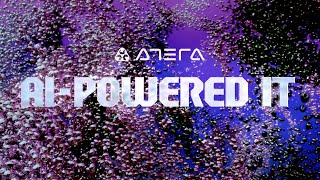 Features of Atera
Access Controls/Permissions
Activity Dashboard
Activity Tracking
Alerts/Escalation
Alerts/Notifications
Asset Tracking Software
Audit Management
Automatic Patch Deployment
Automatic Scans
Backup and Recovery
Bandwidth Monitoring
Baseline Manager
Billing & Invoicing
CMDB Software
CPU Monitoring
CRM Software
Capacity Management
Change Management Software
Chat/Messaging
Compliance Management
Compliance Tracking
Configuration Management
Contract/License Management
Cost Tracking
Customer Support Software
Customizable Reports
Customization
Dashboard Software
Deployment Management
Diagnostic Tools
Document Management Software
Event Logs
File Sharing Software
For MSPs
Help Desk Management
IP Address Monitoring
IT Asset Management Software
IT Asset Tracking
IT Reporting
IT, Server & Network Monitoring Software
Incident Management Software
Internet Usage Monitoring
Inventory Management Software
Issue Auditing
Issue Management
Knowledge Base Management
Knowledge Management Software
Live Chat Software
Maintenance Scheduling
Network Analysis
Network Monitoring Software
Network Wide Management
Patch Management Software
Performance Metrics
Performance Monitoring
Policy Management Software
Problem Management
Real Time Monitoring
Real Time Notifications
Real Time Reporting
Real Time Updates
Real-Time Chat
Real-time Alerts
Release Management
Remediation Management
Remote Access/Control
Remote Monitoring & Management
Remote Update/Installation
Reporting & Statistics
Reporting/Analytics
Scheduling Software
Screen Sharing Software
Self Service Portal
Service Catalog
Service Level Agreement (SLA) Management
Session Recording
Simple Network Management Protocol (SNMP)
Status Tracking
Supplier Management
Support Ticket Management
Surveys & Feedback
Task Management Software
Third Party Integrations
Threshold Alerts
Ticket Management
Time & Expense Tracking
Troubleshooting
Unattended Access
Uptime Reporting
Vulnerability Scanning
Workflow Configuration
Workflow Management Software
John
Systems Administrator in US
Verified LinkedIn User
Automotive, 5,001–10,000 Employees
Used the Software for: 6-12 months
Reviewer Source
Perfect Fit for Many Scenarios
Comments: The learning curve for Atera makes it great for entry level IT personnel or non-IT users who need to support applications rather than PC issues. It is a perfect fit for application managers who need an easy to use, affordable tool to support a large or small flock of systems and associated applications and users. Tech Support is very good. Reporting is handy and functional. Integrated remote control is seamless one it is setup. Scripting is very useable.
Pros:
The licensing model for Atera sets it apart from most other similar RMM tools. Each licensed technician can manage unlimited client systems. This alleviates the overhead of tracking your head count and makes Atera possibly the most cost effective RMM product on the market today. Tech Support from Atera is also outstanding providing timely live chat interaction. They have provided more than sufficient answers to what I perceived as complicated propositions. The Atera Support Technicians are polite and appear to have a fairly decent mastery of the product.
Cons:
Patch management is a little clunky and the Atera agent does not always restart on its own when the PC is restarted. There is a fix for this, but that fix should not be necessary for this type of product. Its a fairly manageable inconvenience. Client system naming can get off track, but is also not hard to fix.
Atera Response
last year
Thank you for your review and for being a loyal Ateran! Glad to see that you are getting the value for money with our all-in-one Remote Monitoring and Management (RMM) solution and that you found onboarding to be easy. We will definitely let our Support Team know that you've had a great experience - it will make their day
Computer Networking, 2–10 Employees
Used the Software for: 1+ year
Reviewer Source
Impressive features.
Comments: Very well made product. Has a ton of features. Has allowed our MSP to grow and add more value to customers.
Pros:
I like how it is a full feature MSP tool in one software. We can add more value to our customers and provide better service due to atera
Cons:
It is on the pricey side especially as we add technicians. The mobile app is glitchy. Tickets don't always display properly.
Alternatives Considered: N-central
Reasons for Choosing Atera: Logmein was more expensive with less features. Logmein continued to raise the price significantly every year while stripping features
Switched From: LogMeIn
Reasons for Switching to Atera: Didn't have as many features and charged per node not user
Atera Response
9 months ago
Hi Brian, Thanks for leaving a review for Atera's all-in-one platform! Happy to hear you like the long list of features we offer, and that using Atera has allowed your MSP to grow. Regarding any glitches or display issues, please reach out to our Support team about this. As for our pricing, we have a very unique model to price by technician instead of end-point, which ends up being very cost-effective for our customers.
David
Computer Helpdesk Technician in US
Individual & Family Services, 201–500 Employees
Used the Software for: 2+ years
Reviewer Source
Great Product
Comments: Very positive. Customers find making tickets with Atera a lot easier than with previous software. We in IT find it very convenient to have everything in one location.
Pros:
Had every feature we needed and even some we didn't know we needed until we started looking around at what Atera offered. Also like that new features keep being added.
Cons:
The website can sometimes be slow to respond and require multiple refreshes. Doesn't matter which browser is used or if it's on or off work locations. Also do not like the recent addition of AI. AI is not well understood and has a tendency to go off the rails, so shoehorning it into software that is supposed to be reliable doesn't seem like a good idea.
Aaron
DevOps Manager in UK
Information Technology & Services, 51–200 Employees
Used the Software for: Free Trial
Reviewer Source
Atera is great till you need timely Definition updates and the schedule options are painful.
Comments: Atera was okay but really didn't hold up to all the marketing hype especially when it potentially introduces a patching delay for Definition updates to your IT environment...
Pros:
The interface is very easy to use and simple, installation in terms of deployment is tidy and even removal will leave a clean machine if you uninstall from the dashboard.
Cons:
The patch management in terms of Definition updates leaves somewhat to be desired especially as the schedule doesn't within the dashboard GUI allow to set hourly unless you wish to sit making a load of schedules one by one which is defeating the point of a simple dashboard. Support were less than helpful which didn't hold up any hope they would even bother logging this as a feature request.Having Definition updates delayed doesn't seem to bode well with claiming to help bolster security if your updates are delayed to just once a day or likely a week which is how I see most MSP and IT setting their patching.
Verified Reviewer
Verified LinkedIn User
Computer & Network Security, Self Employed
Used the Software for: 1+ year
Reviewer Source
Great startup PSA and RMM for MSPs
Comments: Great, very high uptime and excellent performance
Pros:
It has all the features and most the integrations most the competitors have at a slightly lower price. The software evolves faster than competitors so if the feature you need isn't there it probably will be soon.
Cons:
Had to purchase the Splashtop unattended access option for $200 per year
Alternatives Considered: Kaseya VSA
Reasons for Choosing Atera: Slow performance across the board and the interface is not intuitive in Automate.
Switched From: ConnectWise ScreenConnect, ConnectWise PSA and ConnectWise Automate
Reasons for Switching to Atera: Lower initial cost and total cost of ownership