15 years helping Canadian businesses
choose better software
What Is Shipedge?
Shipedge is a cloud-based Supply Chain Solution that helps 3PL warehouses, distribution centers and eCommerce companies run efficient order fulfillment Omni Channel operations.
Get complete channel automation across your supply chain (selling channels, suppliers, & shipping carriers), a mobile barcode scanning app, automatic ship rate shop, and a module for returns and exchanges.
Shipedge started as an etailer turned 3PL. We've designed the system to resolve the pain paints we know well.
Who Uses Shipedge?
Third Party Logistics (3PLs), Fulfillment Warehouses, Distribution Centers and e-tailers/ecommerce companies with their own warehouses.
Where can Shipedge be deployed?
Cloud-based
On-premise
---
About the vendor
Shipedge
Located in Durham, US
Founded in 2008
Shipedge support
Phone Support
24/7 (Live rep)
Chat
Languages
English, Spanish
Shipedge pricing
Starting Price:
US$500.00/month
Shipedge does not have a free version. Shipedge paid version starts at US$500.00/month.
Pricing plans
About the vendor
Shipedge
Located in Durham, US
Founded in 2008
Shipedge support
Phone Support
24/7 (Live rep)
Chat
Languages
English, Spanish
Shipedge videos and images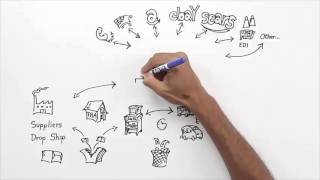 Features of Shipedge
3PL Management
Accounting Integration
Activity Dashboard
Air Shipping
Alerts/Notifications
BOM Creation
Backorder Management
Barcode/Ticket Scanning
Barcoding/RFID
Billing & Invoicing
Bills of Material
Cataloging/Categorization
Compliance Management
Contact Database
Cost Tracking
Delivery Management Software
Demand Forecasting
For 3PLs
Forecasting
Ground Shipping
Import/Export Management
Inventory Auditing
Inventory Control Software
Inventory Management Software
Inventory Optimization Software
Inventory Replenishment
Invoice Management
Item Management
Kitting
Manufacturing Inventory Management Software
Multi-Location
Order Entry Software
Order Fulfillment Software
Order Management Software
Order Tracking
Procurement Management
Product Identification
Purchase Order Management
Purchasing & Receiving
Quality Management Software
Quotes/Estimates
Real Time Data
Real Time Synchronization
Receiving/Putaway Management
Recurring Orders
Reorder Management
Reporting & Statistics
Reporting/Analytics
Returns Management
Sales & Operations Planning
Search/Filter
Shipment Price Calculation
Shipment Tracking Software
Shipping Labels
Shipping Management
Status Tracking
Supplier Management
Third Party Integrations
Transportation Management Software
Warehouse Management Software
Jennifer
Strategic Operations Consultant in US
Verified LinkedIn User
Logistics & Supply Chain, 2–10 Employees
Used the Software for: 1-5 months
Reviewer Source
Great value, great product!
Comments: Choosing the right WMS provider is a difficult decision. Having not heard of ShipEdge before, I was skeptical when I set up that initial call, however was immediately intrigued after learning about the product. I scoped 20+ providers over about a 6 week period and never took ShipEdge off the top of my list. Their offerings and pricing are perfect for our business and I'm so glad we made the decision to move forward with them. The training videos for onboarding were really helpful tools I could reference back to whenever needed (the robot like voice could use a makeover, though) and complete at my own pace. I appreciate the response time whenever I have questions and feel truly supported by the ShipEdge team. I'm truly grateful to have them as partners as we scale our growing 3PL business!
Pros:
We needed a pretty straightforward product for our boutique 3PL startup. ShipEdge offered simple and easy to use solutions for our business. The app for mobile device is easy to use, as is the desktop app. They allow the user to onboard new clients which is a huge win, as typically WMS providers do this on their end (at an added cost of course). The OMS functions for our clients to utilize is also a huge win, as most are small businesses with limited resources for managing their inventory. It's been wonderful to move them from manual Excel tracking to an easy to use system! The support of the implementation team has also been wonderful, they're quick to respond and are able to advise on the best solutions for our business. The sales process also stood out to me as the sales manager was NEVER pushy- unlike other potential vendors who reached out via phone or email as much as daily. I appreciate them letting the product speak for itself and not trying to pressure me into making a decision with "limited time" discounts and the like.
Cons:
Truly, no cons at this time. It's a straightforward system and the team is open to feedback if we ever have any.
Alternatives Considered: 3PL Warehouse Manager and CoreWarehouse
Reasons for Switching to Shipedge: ShipEdge checked all of the boxes for what we needed to serve our clients. The pricing is wonderful, there is a huge value here. The other products we had narrowed it down to were very respectable, however between the pricing and the customer facing OMS, ShipEdge really couldn't be beat.
Shipedge Response
3 months ago
Jennifer, Thank you for your valuable feedback! It's a pleasure to work with you and we're thrilled to be able to provide you with the tools and solutions you need to run your 3PL. We appreciate your recognition of our implementation team's support and the value we offer at a competitive price. We're committed to your success and look forward to being your continued trusted partner as you scale your business.
Jeffrey
Warehouse Foreman in US
Warehousing, 2–10 Employees
Used the Software for: 1-5 months
Reviewer Source
Game Changer!
Comments: It has been very helpful in helping our company deliver more for our clients and not putting the stress on our backs.
Pros:
Ship Edge has simplified and sped up our production by giving us key visuals for items so there is no more hunting down and second guessing if you're grabbing correct product by providing us with images of the product.
Cons:
Would be cool if there was an option to use a general app for my personal mobile device to check inventory.
Shipedge Response
2 months ago
Jeffrey, Thank you for your feedback! We're glad to hear that our software has made it easier for pickers in your warehouse to ensure they're selecting the right item. We do have a mobile app developed for Android for warehouse functions such as inventory control, cycle counts, replenishments, etc. Please let your implementations manager know if you need help with setting this up.
Printing, 201–500 Employees
Used the Software for: 1-5 months
Reviewer Source
Source: SoftwareAdvice
Disaster. Moving to another solution.
Comments: Horrible.
Pros:
Our decision to move on from Ship Edge.
Cons:
They ghosted us after taking our money for customization.
Shipedge Response
3 months ago
Jeffery, Thanks for sharing your feedback. We understand your frustration and disappointment with your custom project and apologize for any inconvenience this caused. Throughout the project, we encountered challenges in providing exact estimates due to the evolving nature and scope of your requirements, leading to an impact on the timeline and delays. However, we made every effort to adapt and accommodate these changes to deliver a solution aligned with your needs. While there was a brief period of time when communication was limited, we have remained in frequent contact to ensure that concerns were addressed and provided updates on our progress. We value your partnership and have dedicated our resources to completing the remaining aspects of the project. With the customization near completion and most features delivered before the target date, we believe it could still be a genuine asset to your business. We are happy to continue discussions regarding implementing this project.
Luis
Director of eCommerce in US
Used the Software for: Not provided
Reviewer Source
I have been customer for years and consider their tools an important part of our success
Comments: The software was designed to automate cross channel order entry into 3PL fulfillment warehouses. They moved warehouses a few times, but because everything was handled online through Shipedge it was barely noticeable. The software helps automate operations with business rules and lots of translators to make our lives easier. We worked with many Order Management Systems and the staff found this one the easiest to manage. There is a lot of power under their simple approach to Order Management. Additionally they have integrated our suppliers, for just in time inventory and also for drop-shipping. We had hundreds of thousands of SKU variations and a very complicated setup with three marketplace, including ebay, Amazon and Rakuten plus many partner websites, our old yahoo store and a heavily customized magento. Shipedge was the easiest part and what helped us unify all our sales. Great team supporting their software.
Shipedge Response
8 years ago
Thanks Mr. Arce for your kind words. We are happy to have you as a client of ours over the years and hope that our relationship will continue to grow. As your business continues to grow Shipedge will continue to have the capabilities and functions you need to succeed. Thanks again
Logistics & Supply Chain, 2–10 Employees
Used the Software for: 1-5 months
Reviewer Source
Great Support in Set Up
Pros:
We are new to Shipedge and dont have a full report yet but so far we have great things to say. The team is accommodating and helpful at every turn . Pricing is great and the functionality comprehensive. We reviewed no fewer than 10 tools to end up here and are very happy so far.
Cons:
only con so far is not getting in deep enough. looking forward to seeing what it can do
Shipedge Response
2 months ago
Trevor, Thank you for your review! We understand that you're still exploring our platform, and we assure you that our comprehensive functionality will continue to impress you as you delve deeper into it. Our team is here for you as you further explore Shipedge's capabilities. We're excited to serve you and your business! If you have any questions or need further assistance, please don't hesitate to reach out.