What Is LearnWorlds?
LearnWorlds is a powerful, easy-to-use and reliable training solution for individuals and enterprises. A fully customizable, white-label solution for training employees and associates, educating customers, or selling online courses to a diverse audience.
Our cloud-based eLearning platform offers Professionals, Entrepreneurs & Training Managers a solution tailored to their specific needs and a team of experts to help achieve your goals.
Who Uses LearnWorlds?
For Small & Medium Businesses, Training Organizations, L&D Professionals, Customer Education Program Managers, Coaches, Consultants, Entrepreneurs, Trainers & Professionals across different industries
Where can LearnWorlds be deployed?
Cloud-based
On-premise
---
About the vendor
LearnWorlds
Founded in 2014
LearnWorlds support
Phone Support
24/7 (Live rep)
Chat
LearnWorlds pricing
Starting Price:
US$24.00/month
Yes, has free trial
No free version
LearnWorlds does not have a free version but does offer a free trial. LearnWorlds paid version starts at US$24.00/month.
Pricing plans
get a free trial
About the vendor
LearnWorlds
Founded in 2014
LearnWorlds support
Phone Support
24/7 (Live rep)
Chat
LearnWorlds videos and images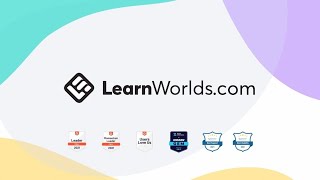 Features of LearnWorlds
Access Controls/Permissions
Activity Dashboard
Alerts/Notifications
Assessment Management
Assignment Management
Asynchronous Learning
Audio/Video Recording
Billing & Invoicing
Blended Learning
Built-in Course Authoring
Cataloging/Categorization
Certification & Licensing
Certification Management
Client Management
Communication Management
Content Library
Content Management System (CMS) Software
Content Publishing Options
Content Sharing
Course Authoring Software
Course Management
Course Publishing
Course Tracking
Customizable Branding
Customizable Questions
Customizable Reports
Customizable Templates
Data Import/Export
Document Management Software
Electronic Forms
Email Marketing Software
Employee Engagement Software
Employee Portal
Feedback Management
For Schools
Full Text Search
Gradebook Software
Interactive Content
Interactive Learning
Learner Portal
Learning Management
Learning Paths/Tracks
Media Import
Mobile Access
Mobile Learning Software
Multi-Language
Multi-User Collaboration
Multimedia Support
PowerPoint Conversion
Progress Reports
Progress Tracking
Promotions Management
Question Library
Quizzes
Reporting & Statistics
Reporting/Analytics
SCORM Compliance
SEO Management
Scheduling Software
Self Service Portal
Self-Learning
Self-Service Content Curation
Session Notes
Shopping Cart Software
Social Learning
Storyboarding
Synchronous Learning
Template Management
Tests/Assessments
Text Editing
Third Party Integrations
Training Administration
Training Management
User Management
Version Control
Video Management Software
Virtual Classroom Software
Website Management
eCommerce Management
Alternatives to LearnWorlds
Education Management, 2-10 Employees
Used the Software for: 2+ years
Create TOP courses with beautifull inteface anc TOP marketing tools
Comments: My school change and i use the new fatures when they came out.
Pros:
The support is incredible. Each time since 3 years, i got an a VERY RAPID answer. But the main difference with Learnworlds than other platform is the way they create the tools. It help a lot to win some time. You can use the layout they gave to you and just adapt it to your needs.Very professional and very usefull
Cons:
All the soft is in english and i am french, so it was more difficult ti use at first than 360Learning (whicj is created in France), but I can translate all the interface so my website and the learning platform is TOTALYY IN FRENCH, which was totally necessaray.
E-Learning, 2-10 Employees
Used the Software for: 6-12 months
review of LearnWorlds by Mahjong Party
Comments: They respond with a lot of info and links anytime I have a question or don't know how to do anything. Customer service is prompt. Its a beautiful robust platform and looks so amazing. As well, I struggled at times with other platforms to get everything the way I like for my UI/UX and LearnWorlds met or exceeded all my expectations in that regard
Pros:
It integrates the most features into what I want while giving me a ton of freedom to create the course how I want, to make my course look awesome, to integrate tons of media types
Cons:
The price is high compared to other software for businesses / course creators just starting out but it offers a bit more than they do. The price is good and offers a lot for those able to pay a higher price.
Alternatives Considered: iSpring Suite
Reasons for Choosing LearnWorlds: I could not load up all of my media types I wanted to, I found the LearnWorlds UI/UX just really superior, I heard stories about how some other platforms will pursue your customer base
Switched From: Teachable, iSpring Suite, Absorb LMS, Udemy Business, Thinkific and Didacte
Reasons for Switching to LearnWorlds: iSpring came the closest to LearnWorlds and they have a great course authoring product but LearnWorlds offered unlimited courses / users / instructors - that is pretty well unbeatable whereas other similar platforms will charge after a certain amount of users or you are limited to how many users you can have in a year or your user has to purchase your product for a year instead of a shorter period of time... or you have to expel them from the product if they haven't used it for a while... its a lot to consider, I want my users to have lifetime access so LearnWorlds was the best
E-Learning, 2-10 Employees
Used the Software for: 6-12 months
Learnworlds LMS platform. Worth it or not?
Comments: AWOKO.ng is an edtech start-up giving students access to quality materials that they'll need to prepare for their exams and used to study in their academics.
Thus far, we have been able to do all these using the Learnworlds platform and are gaining serious traction in our country. It's been an experience.
Pros:
The sitebuilder is great. It helps in creating easily navigable pages. The course creation process is simple and direct unlike other platform I've used. If anything, their support remains the best I've seen in a while.
Cons:
The pricing for the learning center plan which most people would prefer is a bit too expensive especially for some of us in third world countries.
Alternatives Considered: LearnDash
Reasons for Choosing LearnWorlds: Thinkific was a good product but at the time I left had issues with some of the features I wanted. I was surfing the internet one day trying to see if any other options had the features I needed. None came close to Learnworlds so I made the switch starting afresh from learnworlds.
Switched From: Thinkific
Reasons for Switching to LearnWorlds: I didn't like having too many moving parts. I didn't want to be responsible for the technical stuffs backend. I needed to focus on scaling my business and let other things be taking care of by the pros
Kerryn
Marketing and Communications Officer in Australia
Nonprofit Organization Management, 201-500 Employees
Used the Software for: 1+ year
A great product for a remote workforce.
Comments: I think the overall experience we have had with LearnWorlds has been very positive, and there are many features we have yet to explore and use to its full potential.
Pros:
As a company that has a large remote workforce, we needed the flexibility to move to an online learning platform. We have a lot of resources that, prior to 2020, would be delivered in a face to face classroom or on site. Now, we can offer resources, more widely, not only to equip our workforce, but to be used by others. Support is great, and when we have questioned a particular feature that hasn't been available, they have often sent our query to product development and it soon pops up.
Cons:
We do use this platform as our main website. As it is primarily designed to be an online learning platform, it can sometimes be a little clunky in places. Having said this, benefits far outweigh the inconveniences and most 'drag and drop' style of website building platforms don't have the complete flexibility of bespoke sites either. I would, as the overall administrator, love to be able to 'lock' the theme so other users can't pick other colours and styles for various things such as backgrounds and buttons.
Alternatives Considered: Kajabi
Reasons for Switching to LearnWorlds: We chose Learnworlds as it was better value for money - enabled more courses and options.
Jon
Learning Director in US
Nonprofit Organization Management, 501-1,000 Employees
Used the Software for: 1+ year
One stop shop for a decentralized network of non-profits
Comments: Our goal is to provide our over 1000 members from 342 connected non-profits from around NYS "the right resources, right when they need them". Learnworlds helps us categorize our resources into the 10 areas of organizational health that we have identified, making it simple for our members to find the resources they need. We also use it as the landing page and gateway for digital cohort learning experiences. Gives us a one stop shop for meeting links, content, and engagement. Our facilitators don't have to resent the same zoom link for all of the 9 different sessions they'll be hosting. Helps reduce the administrative burden on them.
Pros:
LearnWorlds is more than an online learning platform. It's flexibility and adaptability has provided us the ability to engage our 342 connected non-profits around New York State in a variety of ways. The best part is that there support team is quick to respond and help with the unique situations we're running into as we provide resources and connection to our over 1000 member organization. Couldn't be more happy with our experience.
Cons:
I'm getting picky here but the updated design elements (which I was hoping would come out) ended up being great but I had to rebuild all my pages to fit the new templates. I use the platform as a digital resource library so I've got over 125 "courses" that I had to recreate. But it ended up being a net positive because the new template designs and user experience is way better.
LearnWorlds Response
last year
Jon, thank you for your 5-star review. It is absolutely fantastic hearing that our platform and the support team has made your LearnWorlds experience an outstanding one! Also, thank you for your feedback, which we have shared with the team. We are always here to support your vision.