ERPAG
What Is ERPAG?
ERPAG is an ERP cloud service that covers all business processes for small or mid-sized companies. Inventory and order management in real time. FEATURES: Reordering.Order fulfillment.Cloud label
Read more
printing.Inventory tracking (Barcode, Serial, Lot).Multiple UOMs. Multiple warehouses.Multiple currencies.Multi-language interface.Composite products(BOMs, Kitting, Variable items). User level management.Integrated invoicing and purchasing module.Supports manufacturing.
Read less
Who Uses ERPAG?
Small businesss, Mid-sized business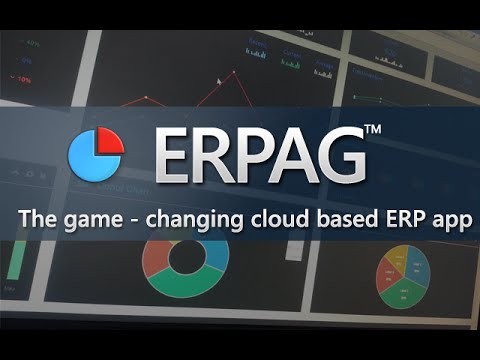 Not sure about ERPAG? Compare with a popular alternative
Marcelo
R&D in US
Verified LinkedIn User
Consumer Goods, 11-50 Employees
Used the Software for: Free Trial
Alternatives Considered:
Good ERP to take in consideretion
Comments: We are a growing company, we manufacture, we order from other suppliers, we produce, and we sale trough Shopify and B2B and wholesale via Quickbooks, We have a sales department, technical department and, production department and shipping department, this way I can integrate all under one platform.
Pros:
We were about to implement Inventory management, and Shopify recommend Erpag, I just been using the Demo, but they got me at the first minute, very intuitive and easy to navigate. I will try also the service and repair platform.
Cons:
No integration with other apps, at least couldn't find how to do it.
Information Technology & Services, 2-10 Employees
Used the Software for: 1+ year
Alternatives Considered:
Erpag Reciew
Comments: * Fast support* fast UI / Web interface / SAAS program* many hidden gems! many hidden features ! * it's made with passion, that's for sure. * Odoo can't compete with this inventory management !
Pros:
IF you are in need of a clear to use inventory management, without feeling like you are managing an amazon warehouse.. Erpag is just what you need, mobile app for your techs, multiple warehouse locations, everything you can think of is in the product. Just adore the PO status as the SO status. Ordered/Quantity AVailable/Partially available and so on.
Cons:
Still some minor issues."Warranty that belongs with a laptop, is not an inventory product, but also not to forget in the PO!" Can be I just need some education about the many types of products, but for now, I don't know how to handle "a warrenty item"no open API!Although everying to the last details is importable by excel, we would very much like an open API.
Luxury Goods & Jewelry, 2-10 Employees
Used the Software for: 1-5 months
ERPAG Lacking Support
Comments: Horrible. Their technical support documentation is not updated and I hired a website developer to try to get it to work. The developer did everything he could to get it to integrate only to be finally told "sorry I cannot help you" from ERPAG support. At first I was very excited by what you had to offer. Unfortunately you do not have the tech support necessary to help me resolve the issues of connecting my website to ERPG. My web developer did the following for me:
-Followed their instructions of uninstalling all plugins and testing connectivity.
-Tested their connectivity on a fresh install on a simple shared server.
-Booked a service support call and talk to you via live support. I have also tested my Woo-commerce integration with their competitors, MRPeasy and Katana, and it was easy for me to do on my own without tech support.
Pros:
Everything they say they can do. I was super excited about the is software when I found it.
Cons:
The software would not connect to my WooCommerce website.
Tyler
Quality Lead in Canada
Electrical/Electronic Manufacturing, 11-50 Employees
Used the Software for: Free Trial
Alternatives Considered:
Erpag Review
Comments: I am still on the trial, but overall I am impressed by the features Erpag offers for the price.
Pros:
I'm impressed by Erpag's suite of features for manufacturing and inventory control. It is a great platform to manage production materials and workorders.
Cons:
I have experienced a handful of crashes and other minor bugs. The type of tasks that can be performed in the app are limited.
Medical Devices, 2-10 Employees
Used the Software for: Free Trial
Alternatives Considered:
The Trial Made All the Difference
Comments: This will be our first real manufacturing/inventory management system. It is a great product if you are transitioning from spreadsheets.
Pros:
We like ERPAG features in that many align with our needs now and there is lots of room to scale.
Cons:
A few functions are not intuitive, and I have had some issues with the search function for the Product list being inconsistent. One exchange with online help made me wonder if the agent actually understood the mfg/inv/purchase process.