Local product
eFlyerMaker
Local product
What Is eFlyerMaker?
- Design Beautiful Emails, Manage your subscribers list and create highly targeted content. - Reach your subscriber's inbox every time with one of the most secure and powerful email marketing
Read more
platform in the industry. - Track your campaign performance in real time with our comprehensive set of reports and dashboards. - Be one step ahead of your subscribers and anticipate their needs with eFlyerMaker's unique predictive analytics functionality.
Read less
Who Uses eFlyerMaker?
eFlyerMaker is the most intuitive and easy to use email marketing software on the market. Create and launch outstanding email marketing campaigns within minutes.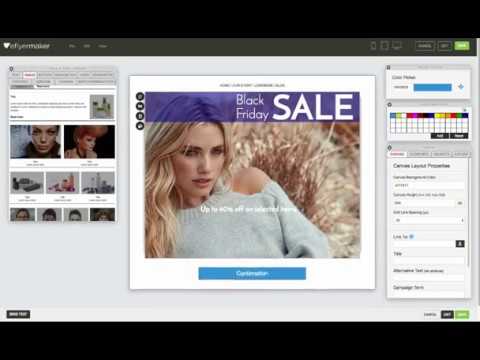 Not sure about eFlyerMaker? Compare with a popular alternative
eFlyerMaker
Local product
Alternatives to eFlyerMaker
Adam
Graphic Designer in Canada
Design, 5,001-10,000 Employees
Used the Software for: 2+ years
Quality product with excellent support
Comments: Effective system. Powerful layout tools. Helpful staff. Room for improvement, but always improving.
Pros:
The timely and friendly responsiveness of their support team is excellent. Even if there are limitations to how the system processes your layout/design, they will help you fix it until they update their own system. Updates happen a few times a year and the system becomes better and better.
Cons:
Dealing with all the moving parts, dynamic data, etc… it could be a little more straightforward. There's room for improvement in the UI paradigm here. The menus can be confusing at first, but I believe they can easily remedy that if they invest the time. The layout tools can sometimes be finicky, but are quite powerful, especially considering this is all web based.
Marc-André
Marketing & Communications Coordinator in Canada
Industrial Automation, 51-200 Employees
Used the Software for: 6-12 months
Easy to use software, beautiful templates are available.
Comments: Amazing experience, easy to use and foolproof for the legal basis of communication with the new anti-spam legislation.
Pros:
Easy to use, drag and drop feature, templates are available but you can start from scratch if you are more experienced with these kinds of software. Possible to create amazing layouts in no time, also most of them are responsive, which is great for mobile and tablet users.
Cons:
Sometimes if you want to edit the source code (HTML) and you clone an element the customized source code will not follow so you have to start again or copy/paste your code from a snippet tool.
Verified Reviewer
Enterprise Success Coach in US
Verified LinkedIn User
Internet, 201-500 Employees
Used the Software for: 1+ year
A competitive product for a competitive industry.
Comments: Every year it's harder and harder for me to not prefer Mailchimp or mass email tools built into other software (Intercom, Hubspot, Totango, yada yada). The standard for mass email content is so high in 2018, and the ability to hit that bar is more and more accessible every day. eFlyer is great, if you think it might help you then go for it, but the learning curve makes it hard to hop in for a newbie.
Pros:
Eflyer Maker is a very flexible and dynamic tool. You can create segments, campaigns, create templates to share with you team, and I'm sure much much more. In the content heavy world that we live in, eFlyer Maker has all the tools that you with EVER need to get the job done and stay ahead of the curve.
Cons:
The number one killer, steep learning curve. Be prepared with a solid understanding of HTML and CSS under your belt. And I mean real understanding, not just familiarity. I often find myself using templates from other websites and importing them into eFlyer just to do basic campaigns (which is a PRO that this is possible). I find it nearly impossible to build something pretty with just the internal tools. This causes managerial problems if you employee people with different amounts of design ability.
Ian
Graphic Designer in Canada
Apparel & Fashion, 201-500 Employees
Used the Software for: 2+ years
COLORI review
Pros:
Excellent technical support and the plateform is user-friendly
Cons:
It's hard to access our personal templates
Zella
Administrative Assistant in Canada
Retail, 51-200 Employees
Used the Software for: 2+ years
Tenant Communications
Comments: We have eliminated the need to use "paper" when delivering messages to our tenants - saves time, saves on printing costs, saves trees and especially labour that can be used elsewhere instead of printing memos and hand delivering to tenants.
Pros:
The ease in sending communications out to all our tenants instantly or scheduled for future delivery.
Cons:
Unfortunately symbols, characters and punctuations are not permitted in subject line.