15 years helping Canadian businesses
choose better software
What Is Awardco?
Awardco boosts productivity, reduces spend, and builds culture through value-driven recognition and rewards. It's the only employee recognition and total rewards platform to be a featured partner with Amazon Business. Awardco provides the largest reward network on the planet — all with zero markups. Coupled with the flexibility to build any number of recognition, incentive, milestone, or behaviorally driven programs, Awardco's platform drives employee loyalty.
Who Uses Awardco?
For organizations that want to run multiple recognition programs from one place and use Amazon (among other vendors) for rewards.
Where can Awardco be deployed?
Cloud-based
On-premise
---
Awardco support
Phone Support
24/7 (Live rep)
Chat
Awardco pricing
Starting Price:
Awardco does not have a free version.
Awardco support
Phone Support
24/7 (Live rep)
Chat
Awardco videos and images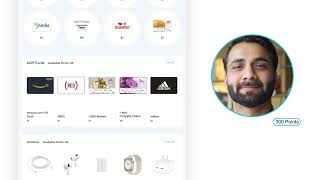 Features of Awardco
Accident Investigation
Activity Dashboard
Alerts/Notifications
Benchmarking
Commenting/Notes
Employee Portal
Employee Profiles
Employee Recognition Software
Employee Reward Programs
Engagement Tracking
Feedback Management
Gamification Software
Goal Management
Incentive Management
Manager-to-Employee Recognition
Mobile Access
Nominations
Peer-to-Peer Recognition
Performance Management
Program Management
Pulse Surveys
Reporting & Statistics
Reporting/Analytics
Rewards Management
Survey/Poll Management
Surveys & Feedback
Richard
Senior Business Analyst in US
Verified LinkedIn User
Utilities, 1,001–5,000 Employees
Used the Software for: 2+ years
Reviewer Source
Awardco provides incentives that my employees love
Comments: Overall it's been very positive. I've worked places with no awards program, and at places with similar programs, but nothing as smooth and nice as Awardco.
Pros:
I love that it's simple and easy to use, but most of all I love that it gives my employees a way to recognize others, and be recognized for great work. And the incentives are actually valuable to them. My employees love receiving points and being able to exchange them for products and gift cards that they want. Our previous awards provider offered a similar incentive program, but the only catch was that it was a bunch of stuff that no one really wanted, and the rewards portal was clunky and difficult to use. This is much easier and way better.
Cons:
The things I don't like are set by my organization, not by Awardco. For example, we don't have enough points to spread out to everyone, or recognize everyone that deserves recognition. And we have policies that you can't recognize anyone in management, which is too bad. But from a system perspective, there really isn't anything that is undesirable. The other thing I don't like is that it can breed a back-scratching environment, where friends and co-workers award each other points just to get points. It's not born out of excellence in the workplace.
Amberlee
Senior Communication Specialist in US
Financial Services Software, 1,001–5,000 Employees
Used the Software for: 1+ year
Reviewer Source
Stop Looking...This is Where You Want To Be
Comments: Awardco has figured out the maximum benefit with minimum effort. We are able to recognize our employees quickly and effortlessly, and we love it!
Pros:
The Award options are unlimited and it's the only system that partners with Amazon. Hundreds of other options for our employees to choose from. Everyone...and I mean everyone who have used our system, love it much better than our previous 'catalog' options for anniversaries. And used as an employee recognition platform, Awardco goes above and beyond! Awardco is easy to use for both the end user and administrators. The staff at Awardco are so helpful and open to feedback and suggestions on how to make the system even better.
Cons:
What's great about Awardco is that they listen to their clients. I've seen where improvements can be made and not only to they meet with me to understand the ask and issue, they have actively put new features in and improvements. They are always working to make the system better. There are always new things I want or think the system should have/do, but I know they are working on my suggestions or rolling out even better improvements I didn't even think of.
Alternatives Considered: Kudos, Bonusly, Engage2Excel and Terryberry Wellness
Reasons for Choosing Awardco: We wanted a fresher and better option that fit our budget and requirements.
Switched From: Engage2Excel
Reasons for Switching to Awardco: Because Awardco had all the features we wanted, the look, the features, ease of use, and the price was right.
Mike
Delivery professional in US
Transportation/Trucking/Railroad, 11–50 Employees
Used the Software for: 2+ years
Reviewer Source
Great product
Comments: Building morale
Pros:
Ease of use, quick results to recognition awards
Cons:
No, seems to work well as is. I wouldn't change anything.
Andrea
Software Developer in US
Hospital & Health Care, 201–500 Employees
Used the Software for: 1-5 months
Reviewer Source
Terrible product
Comments: Because the search functionality was non-existant, I decided the easiest way to use Awardco would be to search for the thing I wanted on Amazon, then copy and paste that exact title into Awardco. Of course, the majority of the items that are available on Amazon aren't in the Awardco catalog even though it uses the Amazon engine. I did finally find an outdoor umbrella, but I wasn't able to select which color I wanted, so that was out. Be prepared to buy basic items, not things that you actually want. I added a huge Lego set to my cart, but it disappeared before I could complete the purchase. I finally decided to search for gift cards. Thankfully, there is a large assortment. So, I ordered three Amazon gift cards that totaled up to the number of points I have available. I have yet to receiv an email to say that my order has been processed, shipped, received, nothing. That was May 11th. The order shows processed, but it is now June 9th and I still haven't heard anything from Awardco. This is $150 in gift cards that has just vanished. It was my 10 year anniversary present from my company. Next time I'll just take the Visa gift card and company pin. This entire experience has been a complete nightmare, and I have given this feedback to everyone. A waste of time. Horrible experience.
Pros:
I didn't like anything at all about this product. This product was completely horrible as a customer.
Cons:
The search functionality was horrible. At most, there was a browse feature. For example, you can type in "Nalgene Water Bottle", and you will be provided with a list of things that match that search description. There is no way to narrow down the choices, select colors, or search for specific items. If an item comes in multiple colors, you can't pick which color you want. You just order and hope for the best. There has been absolutely zero contact from Awardco even after placing my order. The order is in limbo. You aren't able to add points, or buy something outside of your points range by purchasing more points. If you have 99 points, and the item is 100 points, you can't have it.
Samantha
Recruitment Resource Partner in US
Higher Education Software, 1,001–5,000 Employees
Used the Software for: 1+ year
Reviewer Source
Awardco Review
Comments: Awardco allowed our organization to take manual recognition processes and transition them to digital. This saves hours of work for many employees. It is also easier for employees to receive their recognitions in real time.
Pros:
Awardco makes it easy for multiple levels of recognition to be provided in a large organization. Our peer recognitions have tripled since implementation which increases employee engagement. There is a wide variety of choices for employees to pick from when they would like to use their points.
Cons:
We are enjoying using Awardco and do not see any cons at this time.