Deltek Vision
What Is Deltek Vision?
Deltek Vision is a project-based solution for professional services firms that combines project accounting, resource management, project management, time/expense management, and client management in
Read more
one product. Deltek Vision is a web-based solution available for cloud or on-premises deployment.
Read less
Who Uses Deltek Vision?
Deltek Vision supports professional services firms like management & IT consulting, market research and architecture & engineering.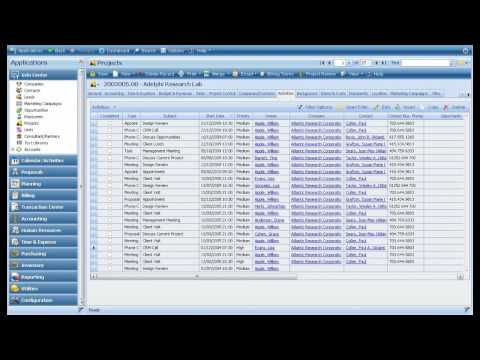 Not sure about Deltek Vision? Compare with a popular alternative
Not available in your country
Alternatives to Deltek Vision
Nereida
ANALISTA CONTABLE in Venezuela
Verified LinkedIn User
Used the Software for: 2+ years
Important business data in real time.
Comments: I am using Deltek Vision to identify problems affecting the performance of our company and hinder the successful implementation of some projects. I am also taking advantage of useful features to improve performance and complete projects successfully.
Pros:
What I like about Deltek Vision modules are purchasing and asset management because they allow me to track purchase orders and fixed assets; It helps me to get new business, improve performance and optimize the operations of our company.
Cons:
For some people within the company's user interface it is not always so friendly and does not have much ability to change the screen size. In addition, it may not be ideal for companies that only require specific modules, since all the modules are included in the software.
Elizabeth
architect in US
Architecture & Planning, 2-10 Employees
Used the Software for: 2+ years
Adequate, reliable. Not as user friendly as others
Comments: When using Vision, it was very adequate. However, now that I use Monograph, I see how much more capability Monograph has and how user friendly it is.
Pros:
It does its job. It's reliable. It has functionality especially for management and accounting departments. Overall, it's a solid program with proven results and a user base that reinforces trust.
Cons:
It's a bulky program compared to the web based program I use now. It wasn't compatible with some browsers so I had IE just for timesheets. User interface wasn't the most intuitive and customer service wasn't built in. Therefore I had to ask my accounting manager for her to contact customer service with questions.
Environmental Services, 201-500 Employees
Used the Software for: 1-5 months
Nice tool but need revision
Comments: I have started using deltek recently. It looks like a good tool but a bit old fashion and needs a polish. It has been recently added a dashboard to see project progress and this is very good.
Pros:
I have learnt recently how to use deltek. It is a software with everything on it to calculate fees and scheduling resources.
Cons:
It needs a very good training to be able to use it. It has bugs and sometimes crashes. You need to insert all fields otherwise you do not get the wanted outcomes. It is not so intuitive.
Tiyana
Vice President - HR in US
Environmental Services, 11-50 Employees
Used the Software for: 2+ years
Vision to Vantagepoint
Comments: We were using Excel for timesheets so having time and expense in one place and tying into our business process is wonderful. We also have the ability to get nice reports.
Pros:
The software helps streamline some of our processes.
Cons:
Not easy to navigate through CRM but here to learn.
Jun
Accounting Manager in US
Architecture & Planning, 11-50 Employees
Used the Software for: 2+ years
Source: SoftwareAdvice
Alternatives Considered:
Effective but not efficient
Pros:
It's a good tool to keep track of work-in-progress and everyday accounting transactions.
Cons:
It's not so user friendly and not so efficient and expensive tool for the same things that can be done with Sage software.