What Is PracticePanther Legal Software?
PracticePanther is the top rated law practice management software on Capterra! See why tens of thousands of law firms in over 170 countries use PracticePanther to automate their workflows and get more done in less time. Never miss deadlines, get paid faster, seamlessly track billable time & expenses. Work from anywhere, on any device, with our mobile app. It's easy, user-friendly and intuitive. Spend less time managing your firm and more time making money. Try it free, no credit card needed.
Who Uses PracticePanther Legal Software?
Tens of thousands of solo practitioners, small, medium, and enterprise-sized firms worldwide who don't want to sit through hours of training webinars. Simple software for the modern lawyer.
Where can PracticePanther Legal Software be deployed?
Cloud-based
On-premise
---
About the vendor
Paradigm
Located in North Miami Beach, US
Founded in 2006
PracticePanther Legal Software support
Phone Support
24/7 (Live rep)
Chat
Languages
English, Spanish
PracticePanther Legal Software pricing
Starting Price:
US$59.00/month
Yes, has free trial
Yes, has free version
PracticePanther Legal Software has a free version and offers a free trial. PracticePanther Legal Software paid version starts at US$59.00/month.
Pricing plans
get a free trial
About the vendor
Paradigm
Located in North Miami Beach, US
Founded in 2006
PracticePanther Legal Software support
Phone Support
24/7 (Live rep)
Chat
Languages
English, Spanish
PracticePanther Legal Software videos and images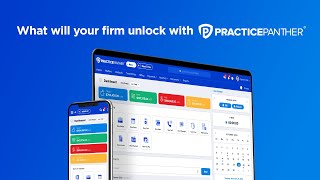 Features of PracticePanther Legal Software
API
Access Controls/Permissions
Accounting Integration
Accounting Software
Activity Tracking
Alerts/Notifications
Approval Workflow
Bankruptcy Case Management
Billable & Non-Billable Hours
Billable Items Tracking
Billing & Invoicing
CRM Software
Calendar Management
Calendar/Reminder System
Case Management Software
Case Notes
Check Writing
Client Management
Client Portal
Collaboration Tools
Compliance Management
Contact Database
Contact Management Software
Contract/License Management
Court Rules-Based Scheduling
Customizable Reports
Data Import/Export
Document Capture
Document Generation Software
Document Management Software
Document Storage
Document Templates
Email Management Software
Employee Management
Expense Tracking
Fee Calculation & Posting
Financial Management Software
For Family Law
For Lawyers
For Legal Professionals
Full Text Search
General Ledger
Interaction Tracking
Invoice Creation
Invoice History
Invoice Management
Lead Management Software
Legal Case Management Software
Mobile App
Online Invoicing
Online Time Tracking Software
Patent/Trademark Management
Project Time Tracking
Project Tracking Software
Real Time Notifications
Real Time Reporting
Receipt Management
Reminders
Reporting/Analytics
Staff Calendar
Status Tracking
Task Editing/Updating
Task Management Software
Task Progress Tracking
Task Scheduling
Task Tagging
Tax Management Software
Time & Expense Tracking
Time Tracking Software
Trust Accounting Software
Alternatives to PracticePanther Legal Software
Reviews of PracticePanther Legal Software
Scott M.
Lawyer in US
Verified LinkedIn User
Law Practice, Self Employed
Used the Software for: 2+ years
Reviewer Source
Amazing program!
Comments: I bought this program when I first opened my practice about 2.5 years ago. I knew going into my own firm that I wanted a comprehensive client management tool. After spending hours online reviewing various programs, I decided to give the 30-day free trial a shot. I think I purchased the monthly subscription immediately after starting to use the program. Since that time, I have built on my knowledge, incorporating the MailChimp and QBO features first, then started learning how to streamline my document preparation through the template feature. What would have previously taken me multiple hours a week to manage, now takes minutes.
Pros:
PracticePanther is intuitive and very user friendly. It has a ton of features that expedite minuscule tasks and free up admin time. It syncs with all my favorite resources, like QBO, MailChimp, and Box, making communication with clients a lot easier and keeps routine mailings operational. If you use a lot of form templates, the template builder is a major time saver and cuts down on user error and oversights. I use this program every day in my law office and am very grateful for how easy it is. Even better, the customer support team is phenomenal. I rarely have any issues with the program (it is easy to use), but when I run into something I need help with, a quick message to the PP team is responded to within minutes and the problem is solved or at a minimum I am given an update and expected time of completion. I couldn't recommend this program more to a solo or small legal practice.
Cons:
Nothing, the team is constantly updating its software and programs that it connects to. They provide online videos to help and I frequently learn of new ways to use the program from regular updates by the team.
Paradigm Response
5 years ago
Thank you so much Scott for the extra kind feedback!
Law Practice, 2–10 Employees
Used the Software for: Free Trial
Reviewer Source
Great practice management software. The only short-fall is that it doesn't allow auto future billing
Comments: PracticePanther is a great platform and you should definitely give it a good try during a free trial period.
It also has Rules of Court deadline figuring if you're a Civil firm.
PP has great integration with QuickBooks on-line.
You can print checks directly from PP, or QB online to pay other legal vendors (Chiros, etc.)
Pros:
Price - either $59/mo or $49/mo if paid the year in full. Fee to bill clients on-line: $.20 per transaction plus 1.95% Workflow customizable - Yes, you can customize the workflow on different case-types. Activity Log - easy access history. Create Contact on the fly as creating matter - easy to create a Contact during the process of creating a matter. Intake form for new clients - Yes, can put a link on your website so new clients can fill-out a new client form, and that info will auto fill into the client's PP account. Time tracking timers - you can have multiple different timers open and running at the same time and assign them. Mobile App - there is no mobile App, but the site is mobile optimized. E-file integration - there is No e-file integration. Color assignments - there are up to 6 colors that you can assign to parties & roles. Task customizable - Yes, you can customize task flows. Easy to create and merge documents - Yes, it's very easy to create and merge documents with the program. PDF-auto convert - No, it cannot auto PDF convert a document. Create documents that can merged - Yes. This program makes it easy to create documents that can be merged. Support - Yes, support seems to be free. Notify client when upload a document - Yes, you can notify a client a document gets uploaded that you want them to review or be aware of. Email syncing - very good syncing with Gmail and Outlook. Emails linked to a matter - Yes. Easy to link emails to a matter. Client Portal - Yes.
Cons:
The only thing that kept me from staying with PracticePanther, is that MyCase allows you to be able to set future billing to go out to a client(s) and forget it. PracticePanther has a bit of a 'workaround' if you get the client's Visa/Debit card on file, but many times clients are uneasy giving you their card number. With Criminal Defense clients that need to make monthly (or future) payments on a retainer amount, MyCase allows you to set-up future dates where a client will be emailed a bill, which they can tap on a button and pay on-line. This is the main thing that made me go with MyCase. But if not for that, I would have stayed with either PracticePanther or Smokeball. Smokeball had/has the slickest software for being able to send emails from (either) Outlook or Gmail, and a small window at the bottom allows you to connect that email to a matter. Smokeball's software also made/makes it very easy to sync a Word document with a Client/Matter.
Alternatives Considered: MyCase and Smokeball
Reasons for Switching to PracticePanther Legal Software: I ended up going with MyCase because it has the auto future filling of clients. But if MC didn't have that, I would have gone with PracticePanther or Smokeball.
Danielle
Managing Partner in US
Law Practice, 2–10 Employees
Used the Software for: 6-12 months
Reviewer Source
Loved it at first, disappointed after 6 months
Comments: I purchased PracticePanther about 6 months ago, and I was initially very happy with it. I hadn't used a practice management software before, so it felt pretty life-changing. The platform felt intuitive and user-friendly, and it simplified everything from time tracking to billing. However, after 6 months of use (and data loss), I have become increasingly frustrated with PP and have finally made the (costly and inconvenient) decision to switch to Clio. There have been a lot of glitches with the platform and things that don't work intuitively. But the most frustrating and costly glitch occurred when I downgraded my plan to the "middle" plan, and it somehow deleted all the custom rates I had set for each matter. No one at PP could figure out why this happened or how to undo it, so I spent half a day re-reviewing engagement agreements, and re-creating new matter rates -- in addition to spending an hour or so on the phone with PP customer service and sending emails explaining the issue (and didn't even get a response). The "solution" PP offered was to upgrade me back to the higher level for one month (about a $30 value)! That provided absolutely zero benefit to me (I downgraded because I didn't need the features from the highest plan). The amount of money I've lost using PP has been in the thousands! I've switched to Clio now, which seems better so far.
Pros:
That it made time tracking and billing easy
Cons:
Too many glitches in the software that caused serious issues with my pricing and billing
Alternatives Considered: Clio
Reasons for Switching to PracticePanther Legal Software: The interface seemed more intuitive and seemed more geared toward transactional law (rather than litigation)
Paradigm Response
3 years ago
Hi Danielle. We appreciate your honest feedback on PracticePanther and are using it to better support our customers going forward. We apologize for the inconvenience you experienced with our plan downgrade experience. Our engineering and support teams are working hard to address this issue so this doesn't happen again. If you need any help exporting your data, please feel free to reach out to us. We want to make what is left of your experience with us as easy and smooth as possible. I wish you the best of luck and want you to know that should you ever be willing to try us again, we'll do our best to make it a world-class experience.
Law Practice, 2–10 Employees
Used the Software for: 2+ years
Reviewer Source
PracticePanther Integrations with Key software is a great advantage
Comments: I am very pleased with PracticePanther. Very easy to use. Does what we need.
Pros:
Integration with quickbooks and the ability to take credit card payments through PP helps make collections and billing work well with all team members being able to take payments without needing all of them to be able to get into quickbooks.
Cons:
Having restart searches for contacts or matters when we did not find the one we were looking for i.e. multiple persons with same name. and having to search again. Would like to be able to have reporting using matter type. Being able to customize reports would be great. Some reports show graphs but are hard to get the information ranked like the graph
Brenda
Legal Assistant in US
Law Practice, 2–10 Employees
Used the Software for: 6-12 months
Reviewer Source
Love PracticePanther
Comments: This software has saved us time on the tasks that would take a long time like creating letters or pleadings as they are automated now. Since the information pulls from the fields there is also a very low risk for typing errors.
Pros:
Super easy to use! We love that we can create custom fields for a contact or matter and have really enjoyed the automation portion of the software. The templates are easy to create and automatically pull the information from the contact and matter sections that we need.
Cons:
Under Matter, instead of editing the whole section, it would be nice if I could hoover over the field I only need to update. I also wish I could highlight text in the matter or notes section. I create multiple matters under one client and some of the information in the fields is always the same. It would be nice if I could select an option so any time I create a new matter for that client, the information in the matter auto fills for any new case going forward.
Alternatives Considered: CosmoLex, Smokeball, Tabs3 and Clio
Reasons for Choosing PracticePanther Legal Software: Had to upgrade every so often and had to log onto our server to use. With PracticePanther, I log in from anywhere.
Switched From: Tabs3
Reasons for Switching to PracticePanther Legal Software: Price and ease of use