SimplyBook.me
What Is SimplyBook.me?
SimplyBook.me offers the most extensive online booking system on the market, one that makes you look professional and solves all your online needs. You get a full blown booking website, or a widget for your own website, where you can present your business and accept appointments, sell products, membership, packs, gift cards and service add-ons. Manage your business with one solution; website, accept bookings, marketing initiatives, business statistics and,online and on site payments (POS).
Who Uses SimplyBook.me?
SimplyBook.me suits all small & med sized companies accepting bookings like beauty salons, schools, consultants etc. The Enterprise solution allows to manage all subsystems within the admin interface.
SimplyBook.me Details
SimplyBook.me
Founded in 2008
SimplyBook.me pricing
Starting Price:
US$10.00/month
Yes, has free trial
Yes, has free version
SimplyBook.me has a free version and offers a free trial. SimplyBook.me paid version starts at US$10.00/month.
Pricing plans
get a free trial
SimplyBook.me Details
SimplyBook.me
Founded in 2008
SimplyBook.me videos and images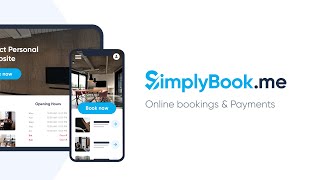 SimplyBook.me deployment and support
Support
Email/Help Desk
FAQs/Forum
Knowledge Base Software
24/7 (Live rep)
Chat
Deployment
Cloud, SaaS, Web-based
Android (Mobile)
iPhone (Mobile)
iPad (Mobile)
Training Software
Live Online
Webinars
Videos
Features of SimplyBook.me
Paula P.
Vice President, Director of Marketing in Canada
Verified LinkedIn User
Professional Training & Coaching, 2-10 Employees
Used the Software for: 1-5 months
Very happy we found SimplyBook.me
Pros:
What's nice about SimplyBook.me is that you can customize which features you want.
Cons:
There are nothing I 'dislike' about SimplyBook.me. I would make a couple of improvements, though: 1. We are glad there are both session confirmation and reminders, but we would really like it if we could schedule a reminder around 1000 days from the date of training. This might sound like a long time, but the certifications we offer are good for 3 years and 1000 days would still give them a couple of months to schedule their recertification training. 2. It would be nice if the 'unlimited' tier of add-ons wasn't so much more than the tier that gives you 8 add-ons. At most, I would like one or two more, but it's not worth such a huge jump in price. 3. We really like the idea that email can come from our business email address, but at the moment, it's just not working for us because the SMTP settings just aren't being accepted.
Alternatives Considered: Calendly
Reasons for Choosing SimplyBook.me: SimplyBook.me has the most features we need.
Switched From: Ubindi, Google Calendar and Calendly
Reasons for Switching to SimplyBook.me: SimplyBook.me has the ability to easily schedule multiple training sessions running concurrently.
SimplyBook.me Response
last month
Dear Paula, Thank you so much for taking the time to leave us your fantastic feedback, we truly appreciate it! Regarding your request to add this to your system that you can send a reminder 1000 days after training, within the come-back-soon feature then we could probably add this to your system. Please pm me and send me your booking website. All the best The SimplyBook.me team
Becky D.
Director in U.K.
Nonprofit Organization Management, 2-10 Employees
Used the Software for: 2+ years
Great features but the recent price increases have stung a bit!
Comments: Overall, Simplybookit has helped us streamline our appointment booking and monitoring systems. Despite it being a little difficult to set up initially, if you can afford the standard package (or can make do with the basic package) it's worth the time and the customer service is great.
Pros:
It has some really great features that we needed - multiple locations, the ability to take appointment deposits, customise notification emails and having a questionnaire for clients to fill in at the point of booking. The ability to download our daily appointments as a CSV file is really useful - generally speaking, the amount of data we're able to extract from it for our monitoring is fantastic. The customer service is fast and helpful.
Cons:
The interface took a bit of getting used to (but once you're used to it, it's fine! We have some single appointments for one person and some workshops with multiple spaces, but they have to be set up in the same way so the workshop booking interface is quite clunky from the customer's perspective. Some of the info (for example the service description) isn't viewable on mobile devices which is a shame. The recent price rises were a bit of a shock when it came to renew our subscription and unfortunately it has now become unaffordable for us to keep using.
Alternatives Considered: Acuity Scheduling, Timely and Bookwhen
Reasons for Choosing SimplyBook.me: At the time, Simplybookit offered the features we needed at a better price point than 10to8
Switched From: 10to8
Reasons for Switching to SimplyBook.me: It offered the features we need at the most favourable price.
SimplyBook.me Response
2 years ago
Dear Becky Thank you so much for taking the time to leave us your feedback, we truly appreciate it. Regarding your comment on some of the service description not showing on your mobile, can you please send me from what kind of mobile you are checking? I checked your page with iphone and I can read all service descriptions. We are very sorry to hear that you guys have stopped using our system due to cost. I can see that you are a non profit organization, please contact me directly so that we can see what we can do for you guys. All the best The SimplyBook.me team
Entertainment, 2-10 Employees
Used the Software for: 6-12 months
Very confusing but amazing customer service
Comments: Its a great tool, so easy for the client side but for the business owner, aye!
Pros:
Love the ease for our clients to book and it has a built in website. It integrates with square and very affordable. The websites are beautiful not very customizable but you can manage.
Cons:
Very confusing! Because majority of the major features that anyone would need counts as custom feature, its so difficult to find what you need. There are settings under Welcome, Manage, Custom features, and settings. Honestly, been using this site for 6months or more and still don't know where all settings and features are, so just click click click away til you find it. Sometimes, you would have to look deeper. Example, for time schedules. OMG, ,good luck! Good thing is c\they have the best customer service on chat 24/7 so you would just have to chat with them and they'll give you a link. God bless them! Another con would be the reports! REPORTS is key guys! Reports are our roadmap! Can we get a report for all the deposits? or just add deposit column to the booking details. Lastly, marketing, you're limited if you want to get on Google's 1st page without ads.
Alternatives Considered: Appy Pie, QuickBooks Desktop Enterprise, Calendly and HoneyBook
Reasons for Switching to SimplyBook.me: It integrates with IG.
SimplyBook.me Response
7 months ago
Hi Gloria, Thank you so much for a very constructive feedback, we appreciate it highly. We would like to ask if you are up to joining us for a focus groups where we would discuss user friendliness of the system as well as reports. It would be very useful to hear your specific comments about what exactly could be improved. Please reply directly to this email if you are interested and we will set up a call. Best regards Rut
Esther D.
Business Owner in Canada
Cosmetics, Self Employed
Used the Software for: 1-5 months
Love this system
Comments: Overall experience has been great. I did have some issues with setting some features up but their customer service was amazing and someone is always there to assist whenever you have questions or concerns. 5 stars!!!!
Pros:
I love how you can basically create your own website for your booking system and customize it to suit your brand. I love the added custom features. The fact that you can choose what to enable and what to disable based on your business's needs is amazing! And the annual price for the Basic plan so great! Definitely most cost effective than other scheduling systems I've used in the past.
Cons:
I feel like they should include more than just 3 custom features on the basic plan. "Accepting payments" & "Accepting deposits" are 2 main features that most businesses require, & without a doubt should be included for free. It's kind of a no brainer. Or both of these features should be 2 in 1 because they go hand in hand. Having to enable both of them then leaves you with only 1 more custom feature to select. Other than this, everything else is great!
SimplyBook.me Response
2 months ago
Dear Esther, Thank you so much for taking the time to leave us your amazing feedback, we appreciate it greatly! All the best The SimplyBook.me team
Mel L.
Subconscious Behaviorist in U.S.
Mental Health Care, 2-10 Employees
Used the Software for: Free Trial
Health Practice Perspective
Comments: Overall is grt. Quick responses from customer services. For us, the extensive ability to customize, operate video sessions, book a variety of services, products, packages, classes, and a membership makes this an all-in-one solution.
Pros:
Incredible amount of features for the $. HIPAA compliance / encryption SOAP notes Versatility Complete customization of confirmation emails to both service providers & Services Very easy for clients to navigate Clients can track their own packages Ability to force pre-pay Intake form option Seriously, I could list a ton more amazing features plus the fact that they continue to add more.
Cons:
Realizing this was initially designed to serve salons, not health care providers, I hope to see improvements in the following areas: SOAP notes are the only therapy note option. Woud be nice to have a simple progress notes option. Ability to tender in person payments directly thru the platform would be a really big deal for us. Right now, a transaction is only tendered if they pay when they book thru the website. In person, we can create invoices and mark them as paid, but need to use a separate platform to capture cc payment. It would be nice if we didn't have to go thru a 3rd party for video calls. Gruveo has been good so far, but it's still extra steps to move from appt to video. Ideally, the ability for the practitioner to enter the video call directly thru their appointment calendar would be grt. A mobile app for clients to manage appts & take video calls would be excellent. I think these r the biggest things that affect us, but even with these, the simplybook platform has been grt.
SimplyBook.me Response
2 years ago
Dear Mel Thank you so much for your constructive feedback, we appreciate it enormously! First of all I can say that we are working on developing an admin app and maybe a client app in next round. With regards to the videos then it is relatively simple to use jumpch.at and mixing it with our booking code to give direct contact, please check that out. With regards to the Progress note option, then yes that is something that we have considered, but is not yet on our to do list. However I know that some health centers have been using the Medical History tab for that. The automatic cc payment at place, will also be implemented later, but can not promise any date on that. Thanks again for your valuable feedback All the best The SimplyBook.me team