What Is MeisterTask?
MeisterTask is a web-based task and project management tool that is perfect for agile project management. Beautifully-designed interfaces, intuitive functionality and seamless integrations with other tools make it a logical choice for project teams.
The tool is part of the Meister Suite, a group of products for flawless workflow management. From ideation in our mind mapping tool, MindMeister, to online documentation in MeisterNote.
Who Uses MeisterTask?
MeisterTask was designed with the needs of agile project teams in mind. It accommodates all kinds of workflows - from simple static project boards to software sprints, Kanban systems and more.
Where can MeisterTask be deployed?
Cloud-based
On-premise
---
MeisterTask support
Phone Support
24/7 (Live rep)
Chat
MeisterTask pricing
Starting Price:
US$4.19/month
Yes, has free trial
Yes, has free version
MeisterTask has a free version and offers a free trial. MeisterTask paid version starts at US$4.19/month.
Pricing plans
MeisterTask support
Phone Support
24/7 (Live rep)
Chat
MeisterTask videos and images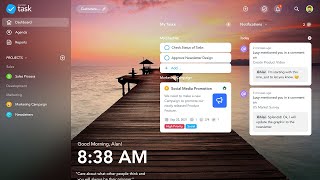 Features of MeisterTask
Access Controls/Permissions
Activity Dashboard
Activity Tracking
Agile Methodologies
Alerts/Notifications
Assignment Management
Backlog Management
Bar Chart
Brainstorming
Collaboration Tools
Color Codes/Icons
Commenting/Notes
Communication Management
Content Management System (CMS) Software
Create Subtasks
Dependency Tracking
Document Management Software
Drag & Drop
Email Management Software
Email-to-Task Conversion
File Sharing Software
For Creative Agencies
For IT Project Management
Gantt/Timeline View
Idea Management Software
Import Tasks
Issue Management
KPI Monitoring
Kanban Board
Milestone Tracking
Mobile Access
Notes Management
Portfolio Management
Prioritization
Project Planning Software
Project Planning/Scheduling
Project Scheduling
Project Tracking Software
Real Time Editing
Real Time Notifications
Recurring Tasks
Reporting & Statistics
Reporting/Project Tracking
Requirements Management Software
Resource Management Software
Roadmapping
Search/Filter
Status Tracking
Surveys & Feedback
Tagging
Task Editing/Updating
Task Management Software
Task Progress Tracking
Task Scheduling
Task Tagging
Time & Expense Tracking
Time Tracking Software
Visual Workflow Management
Web-based Deployment
Workflow Management Software
Alternatives to MeisterTask
Real Estate, 1,001-5,000 Employees
Used the Software for: 1+ year
Stable task manager to boost work productivity.
Comments: The free trial was one of the bad things we experienced, but we countered it by buying one of MeisterTask's paid plans, so our benefits were noticeable when we went for a paid plan. Our overall experience has been completely positive despite the negative things that I mentioned previously, this platform has made our employees have a better production in their work, it has also allowed me to manage the tasks of the employees even better. I'm the owner of the company in which i'm currently, and MeisterTask has been a key software for our company to work with greater optimization, since we can manage the time that an employee dedicates of each task separately, in addition, we can carry out task assignments from our phone or computer without any problem. We are happy and satisfied with the results achieved with MeisterTask, we have been using it for more that 1 year and it has allowed us to manage large amounts of tasks.
Pros:
MeisterTask helps us all to have control over work tasks and manage them controlling schedules is easier with this platform. What I like most about MeisterTask is that it works in real time, so you will be able to see in real time the activities that your employees are completing, you will be able to know what task is being executed at a specific time, in addition, you will be able to meet the participants of each task that is being developed, that is magnificent and it is one of the most outstanding functions. I also liked how seamlessly MeisterTask separates tasks, it has a system that divides tasks into colums, this way I can see running, completed and pending tasks separately, I can also see tasks that have been recently scheduled. The general interface of MeisterTask is perfect, it helps me to have full control of the tasks of our employees.
Cons:
Synchronization between devices is one of the main things that needs to be improved in MeisterTask. Since I started using this platform I have noticed that when I add a new task schedule for a specific time from my mobile phone, these tasks take approximately 5 minutes to syncrhonize with my computer and be reflected on the computer, I would love that all tasks that I add from my mobile phone are instantly displayed on my PC. Another of the negative things about MeisterTask is that the free trial is very limited, it only allows you to add two tasks for planning, in addition, it does not allow you to see the results of the tasks in real time as it happens from the paid version, I think that the version of free trial should offer better features and functionalities, to further capture the attention of new users.
Meister Response
5 months ago
Hi there - thanks so much for reaching out! We're glad to hear that MeisterTask has helped you manage your employees, track progress and work more productively! In the future, be sure to reach out to us at [email protected] if you need any more trial licenses in the future - we'd be happy to set you and your team up with an extended trial of MeisterTask Pro or Business :D I've also forwarded your critiques to our mobile product team - they are currently working hard to improve synchronization between the web and mobile apps. Stay tuned for more updates! Thanks, The Meister Team
Sarah
System Administrator in US
Verified LinkedIn User
Information Technology & Services, 10,000+ Employees
Used the Software for: 2+ years
An ideal collaborator for managing projects
Comments: This is the appropriate solution for you if you require a comprehensive overview of your projects, tasks, and the implementation of cooperation among numerous users. It has a strong impact despite its seeming simplicity. The product has served me well for almost three years, and I have no reservations in recommending it. Although I am a web developer and the owner of a marketing business, this is the tool I find most useful.
Pros:
I appreciate how accessible it is regardless of the device being used. Meistertask has made it very easy for me to keep track of the many tasks I'm working on at once. I use Kanban to monitor the status of each job within a project, log hours worked on each task, and compile time-based reports for clients.
Cons:
Very few drawbacks may be found. Perhaps the cost of the Timeline (the new Gannt chart similar) function. Please add more functionality to the free tear. It's OK to pay, but you can't always demand your coworkers chip in. As an additional feature, I'd want to see support for integrating with external services. Having it available would be really convenient.
Denise
Marketing Specialist in US
Verified LinkedIn User
Marketing & Advertising, 201-500 Employees
Used the Software for: 2+ years
It's great for task/project management and I like using it
Comments: I enjoy almost everything about this program. It does what it's supposed to and does it well.. It's a pleasure to use and does exactly what I need it to do: keep track of tasks and projects. For agile management, it's a very useful Kanban-style tool MeisterTask's interaction with MindMeister is one of my favorite features.
Pros:
This software is fantastic. It's much easier to communicate with the entire team at the same time this way. As a way to keep everyone working together at all times, we use this method. It's convenient for us because we're often on the go, so we use it on our tablets.
Cons:
There's nothing else I'd want to add at this time. It's nice, however I'm not sure if the fee is preventing me from becoming pro. I'm not a fan of the subscription licensing model in general. In my opinion, I prefer to get a product license, and then pay for an update if necessary.
Shayla
Human Resources Specialist in US
Verified LinkedIn User
Internet, 1,001-5,000 Employees
Used the Software for: 2+ years
I can sort of all pending and completed tasks
Comments: With MeisterTask, we can manage and work on several projects at the same time, even if we are in separate places. Using this software has the added advantage of being simple, affordable, and widely accessible, all thanks to its cross-platform interoperability.
Pros:
With MeisterTask, customers may take use of this project management solution in a matter of minutes thanks to its simple and intuitive design. Managing many projects and sub-tasks at the same time is also a breeze. Good for teams/collaboration and excellent mobile applications. Kanban task management method. Exactly one year ago, I was searching for an alternative to Trello.
Cons:
MeisterTask does not include a workflow calendar, which would provide for a more full picture of the productivity of a project.
Meister Response
6 months ago
Thanks so much for taking the time to write such an extensive review, Shayla! It's always great to hear from users who've benefited from our collaborative Kanban-tool. :D I've forwarded your suggestion regarding a workflow calendar to our project manager, who is always happy to collect and consider user feedback. In the meantime, you might want to try out direct integrations with Google Calendar and iCal. We'd also love to hear more about your experience with MeisterTask, including any improvements or suggestions you might have! Please don't hesitate to reach out to us on Twitter at @MeisterTask if you have any feedback. Thanks again, Your MeisterTask Team
Melissa
Game Developer in US
Verified LinkedIn User
Computer Software, 1,001-5,000 Employees
Used the Software for: 2+ years
An easy-to-use project management tool
Comments: Notifications, timely project management, and a colorful UI make this the ideal tool for project management. Task assignment attributes and deadlines are also extremely impressive. Not exceeding deadlines since they offer reminders aids in remembering all the actions that are critical for a certain project's progress.
Pros:
As a project management tool that is both excellent and extremely useful, MeisterTask is a terrific choice. Because of its reasonable pricing and similar functionality to its competitors, this product is a viable option for consumers. With MeisterTask, customers may take use of this project management solution in a matter of minutes thanks to its simple and intuitive design. Managing many projects and sub-tasks at the same time is also a breeze.
Cons:
MeisterTask does not include a workflow calendar, which would provide for a more full picture of the productivity of a project.