What Is JIRA Service Management?
Jira Service Management is an ITSM solution that unlocks high-velocity IT, dev, operations, and business teams. Empowered teams can deliver great service experiences, without the complexity of traditional ITSM, and coordinate efforts for even more impact through Jira's open collaborative platform. Streamlined workflows, automation rules, queues, SLAs, and a self-service portal all empower IT, dev, operations, and business teams to deliver exceptional service management at scale with no silos.
Who Uses JIRA Service Management?
High-velocity teams looking to optimize their ITSM practices eliminate silos between IT, operations, development, and business teams, resolve requests and incidents fast, and push changes with ease.
Where can JIRA Service Management be deployed?
Cloud-based
On-premise
---
About the vendor
Atlassian
Located in San Francisco, U.S.
Founded in 2013
JIRA Service Management support
JIRA Service Management pricing
Starting Price:
US$0.00/month
Yes, has free trial
Yes, has free version
JIRA Service Management has a free version and offers a free trial. JIRA Service Management paid version starts at US$0.00/month.
Pricing plans
get a free trial
About the vendor
Atlassian
Located in San Francisco, U.S.
Founded in 2013
JIRA Service Management support
JIRA Service Management videos and images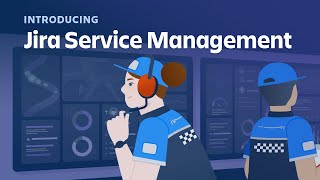 Features of JIRA Service Management
Access Controls/Permissions
Activity Tracking
Alerts / Escalation
Alerts/Notifications
Asset Lifecycle Management
Asset Tracking Software
Assignment Management
Audit Management
Audit Trail
Automated Routing
Backlog Management
Backup and Recovery
Barcoding/RFID
Bug/Issue Capture
Capacity Management
Change Management Software
Collaboration Tools
Commenting/Notes
Compliance Management
Compliance Tracking
Configuration Management
Contract Drafting
Contract/License Management
Cost Tracking
Customer Complaint Tracking
Customer Support Software
Customizable Branding
Customizable Reports
Customizable Templates
Dashboard Software
Document Management Software
Email Management Software
Feedback Management
For IT Project Management
Full Text Search
Help Desk Management
IT Asset Management Software
IT Reporting
Incident Management Software
Inventory Management Software
Issue Auditing
Issue Management
Issue Tracking Software
Knowledge Base Management
Knowledge Management Software
License Management Software
Location Tracking
Maintenance Management Software
Maintenance Scheduling
Mobile Access
Multi-Channel Communication
Multi-Language
Network Monitoring Software
Patch Management Software
Performance Metrics
Prioritization
Problem Management
Project Tracking Software
Queue Management
Real Time Analytics
Real Time Monitoring
Real Time Reporting
Release Management
Remote Monitoring & Management
Reporting & Statistics
Reporting/Analytics
Routing
Search/Filter
Self Service Portal
Service Catalog
Service Level Agreement (SLA) Management
Status Tracking
Supplier Management
Support Ticket Management
Task Management Software
Text Editing
Third Party Integrations
Ticket Management
Time & Expense Tracking
Widgets
Workflow Configuration
Workflow Management Software
Alternatives to JIRA Service Management
Reviews of JIRA Service Management
Josemaria
Vice Director for External Affairs in Philippines
Verified LinkedIn User
E-Learning, 51-200 Employees
Used the Software for: 1-5 months
From the Trusted Atlassian
Comments: In a crowded space for helpdesk apps, Jira Service Desk stood out because of the company that backs it up, its family of related apps and, the current integrations with existing third-party apps out there. Jira SD is well worth trying out.
Pros:
From the same company of my favorite and trusted apps like Trello and Jira... We then gave Jira Service Desk a try. The user interface has a modern look and feel and is intuitive enough even for a novice user or admin. It has a pretty standard set of tools to run your usual IT Helpdesk and Support roles straight out of the box (Incident management, Problem, Change, SLA management, etc.). In fact, you can set up your helpdesk well within an hour (of course not counting the per company nitty-gritty). Default setup works, but it's also super customizable based on your company needs. The Dashboard has all the at-a-glance metrics, statistics and graphs to keep you up to speed with the overall status. Again, coming from Atlassian, it has a ton of possibilities in terms of integration with other apps. I feel the constant stream of dev improvements and updates.
Cons:
Even though I mentioned that the third party apps can be easily integrable, we find the documentation for creating one's own integration apps a bit lacking. Also, the creation of tickets can be more streamlined or simplified (perhaps with the minimum number of fields and button clicks) to make it easier or faster to create and then further details can follow.
patrick
Database in South Africa
Computer Software, Self Employed
Used the Software for: 6-12 months
patson jira review
Comments: I work with it to manage my work and to build and track the application without wasting my time this is good software to work with it
Pros:
I was working with this software for so long it's always a great software it's a fastest product that help me track my application what I will says is, it's a great way to work with it as a developer
Cons:
"great product ever that helps you manage all your work in one place and supplying you with great result
Nick
Senior Product Manager in U.S.
Verified LinkedIn User
Financial Services Software, 10,000+ Employees
Used the Software for: 2+ years
Great for Smaller Businesses, not for the Large Enterprise
Pros:
Service Management is very easy to get going "out of the box" for small organizations. We stood this up apart from our enterprise's main service management tool because we had special needs for our intake forms and this allowed us to do the customization needed without going through rigorous development through the enterprise level tool.
Cons:
Form design for your main portal can sometimes be wonky, as navigating through the options takes a bit of getting used to and aren't the most intuitive at first. Workflows are also very simple and complex decision-making based on external data is not readily available.
Alternatives Considered: ServiceNow
Reasons for Switching to JIRA Service Management: Service Management ultimately was chosen because it integrated perfectly with our Jira instance and allows for seamless story/epic creation from internal customer requests, porting the information over was made very easy by this fact and the workflows you can create between the two are very useful.
Ashish
Senior Architect in Canada
Insurance Software, 10,000+ Employees
Used the Software for: 2+ years
Life Savior tool for Agile Projects
Comments: JIRA is becoming one shop all for all project management needs.
It also act as a tracking warehouse for all project management and IT management activities in current agile world.
Scrum meeting actions and stories are easy to browse compared to other existing tools on premise.
JIRA is also efficient to manage code control versioning easily by rapidly varying requirements.
It saves a huge cost for placeholder for our IT Asset management when migrated from traditional software
Pros:
JIRA service management is very use friendly software in day to day project activities. JIRA has been excellent tracking tool for testing bugs, defects easily during entire project cycle. It is very effective place holder for IT asset management and project management phases. JIRA has capabilities to integrate with multiple ITSM management tools and reporting tools for effective reports and dashboarding.
Cons:
New changes for html pages take little more time for loading when moved to production. Version controlling sometimes create hiccups during rollback period.
Alternatives Considered: Confluence
Reasons for Choosing JIRA Service Management: JIRA is more user friendly and easy to mange across enterprise compared to Excel. Macros behaviors were pain points during maintenance but JIRA resulted as cost effective tool for corporates model.
Switched From: Microsoft Excel
Reasons for Switching to JIRA Service Management: It is more cost effective and user friendly software compared to Confluence. It is easy to track for scrum stories and follow agile approach to avoid standard documentation hours
Chris
Manager, Engineering and Cybersecurity in U.S.
Renewables & Environment, 11-50 Employees
Used the Software for: 1-5 months
Ok start, missing some key features
Comments: We have a ticket workflow for IT, so things are being tracked now.
Pros:
Integration with other Atlassian products. Allowed us to start tracking IT issues and requests without having to bring on yet another tool.
Cons:
Would like to be able to more effectively roll out custom support portals for our users, but no native support for custom URLs makes this more difficult. It's too easy for customers to browse around and find portals for other customers.
Alternatives Considered: osTicket
Reasons for Switching to JIRA Service Management: Went with Jira Service Desk as we are already using Jira and Confluence. This let us avoid yet another tool as well as provide some integration potential (which we're not taking advantage of yet).