What Is Booqable?
Booqable is all-in-one rental software for small and medium-sized rental businesses. With a website builder, powerful management tools, and a mobile app, you'll get everything you need to accept online bookings and manage rentals more efficiently. Join the 3,000+ business owners who are already increasing revenue and saving time with Booqable. Book a personal demo or start a free trial today.
Who Uses Booqable?
Our customers rent out event decor, party items, camera gear, bikes, outdoor equipment, surfboards, boats, kayaks, RVs, tools, construction equipment, trailers, IT equipment, clothing, and more.
Where can Booqable be deployed?
Cloud-based
On-premise
---
About the vendor
Booqable
Located in Amsterdam, Netherlands
Founded in 2014
Booqable pricing
Starting Price:
US$29.00/month
Yes, has free trial
No free version
Booqable does not have a free version but does offer a free trial. Booqable paid version starts at US$29.00/month.
Pricing plans
get a free trial
About the vendor
Booqable
Located in Amsterdam, Netherlands
Founded in 2014
Booqable videos and images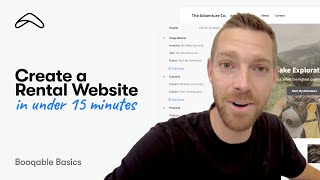 Features of Booqable
Activity Dashboard
Alerts/Notifications
Asset Images
Asset Lifecycle Management
Asset Tracking Software
Availability Management
Barcode / Ticket Scanning
Barcoding/RFID
Billing & Invoicing
Booking Notes
CRM Software
Check-in/Check-out
Client Management
Contract/License Management
Customer Database
Customer History
Customer Management
Data Import/Export
Digital Signature Software
Discount Management
Document Management Software
Electronic Payments
Fixed Asset Management Software
Fleet Management Software
Forecasting
Inspection Management
Inventory Control Software
Inventory Management Software
Inventory Optimization Software
Invoice Management
Item Management
Late Fee Calculation
Location Tracking
Maintenance Management Software
Mobile Access
Multi-Channel Management
Multi-Location
Online Booking
Order Entry Software
Order Fulfillment Software
Order Management Software
Order Tracking
Payment Processing Software
Product Identification
Purchase Order Management
Quotes/Estimates
Rate Management
Real Time Data
Rental Management
Reorder Management
Reporting & Statistics
Reporting/Analytics
Reservations Management
Retail Inventory Management Software
Sales Orders
Sales Reports
Scheduling Software
Search/Filter
Third Party Integrations
User Management
Utilization Reporting
eCommerce Management
Abbey
Director in Australia
Events Services, 2-10 Employees
Used the Software for: 1-5 months
One of the better booking/ tracking systems I have used
Comments: Myself, a non tech savvy, hairdresser by trade, was able to set up a product hire business! The system allowed me to offer online booking straight away, giving us an upper hand over other businesses in my field! I set up product tracking and basically everything we need, on my own while sitting in the couch!!
Pros:
The customer service for this software is second to none! I have used many booking platforms across many different businesses. I found this the most straightforward to set up and manage. It is no nonsense and I don't have to add or complete anything that is not relevant! If I have had any issues or couldn't find something, the customer service team are always quick to help! Our customers find the booking system super easy to use!
Cons:
I would like to have an option at check our suggesting upsales…. "Would you like to add XXXX to your order for only $XX"Also, an option to view emails that have been sent out and see if people have replied. These may already be available, but I can not find them
Alternatives Considered: Square Point of Sale, Rentle and Acuity Scheduling
Reasons for Choosing Booqable: Booqable had all the things we needed in one software…. Others only had a few of what we needed and we would have needed multiple programs
Switched From: Square Point of Sale and Rentle
Reasons for Switching to Booqable: Booqable had all the things we needed in one software…. Others only had a few of what we needed and we would have needed multiple programs
Events Services, 2-10 Employees
Used the Software for: 1-5 months
Glad I found Booqable
Comments: Booqable has made my life a lot easier. It has all the features and functions that I need to efficiently run my business. And 5 stars to the customer support team. They have helped me multiple times help me solve any issues.
Pros:
Online reservations, invoicing and quotes.
Cons:
Computer version is perfect. Just needs a bit work on the mobile app.
Alternatives Considered: Goodshuffle Pro
Reasons for Choosing Booqable: Payment processing and online reservations.
Switched From: Wave Accounting
Reasons for Switching to Booqable: Recommended by a fellow rental company.
Motion Pictures & Film, Self Employed
Used the Software for: 6-12 months
Excellent bang for your buck
Comments: Overall booqable handles the needs of my business very well. Happy with the features and happy with their support. Glad i swithced over when I did.
Pros:
Booqable does quite a lot for its price tag. It is pretty customizable which allowed me to tune it towards my business' needs. It does a fantastic job at inventory tracking, order organization, and overall management of my rental business. I'm very happy I switched over to booqable because without it, I wouldn't have been able to keep up with the growth of my business.
Cons:
Certain aspects of custom pricing rulesets are currently still in their early stages. I've contacted booqable about my needs with that feature since I have some very specific rulesets to implement for my industry. They wrote back saying they've been working on an update for that feature and they're confident it'll solve my case. It's reassuring to know that someone at booqable reads and responds when you write them.
John
Cinematographer in Germany
Motion Pictures & Film, Self Employed
Used the Software for: 2+ years
Just use Booqable.
Comments: Booqable is scalable for no matter the business plan you have. Simple inventory up to running an online shop. If its only part of your business or your core, you can utilize it at any level. It's clean, runs great, and is easy to use. This teamed with their outstanding customer service leads to a great product.
Pros:
I think this is the simplest, most user-friendly product you can use. What I love the most is that this software doesn't take up too much time or effort to use. They make everything plug and play and in lots of situations, turnkey. I work as a cinematographer and use the software for tracking my equipment, building quotes, and some small rentals to colleagues, but I don't want the mess of running a rental house. Booqable makes it easy to do all I need without the major time investment. If you want to get into the details, go for it, but if you want simple item tracking/webshop/inventory, it's great. Also, the customer service has always been top notch, and I have been a user for years and never had an issue.
Cons:
I would say my only con is there could be a cleaner calendar view, and the app needs a little work, I wish I could send quotes from the app itself instead of having to go to the desktop site.
Alternatives Considered: sevDesk and Rentman
Reasons for Switching to Booqable: It checked all the boxes I needed and the price was great.
Eric
Haslet Kayak Rentals in US
Recreational Facilities & Services, Self Employed
Used the Software for: 1-5 months
Booqable for Small Business
Comments: I am now finding myself taking phone calls and having to manually put customer information into booqable manually vs. them going through the website, which is not only more work for me, I am wondering how many customers I am losing because the interface for my customers is bulky and not user friendly. The price is also really expensive for a small business like myself, I rent out kayaks locally (only have about 8 in inventory) and might make only a few hundred dollars a month during the summer months. $30 a month doesn't seem too but but to charge an additional $40 a month for a SMALL feature like a coupon code? That really seems petty and money hungry, when it could really help the small business benefit start generating profit. This app is priced like it is for big business, interface for me (your customer) is acceptable and great to work with, the front end interface you provide for third party customers could really use some improvement... AND please add the coupon option to the basic package. I am literally a one person business that can no way afford $70 a month with the income that is currently being generated.
Pros:
The software is extremely easy to use and I was able to build it directly into my website. I loved how easy it was to setup with stripe payments and get started. It only took me about a half of a day to get fully implemented and have a fully functioning website up and running.
Cons:
User interface for the customers is extremely bulky and non-customizable. After the customers are redirected to the booqable interface to add to card, checkout, pictures, checkout dates, etc. just seemed like a bulky and hard to use the first time I used it. This is extremely important in my business because my it heavily relies on new customers trying out different kayaks, I am trying to turn potential customers who land on my website into actual customers. After the website was launched, I noticed advertising clickthrough rate had stayed the same but my sales had declined, leaving me to the conclusion that the website is bulky and hard to use for the customer. The entire reason I built the website was to make it more convenient for my customers to choose a kayak and checkout. A very specific example, I initially had the option for users to create a login and password. While I went through the process of creating an account and checking out, the booqable interface prompted me to login since I "Already had an account". The entire process included making a profile, so I would have expected the app to recognize that and continue forward. After being confused about where to click to login, I had to start the entire process again to input credit card information etc. I tested this interface four or five times as a new user and it just seemed clunky and not user friendly.