What Is Quire?
Breaking projects into smaller, bite-sized tasks is critical for successful project management. Quire is built for this key activity and arguably the best solution for businesses that struggle with taking big goals and both making them smaller and managing all these little tasks.
Main view modes in Quire include Task List view, Kanban view, Timeline view, and Calendar enable you to work smarter and inspire you to achieve higher milestones.
Who Uses Quire?
We serve individuals and teams who want to boost their productivity to the next level and achieve greater milestones.
Where can Quire be deployed?
Cloud-based
On-premise
---
About the vendor
Potix
Located in Taipei, Taiwan
Founded in 2007
Quire pricing
Starting Price:
US$10.95/month
Yes, has free trial
Yes, has free version
Quire has a free version and offers a free trial. Quire paid version starts at US$10.95/month.
Pricing plans
About the vendor
Potix
Located in Taipei, Taiwan
Founded in 2007
Quire videos and images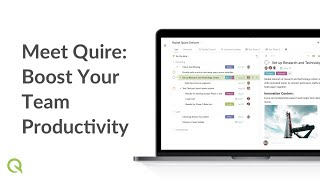 Features of Quire
Access Controls/Permissions
Activity Dashboard
Activity Tracking
Alerts/Notifications
Assignment Management
Bar Chart
Brainstorming
Calendar Management
Collaboration Tools
Color Codes/Icons
Commenting/Notes
Communication Management
Content Management System (CMS) Software
Create Subtasks
Customizable Templates
Document Management Software
Document Storage
Drag & Drop
Email-to-Task Conversion
File Sharing Software
Gantt/Timeline View
Idea Management Software
Import Tasks
Kanban Board
Milestone Tracking
Mobile Access
Multi-Channel Communication
Percent-Complete Tracking
Prioritization
Progress Tracking
Project Planning/Scheduling
Project Scheduling
Project Tracking Software
Real Time Editing
Real Time Notifications
Recurring Tasks
Reporting & Statistics
Reporting/Project Tracking
Resource Management Software
Role-Based Permissions
SSL Security
Search/Filter
Secure Data Storage
Status Tracking
Tagging
Task Editing/Updating
Task Management Software
Task Progress Tracking
Task Scheduling
Task Tagging
Time & Expense Tracking
Visualization
Workflow Management Software
damian
Managing Director in Belgium
Internet, 2-10 Employees
Used the Software for: 1-5 months
Simple, but extremely powerful software
Comments: Overall I'm loving it and using Quire on a daily basis. It made my life so easy that I cannot believe how I managed before without it. It's clean, elegant and for me very easy to use. It took me maybe 2-3 hours to figure out most of the stuff and a day or so to feel really comfortable with it. Quire has all the features I wanted to have and gives me the ability to organize my business efficiently. It's brilliant that I can have several workspaces with multiple projects. Which I can further split into nested tasks with subtasks, but also into linked sublists with differnt view, e.g. boards. Even if I'm looking for something it turns out to be better thought out then how I would expect it to be or look like. Plus I can get an overview of progress stats and progress summary. Not to mention the support is amazing! Fast, responsive and eager to help. Something that you won't see much when it comes to free tools. Honestly, I can't believe it really is a free tool.
Pros:
Simple. Fast. Intuitive. Not distracting. Gives everything a freelancer, SMBs or corporate might need. It's not overly complicated with unnecessary features. Tree structure is absolutely awesome! This way you can break every project into actually manageable tasks. Every task or subtask can have priority, start and due date, responsible person or external team and files attached. FREE.
Cons:
Minimalistic view might give an impression it's super basic and won't provide what you need [but the truth is exactly the opposite]. Some people might find lack of chat or message board a disadvantage [but for me tasks comments are enough and allow me to keep things tidy]. There is no calendar view so it can be seen as a negative by some people [but there is a timeline view which is good enough for me]. Not sure how pricing structure will look like in the future.
Alternatives Considered: TaskQue, ClickUp and Asana
Reasons for Switching to Quire: For me personally it felt most intuitive and had all the features I wanted to have. After testing Quire and 2 other tools I decided Quire works best for my individual needs. One of the points was the ability to have all projects / workspaces available on the left panel so I can see all the most important things without clicking back and forth. Also the design is not overwhelming so that's a positive.
Adam
Civil Design Engineer in Canada
Civil Engineering, 11-50 Employees
Used the Software for: 2+ years
Everything you need, and nothing that you don't
Comments: It took all of 4 days for me to become comfortable with their version of markdown and the in line task entry system. Creating check boxes, tables, asigning tasks in line, assigning deadlines and start dates in line, all of it.
There has been no issues to date with the software, and I am now using it to organize my entire life. NOT just my working life.
Getting my team onboard was easy, and everyone who uses the software comments on how easy it was to learn to use in our context, and how lightweight/quick it is to use.
Pros:
Simple UI Easy inline entry of tasks and restrictions such as due date, start date, assignees, tags, files and everything else one could need to get their tasks in order and their team up to date In line chat and descriptions let people talk about important issues The overview and kanban board options are great for people who organize their information in different ways, and the ability to have the boards interact with one another in various ways is excellent
Cons:
Very minimalistic (A positive for me, but maybe not for everyone!) Constant improvements being rolled out (A positive for me, but not everyone wants to have to learn new features constantly) FREE!
Alternatives Considered: Todoist, Trello and Asana
Reasons for Switching to Quire: Free trial was winding up and the lack of needlessly complex requirements and input methods. The less I have to learn for minimum viable usage the better for switching/picking up new software, and makes convincing my team to use it easier. This minimalistic front end with the complexity in the back end that lets those who want to be power users and those that want to run at the minimum viable level is key for me.
Marion
President in Canada
Nonprofit Organization Management, 11-50 Employees
Used the Software for: 1-5 months
Amazing product , exceptionnal and generous customer service
Comments: Very good, the best "tasks" app we ever used.
Pros:
Everything, but i Prefer: - Possibility to assign a single task to multiple user (and when it's get done, it goes away for everyone) - Possibility to organize yours tasks by organization, projects and boards - Possibility to create weekly, monthly, etc tasks - Possibility to attach document to each task - User friendly - French language ! (and the translation is good!) - The generosity and help from the customer service (as a small and poor charity organisation who rely on volunteers who work from home, we need this kind of service to complete our projects)
Cons:
- maybe the fact that when you look a subtask on a board , you can't see their connection to the "complete task" and it can be somewhat confusing to differentiate between similar subtask (Actually we just have to always name the subtask with the name of the complete task, so we have a way around)
Alternatives Considered: Microsoft To Do
Reasons for Choosing Quire: Wunderlist was bought by Window and replaced by To-do. We liked Wunderlist as it was free but it lacked some important feature (Quire is a lot better). We had to fond an alternative and we wanted something better.
Switched From: Microsoft To Do
Reasons for Switching to Quire: We tried To-do and hated it, it was complicated to set-up, we had to create a microsoft account for every single users and its features was worst than Wunderlist. We search for a long time before we finally found Quire and we are really happy.
Ken
Director of Post Production in US
Motion Pictures & Film, 51-200 Employees
Used the Software for: 1+ year
Great Tool For Keeping A Team Up To Date With The Latest Information
Comments: We work in a business where we have to be on top of things, we can't make any mistakes, and quick / accurate delivery of elements to our clients is paramount. By using a project management system like Quire, we can have a visual status of our various projects, with up-to-date information, contacts and specifications, so we can move at a quicker pace with significantly fewer questions. The support for Quire has been great, with quick responses and excitement over adding new / different features that we have requested. They also "dog food" their software and use the actual Quire service for their FAQ and some support questions, so they know what works and doesn't work.
Pros:
My team and I work in a high speed environment where keeping track of the latest information via emails, texts, calls and more is extremely hard. Quire has been a great tool for keeping the entire team up to date with all of the latest and greatest information. We don't want anyone to have to refer back to emails to see what is correct, so we make sure that we immediately update the project information in Quire and then everyone is on the same page. We set up a tagging system, so that our various clients and the various facilities we do work at each have a tag with a particular color. As we open up a new project, we will apply the correct tags, so we know at a quick glance who the important players are. This is especially useful as everyone on the team bounces around from project to project, so knowing who is involved and what job # to bill to is very important. Quire handles this all very well. Quire also allows you to attach small files, which is one the main features we use, and possibly the most important. We know that the latest spec sheet is in the project on Quire, so we don't have to search around for it. It keeps our artists on track and asking way fewer questions. Quire's sync is very good and updates very quickly when others make changes / updates. We use the web and iOS versions all day every day.
Cons:
I feel like the searching functionality could be improved, so when you search for a particular name or client or job name, it only shows you the tasks that match your search. Right now, it only highlights matching tasks in a long list. It makes it too difficult to find a specific old job, so for instance you can copy information from the old job task to a new job task.
Tushant
Animator and Illustrator in India
Animation, Self Employed
Used the Software for: 6-12 months
Simple, brilliant and beautiful!
Comments: Quire's biggest strength is its simplicity, and that has been a boon for me, which is why I've stuck to it. It allows me to plan-out my projects extensively and manage them at a glance, saving me plenty of time and effort in order to get things done.
Pros:
I've used many task management applications before for their various strengths and functionality in conjunction such as Trello, Keep, Workflowy, etc. at the same time but Quire is an interesting middle-ground. While it doesn't consist of the strengths of the other tools, it sits comfortably in between them and is pretty consistent with one's desired workflow. It's simple enough to quickly manage and navigate through, and has enough complex features for someone like me to keep track of larger projects, whether in a team or simply working solo. Its tag-search system is also fantastic! It allows the tool to get out of your way so that you can put more time and energy on your actual work. Another brilliant idea that Quire has had recently is to have an app-less access to your project via browser shortcut on smartphones. What it does is that it saves a shortcut your phone's desktop so you can access your tasks even if offline just like an app without having to install anything! I love that!
Cons:
While the desktop navigation is fantastic via short-cuts, Quire seems to be pretty clunky on smartphones. I can still drag around tasks no problem (except for my chubby finger not letting me see where I'm even dropping it), it's really hard to use it to create and manage tasks or plan-out projects on-the-go. This is partly what keeps me from using it on Android, and instead I still rely on Google Keep. Other things may be considered a "con" for some, even though it wasn't for me, but thought I'd mention either way: For one, Quire's strength is in its simplicity, so there may not be features that high-end project-management tools are expected to have, such as the Timeline feature. Personally I did not require it, because Quire's Progress Stats is fine enough for me. Secondly, part of Quire's simplicity aspect goes into how the tasks are managed; when you finish a task, it is removed from sight, therefore out of mind so you can now focus on something else. While it makes you more efficient and productive (provided you've planned things out ahead of time), in certain projects there are times when I'd like to keep track of completed tasks, and it's not really easy to do that quickly in Quire unless you decide before-hand how you intend to use it. But that's just a minor nitpick, so it doesn't bother me that much. Though I do mind lack of Google Calendar integration.