What Is Movista?
Founded by retail veterans who experienced the challenges of managing distributed workforces, Movista created the most robust, device-agnostic platform for workforce management. Having multiple apps to get work done at retail is the modern-day equivalent of a briefcase full of papers. That's why we play nice digitally and help you get all systems in ONE place, making workers more engaged and productive than ever.
Who Uses Movista?
Movista serves all stakeholders in the retail ecosystem including brands, retailers, and service providers.
Where can Movista be deployed?
Cloud-based
On-premise
---
Countries available
Canada, Ireland, United Kingdom, United States
Movista pricing
Starting Price:
Yes, has free trial
No free version
Movista does not have a free version but does offer a free trial.
Pricing plans
get a free trial
Countries available
Canada, Ireland, United Kingdom, United States
Movista videos and images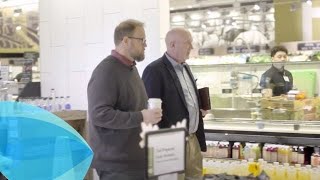 Features of Movista
Alerts/Notifications
Automated Scheduling
Billing & Invoicing
CRM Software
Calendar Management
Collaboration Tools
Compliance Tracking
Contact Database
Contractor Management Software
Create Subtasks
Electronic Signature
Email Marketing Software
Employee Database
Employee Management
Employee Scheduling Software
For Retail
GPS
Import Tasks
Inventory Management Software
Mobile Access
Online Time Clock
Online Time Tracking Software
Overtime Calculation
Performance Metrics
Real Time Notifications
Recurring Tasks
Reporting/Analytics
Routing
Scheduling Software
Service History
Skills Tracking
Task Editing/Updating
Task Progress Tracking
Task Scheduling
Task Tagging
Time & Attendance
Time Tracking Software
Timesheet Management
Work Order Management
Danny
Sales & Operations Director in US
Staffing & Recruiting, 2-10 Employees
Used the Software for: 2+ years
NI was a Game Changer!
Comments: We would not have been able to scale had it not been for NI! It was a huge part in helping integrate tech and cut back major inefficiencies!
Pros:
Easy to create projects, import demos, add demos and notes to our Brand Ambassadors!
Cons:
Needs to have better iOS or Android APP design for SMS feature for ease of booking a tasting or gig.
Alternatives Considered: Salesforce Sales Cloud
Reasons for Switching to Movista: Better customer sales and service prior to us joining! Also they worked with us on up front cost to make the implementation more palatable.
Movista Response
2 years ago
Your scale is important to us - we are thrilled to support your success! Thank you for sharing. Fran Stevenson SVP Customer Success
Retail, 51-200 Employees
Used the Software for: 1-5 months
Movista user review
Comments: Overall experience is great once you get the system customized the exact way you need it, almost everything can be done that a business would need done and then some. Tracking employees time in and time out, employees can track their own information for ease of use and transparency, and our REP [SENSITIVE CONTENT HIDDEN] has been absolutely fabulous helping us with getting this off the ground and so much more.
Pros:
It can track a lot of different information that also lets you customize reports in a lot of different ways to present to clients while also helping you understand your own business to be more efficient personally.
Cons:
Somethings out of the box were missing that needed to be customized for a cost, like prices on invoicing or line totals weren't able to be done without customization.
Movista Response
2 years ago
Your review demonstrates our intent with the Movista product suite - thank you for sharing. All leaders are building their retail business strategy based on metrics via reporting and we're glad Movista is providing you with that data. Movista continues to be an innovative leader in this space as we we will be releasing new analytics functionality very soon! Fran Stevenson SVP Customer Success
Lauren
Field Project Coordinator in US
Consumer Goods, 201-500 Employees
Used the Software for: 1+ year
Our Movista Experience
Comments: We have better visibility of our reps activity because of Movista. Our Movista account manager is very responsive and has been a great support to us, but we feel a disconnect as it does not seem that she is in-tune with how we specifically are using the platform. We have begun to gain valuable data from the system but the reporting functionality needs improvement.
Pros:
I like being able to monitor rep activity using the Work Log and Breadcrumb Trail. I find it easy to manage a large number of locations (8,000+) and reps (300+) in this system and updates are made quickly when I request them. The custom fields within Movista allow us to truly customize the platform to our needs and we can set-up a wide variety of projects and narrow down which retailers/reps are assigned to them.
Cons:
The payroll aspect of Movista was a large selling point for us but ultimately was not functional for our needs and was a source of confusion for our reps and managers. We ended up reverting back to our former payroll management platform. Also, the format in which data exports from Movista is often difficult to manipulate or use effectively for internal reports. We have voiced suggestions to improve the functionality of Movista but have learned that the development request process is very slow.
Movista Response
3 years ago
Thank you for the compliments on the platform and the customer support we provide. We take pride in our work and love to hear comments about the rep activity and the work log. Your ability to manage locations and reps is important in today's ever-changing world, and we're honored to play a role. We're committed to continuous improvement and we value your partnership greatly. We're rapidly adding talent to our team which allows us to develop and improve faster for our clients. All of our development and testing is done in house, and until something is 100% ready, we don't release a new build. We appreciate our relationship and look forward to continuing to build our partnership. We're particularly excited about the improvements you mention regarding reporting and we're always here to capture other improvements you'd like to see prioritized in our product road map.
Information Technology & Services, 11-50 Employees
Used the Software for: 1-5 months
Best tool for work from home employees management.
Pros:
Easy tasks scheduling, updating and editing. Exact and precise time tracking of all my employees.
Cons:
Till now not find any disadvantages of this software.
Ben
systems manager in US
Consumer Goods, 201-500 Employees
Used the Software for: 1+ year
Reliable and a great value
Comments: Customer services is prompt, professional and effective
Pros:
Little to no outages or issues with our field Reps. App is simple and intuitive
Cons:
On the portal side, it is a little light on the pre-canned analytics/reporting However they are continuing to make improvements in this area
Movista Response
2 years ago
Thank you for your review. We are glad to hear that the intuitive Movista solution is impacting your retail operations process. We pride ourselves in providing maniacal customer service - glad to hear that your experience reflects that value. Thank you for your business. Fran Stevenson, SVP Customer Success