What Is Paymo?
Paymo is an intuitive work and project management solution for small businesses, remote teams, and freelancers that allows you to manage projects, track work time, invoice your clients, get paid online, and measure profitability from the same platform. This way, you can keep track of the entire lifetime of a project—from creation until getting paid—without having to use and pay for several apps.
Who Uses Paymo?
Small and medium project-based businesses—Creative and Marketing Agencies, Web Development and Design Agencies, Architecture firms, Law firms, Universities, Consultants, and Freelancers.
Where can Paymo be deployed?
Cloud-based
On-premise
Paymo pricing
Starting Price:
US$11.95/month
Yes, has free trial
Yes, has free version
Paymo has a free version and offers a free trial. Paymo paid version starts at US$11.95/month.
Pricing plans
get a free trial
Paymo videos and images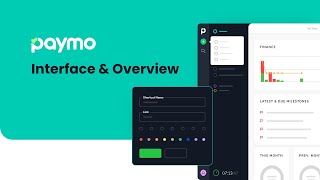 Features of Paymo
Access Controls/Permissions
Activity Dashboard
Activity Tracking
Alerts/Notifications
Assignment Management
Bar Chart
Billing & Invoicing
Budget Management
Calendar Management
Capacity Management
Client Portal
Collaboration Tools
Color Codes/Icons
Commenting/Notes
Contact Database
Core Accounting
Customizable Templates
Document Management Software
Drag & Drop
Expense Tracking
File Sharing Software
For Creative Agencies
For Small Businesses
Gantt/Timeline View
Goal Setting / Tracking
Invoice Creation
Invoice History
Invoice Processing
Kanban Board
Marketing Calendar
Milestone Tracking
Mobile Access
Mobile App
Multi-Currency
Online Invoicing
Percent-Complete Tracking
Portfolio Management
Prioritization
Productivity Tools
Progress Tracking
Project Management Software
Project Planning/Scheduling
Project Scheduling
Project Tracking Software
Real Time Data
Real Time Notifications
Remote Access/Control
Remote Support Software
Reporting & Statistics
Reporting/Analytics
Reporting/Project Tracking
Resource Management Software
Resource Scheduling
Status Tracking
Tagging
Task Editing/Updating
Task Management Software
Task Progress Tracking
Task Scheduling
Task Tagging
Time & Expense Tracking
Time Tracking Software
Timesheet Management
Visualization
Web-based Deployment
Workflow Management Software
Ahmed
Planning and project control engineer in Jordan
Construction, 1,001-5,000 Employees
Used the Software for: 1+ year
The best solutions for managing all project activities by all team members
Comments: For me, I see that Paymo has helped increase the productivity of all members of the work team, by reducing the time that was wasted on them in office work, and allocating more time to field work, which has a positive impact on the final result for sure.
I also find that Paymo helps companies produce realistic, executable programs, as everyone's participation in the formation of the work program will make all things become clearer to everyone, thus avoiding making mistakes that may cost losses in money and time.
Pros:
Paymo is an advanced project management platform, providing modern solutions to enable you to achieve success in project management. Paymo enables users to deal with a group of tasks at the same time, which increases productivity and reduces time and effort, especially that which was done with office work by all members of the work team. As companies and organizations, especially the emerging ones, will benefit through their use of Paymo from following up their projects correctly at all stages, as it will help them create a work program, schedule all tasks and display them in an orderly manner using the Gaunt chart and also prepare quotes and invoices. The ready-made templates that Paymo provides to users, will enable them to use the software in line with their needs, depending on the nature of the projects they are working on. I also like in Paymo that it works as a database for the project, as the sum of the attachments that the work team includes for the tasks they are working on, will be an integrated archive of the project that we can refer to at any time.
Cons:
There is nothing undesirable, the application is easy to use, the notification system and also the customization of tasks provided by Paymo work as required.
Jelena
Founder in Serbia
Verified LinkedIn User
Information Technology & Services, Self Employed
Used the Software for: 2+ years
My time and sanity saver!
Comments: I've increased my productivity with Paymo's Kanban board view, combined with Table view, and saved TONS of hours on admin, invoicing, timesheets, client and project management. Just this time saving alone pays off the monthly subscription. Sanity and nerves saving is the bonus! :) Why? Because Paymo helped me maintain good client relationships, timesheet transparency and great records&data representation for a client. So when a client comes up with a random question about a specific task, Paymo's records make finding (and presenting) a specific information or record so much easier, transparent and more reliable.
Pros:
Paymo has been a lifesaver in many business management areas: project management, client management, time tracking, accounting. With built-in budgeting, time tracking, expense tracking, estimate calculations, professional invoicing and getting paid online (and on time!), different project 'views' (list, table, board for kanban, gantt), extensive filters, dashboard and insights, resource scheduling, live time reports, client portal - and all that in one app - it's a sanity saver! One of the things I also personally quite appreciate is the professional and clean look of the invoices (and how easy it is for clients to pay them online). With a click of a button, you can add the unbilled time/fees for a specific time period and/or projects to an invoice. Paymo does all that heavy admin stuff for you and it has saved me a lot of time! Cherry on the top: all invoice items are presented so neatly and professionally, so that my clients can see exactly everything I've worked on for them and what I'm billing them for, as well as how much time is tracked for each project and task. And Payoneer, in addition to PayPal/Stripe/Authorize.Net payment gateways is a big plus! It's brilliant. The moment I first tried it, I could immediately feel that Paymo is the tool designed for actual freelancers in mind, whether you work on a project basis, or a pay-as-you-go basis. It's not complex, and all the features it has are just *right*. Exactly what I need. And it's getting even better!
Cons:
I wish the app was just a little bit faster, but I read somewhere that they already have this improvement on their roadmap. Still, if you ask me, it's totally worth the wait for every new feature and improvement their team is cooking for us :)
Paymo Response
2 years ago
Thank you, Jelena <3 Speed improvements are already something that we're addressing. Stay tuned for more goodies such as a task calendar view, improved mobile app with team collaboration features and guest access. Cheers, Marcel
Krystle Chanel
Owner in US
Verified LinkedIn User
Marketing & Advertising, Self Employed
Used the Software for: 6-12 months
I finally found the one!
Comments: It is important to note that Paymo isn't idle in enhancing its software. Not only that, but new features are thoughtful and integrated seamlessly with the tool. I appreciate this because I have used other software that seem to have their priorities mixed up when releasing enhancements; adding things that don't move the needle ahead of things that do.
Pros:
After years of using project management software for both myself and companies I've worked for, I found the right tool for the job for my personal, small business as a marketing coach and online entrepreneur. Until I build a team, I'm using Paymo for myself, and other tools are not always price-sensitive for a solo user. I appreciate that Paymo provides an option to pay for one user until I'm ready to grow. A particular feature I was looking for was the option to view all projects on a single Kanban board. In the rare case that I found this option, it was a significant upgrade to acquire. But Paymo offers this and it's super easy to use! Other features I love: - Time-tracking/timesheet: Visual representation of where my time goes. I use the in-app timer every day. - Flexible viewing options: I can easily switch between list, table, board, and Gantt views, with easy to use filters that allow me to see exactly what I want. No custom reports or views need created - which can be time-consuming and inflexible (enterprise tools). - Note: The user experience of the Gantt chart was also what I was looking for. It is drag and drop and allows you to adjust your timeline from within the view. There's so much to love about Paymo! And that is saying a lot coming from someone who has researched and used as many tools as I have - including enterprise solution, Workfront. Paymo is definitely worth giving a try!
Cons:
I wish there was a way to invite collaborators/reviewers like there is in Asana. If I want a coaching client to be able to collaborate, there is no way to do this without paying for another user. This is superficial, but, the name! When I tell people about Paymo, they immediately think it's a financial tool, not a project management tool, based on the name. I would hate for this to hold Paymo back in the market.
Alternatives Considered: Teamwork, Airtable, Trello, Microsoft Project, monday.com, Adobe Workfront, Asana and Things
Reasons for Choosing Paymo: I switched from Asana, Teamwork, and Things. I was looking for a tool with a kanban board option that allowed me to view tasks across all of my projects and I needed a cost-effective tool for someone who is currently solo but building a business. Asana was cost-prohibitive in that I could not pay for a single user, but had to pay for 5 minimum. Also, the kanban board option I was looking for was an additional upgrade for Asana and Teamwork, making these options even more expensive. Additionally, user experience was a factor. Asana generally has a good UI but I just like Paymo better. Teamwork has some work to do in this regard.
Switched From: Asana
Paymo Response
2 years ago
You sure did your researh, Krystle, thank you for the review :) Actually, we're working on an improved client portal with in-app access to guest users, so they can collaborate with you on the same page. This is our #1 priority atm, so stay tuned! As for our name, this goes back more than 10 years when we started out as a time tracking and billing tool. The purpose was to use the app and GET PAID MORE, hence Paymo :) Hope this helps, thank you again!
Neal
King of All Cosmos in US
Verified LinkedIn User
Graphic Design Software, 2-10 Employees
Used the Software for: 2+ years
Paymo has grown, evolved, and expanded alongside of the needs of our business.
Comments: Seriously, everything! I mentioned time tracking earlier but Paymo also does project management, client management, invoicing, estimation, Zapier integration, scheduling, team tasking...and the list goes on and on.
Pros:
Time tracking is seamlessly integrated into our current designer workflow. This allows us to calculate the actual time spent on the job so clients understand where their money is being spent. It also allows us to identify where we need to increase project costs (9/10 times it's with 'customer correspondence').
Cons:
We've been with Paymo for over 10 years so it was a bit of a kick when they started charging for functionality like Gant Charts. We've always loved the complete 'soup-to-nuts' service that Paymo offered so when certain items were put behind another paywall it definitely stung a bit. ¯\_(ツ)_/¯
Alternatives Considered: Trello, Basecamp, Asana and Fiverr Workspace
Reasons for Choosing Paymo: As we expanded our business to include larger, quick-turn clients, we needed a better way to track time spent on projects. We found Paymo and started to implement time tracking and project management. It wasn't long before we were using it for estimating, invoicing, and reporting payroll. Almost a decade later, the platform continues to amaze us with updates and support that we never would have received from other services. We've even had folks join our team from Nike/adidas that say Paymo is something they wish they had at their previous jobs.
Reasons for Switching to Paymo: It comes down to 'bread and butter' of time tracking and project management. We've since added Slack and Trello to our ranks, but have never found a better, more cost-effective way of managing our day-to-day operations than Paymo.
Paymo Response
2 years ago
Loved the "(9/10 times it's with customer correspondence)" part, Neal :) Besides Gantt Charts, the Business plan also comes with a Team Scheduling module, 100 GB of storage, and priority support. We found this plan to be more appealing to larger teams, that's why we've decided to include it in a separate plan. What specifically do you need from Gantt Charts, the ability to set dependencies or see task deadlines on a calendar? If it's the latter one, then I have some good news: we're going to launch a task calendar view in the near future, so stay tuned!
Design, Self Employed
Used the Software for: 2+ years
Software that surves me as a freelance individual for years.
Comments: I use Paymo since it's the first version. Back those days I used the Paymo Plus desktop app, recording absolutely everything I do on my computer. By the end of the day, I reorganized everything. It helped me to find "holes" in my schedule, where I spent too much time on social networks and the internet.
Today I plan my week, I collect data about my tasks, searching where can I improve myself. I see how many clients do I have since I started freelancing. All of them there! I manage who is an important client, which one is the most paying one.
I often use Timesheets set to a weekly view, so I can see how much I busy this week.
A homepage quickly shows all my tasks and a dashboard helps me to see my progress.
Pros:
Paymo can serve big companies with a large number of users and departments. For me as an individual, Paymo is one place for managing my clients, projects, task, and time. One of the first and absolutely necessary things for me as a freelancer is good, simple to use time management tool. Paymo has an implemented live timer that is connected to all my tasks and projects of a specific client. Not less important is the ability to produce smart time reports I send to my clients and get paid by. Half of my tasks are in Hebrew, and Paymo works just great with RTL languages. This is crucial for my time of business. The report could be set by tasks, days, or other specific categories. The timer exists in the browsers when using the softer, but it also has a completely synchronized desktop app which I use for the most, and mobile app, which I use when I work outside my office.
Cons:
Actually, Paymo has more features I'm sure I would use, like Gantt Chart, or Invoices, though this feature costs extra $19.95 per month and I prefer not to pay for it since it's not so necessary for my business.
Paymo Response
2 years ago
Hi Ilan, Appreciate the kind words :) You must be on an old plan, as Invoices are now available under the Small Office plan ($11.95/user/mo) and Gantt Charts under the Business one ($18.95/user/mo).