15 years helping Canadian businesses
choose better software
What Is Reftab?
Specialized for Schools and IT departments. Reftab was voted by Forbes as the best customizable asset management platform in 2023. With a focus on simplicity and automation, anyone, no matter their requirements or technical ability can utilize Reftab to provide a robust asset management platform for their organization.
We offer integrations with device management systems, ticketing systems and even no-code / low-code platforms.
Who Uses Reftab?
Schools and Universities, Technology and IT, Construction, Not-for-profit, Warehouse Managers, Design Agencies, Hardware Management, Museums, Churches, Audio / Visual Rentals.
Where can Reftab be deployed?
Cloud-based
On-premise
---
About the vendor
Reftab
Located in Astoria, US
Founded in 2013
Reftab pricing
Starting Price:
US$30.00/month
Yes, has free trial
Yes, has free version
Reftab has a free version and offers a free trial. Reftab paid version starts at US$30.00/month.
About the vendor
Reftab
Located in Astoria, US
Founded in 2013
Reftab videos and images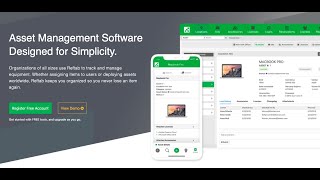 Features of Reftab
Access Controls/Permissions
Activity Dashboard
Activity Tracking
Alerts/Notifications
Asset Categorization
Asset Images
Asset Library
Asset Lifecycle Management
Asset Planning
Asset Tracking Software
Audit Management
Audit Trail
Barcode Recognition
Barcode/Ticket Scanning
Barcoding/RFID
Calendar Management
Calibration Management Software
Calibration Scheduling
Change Management Software
Check-in/Check-out
Compliance Management
Compliance Tracking
Configuration Management
Contract/License Management
Cost Tracking
Customization
Depreciation Management
Document Management Software
Equipment Maintenance Software
Equipment Management
Equipment Tracking
Fixed Asset Management Software
For Mechanical Equipment
Historical Reporting
IT Asset Management Software
Incident Management Software
Inspection Management
Instrument Management
Inventory Control Software
Inventory Management Software
Inventory Optimization Software
Inventory Tracking
Job Management
Label Templates
Location Tracking
Maintenance Management Software
Maintenance Scheduling
Mobile Access
Multi-Location
Parts Management
Predictive Maintenance
Preventive Maintenance Software
Purchase Order Management
Reminders
Reporting & Statistics
Reporting/Analytics
Scheduling Software
Serial Number Tracking
Supplier Management
Task Scheduling
Third Party Integrations
User Management
Warranty Tracking
Work Order Management
Workflow Management Software
Kyle
Director of IT in US
Nonprofit Organization Management, 51–200 Employees
Used the Software for: 1-5 months
Reviewer Source
Reftab is making my IT life easier!
Comments: Very positive. Customer service was very helpful and knowledgeable. Asset creation was a breeze, and I enjoy using the interface.
Pros:
Easy to use, clean and fast interface, mobile app allows for asset signing and tagging in the field.
Cons:
I'm looking forward to more integrations. Some of the integration tutorials were outdated. Some UI customization would be nice, like themes or a dark mode.
MarcAndre
IT Supervisor in Canada
Computer Games, 5,001–10,000 Employees
Used the Software for: 1+ year
Reviewer Source
Reftab in a quickly changing environment
Comments: Every time we had ideas for features, the developers have been very responsive, very quick to apply them (or mention why it's not possible when that was the case). Reftab has been super flexible and very prone to help our business. We definitely have a before and after Reftab in term of quality of asset tracking.
Pros:
Reftab made it so much easier for us to adapt to the ever changing environment of our studio and constant movement of assets between desks or employees. It perfectly scaled to our studios worldwide, and allowed us to maintain standards between our studios.
Cons:
There is not much to not like about Reftab. We haven't used the customer portal since it's not very well suited for our kind of environment (where IT has a closer control on assets and accessories), but this doesn't mean I wouldn't recommend it.
Alternatives Considered: Asset Panda, Spiceworks and Snipe-IT
Reasons for Choosing Reftab: Reftab had every feature we needed in a much better, organized, and scalable fashion.
Switched From: Snipe-IT and Microsoft Excel
Reasons for Switching to Reftab: Most of the others seemed oriented towards managing sales of assets, not internal movements of assets.
Alex
IT Support Technician in US
Transportation/Trucking/Railroad, 1,001–5,000 Employees
Used the Software for: 1-5 months
Reviewer Source
Review
Comments: A few things still need some more work, such as offering more ways to automate would be great, some more complex automation would be great like, "If the loan is XYZ and the user is Disabled email Manager (Insert body of the email and allow response) My company is really looking to automate as much as we can so being able to do more complex things in Reftab and make a more friendly API to use (have had some issues with trying to make things work, for example, the API will work fine on one call, I will change one thing and it no longer authenticates.)
Pros:
The integration and automation, I would like more of these.
Cons:
Manual management can be tricky to use, I would love a cleaner/more streamlined way for things that can not be managed via integrations.
Reftab Response
3 months ago
Thanks for your review Alex! Much appreciated - we'll reach out to you regarding your workflow automation needs. Reftab can be configured to email a person's manager based on conditions like if the person is disabled and has equipment assigned to them, etc. There might be more that you're needing (such as a reply to address), so we're happy to work directly with you for that. Thanks again!
Robert
Associate Director IT in US
Information Technology & Services, 10,000+ Employees
Used the Software for: 2+ years
Reviewer Source
Reftab is awesome
Comments: I needed to find a solution to manage checkout hardware for staff and students. Anything from laptops to slide rulers. I checked into several options. Some free, some where the startup cost was over $5K. When I found Reftab, I was sold right away. It was so easy to get setup and it covered everything I needed. But then, there's the tech support and customer service aspect. Wholly cow, the Reftab team is on it!!! I've run into a few cases where I could use a feature. I submitted my use case and OMG, they developed it and implemented it. Now, if I asked for something that no one would use, mileage could vary, but they respond quickly and really seem to understand my needs as a customer. The product is great, but the support is what really sold me!
Pros:
Reftab is really intuitive. I setup my first instance without needing any support and barely glancing at the documentation. I had a fully functioning demo running with assets and testing check in check out in about an hour of signing up for a demo account. The mobile app adds to that intuitive use.
Cons:
I wish I could tie printing inventory labels to my Dymo labelwriter and use a label template to print more customized intentory labels right from the Dymo. OK... I haven't asked if that was possible, yet.
Alternatives Considered: WebCheckout and Cheqroom
Reasons for Choosing Reftab: We had an internally made solution. It was aging and didn't have the features we needed. Getting our internal developer to fix the problems was not going to happen. Priorities shifted and it was time to find another solution.
Reasons for Switching to Reftab: Ease of getting a demo and implementing, no high pressure sales, features, cost, support response time.
Kevin
Director of Quality in US
Computer Software, 11–50 Employees
Used the Software for: 6-12 months
Reviewer Source
Great New Asset Management Tool
Comments: I'd started w/ Reftab as a cloud based asset management tool for tracking and managing electric vehicle charging stations. I've also used Device42 then Insight by Riada as competing products because had developed integrations with Jira Cloud and Jira Service Desk Cloud for our task and service ticket management. Reftab continued to develop their product and has now integrated with Jira. Nice! The cost/month is currently less than 50% of the monthly subscription cost for competing products and the functionality and customer service are truly excellent for our asset tracking and management needs.
Pros:
Great value for $ Integrates and Interacts with Atlassian Jira and Jira Service Desk (Provides link between the asset and any issues or tickets) Bulk Import of existing asset information from existing tools. Easy to setup new fields with different configurations. Good filters to find what you are looking for quickly. Mobile app/interface
Cons:
The initial product did not integrate with Jira Service Desk. Reftab has since added this capability and setup was reasonably simple.