What Is Raven360?
At Raven360, we know that you want to train customers so you can scale your business. We believe a lack of product competency should never be why a customer churns. Stop wasting time and damaging your brand reputation. Instead, feel confident and in control while creating product experts at scale with our Learning Management System built for onboarding and training B2B SaaS customers.
Who Uses Raven360?
Our tool is a great fit for companies with complex products and distributed teams. Companies like Google, Pearson, Dell EMC, UiPath, Confluent, Mondelez International & Juniper use our LMS platform.
Where can Raven360 be deployed?
Cloud-based
On-premise
---
About the vendor
Raven360
Located in Marlborough, US
Founded in 2011
Raven360 support
Phone Support
24/7 (Live rep)
Chat
Countries available
Australia, Canada, United Kingdom, United States
Raven360 pricing
Starting Price:
No free trial
Yes, has free version
Raven360 has a free version and does not offer a free trial.
get a free trial
About the vendor
Raven360
Located in Marlborough, US
Founded in 2011
Raven360 support
Phone Support
24/7 (Live rep)
Chat
Countries available
Australia, Canada, United Kingdom, United States
Raven360 videos and images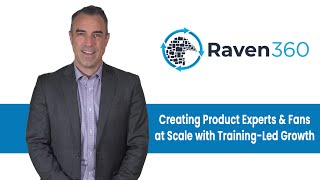 Features of Raven360
API
Account Alerts
Activity Dashboard
Activity Monitoring
Activity Tracking
Assessment Management
Asynchronous Learning
Blended Learning
Certification & Licensing
Client Management
Client Portal
Client Tracking
Collaboration Tools
Compliance Management
Compliance Tracking
Content Library
Content Management System (CMS) Software
Content Sharing
Course Library
Course Management
Course Tracking
Customer Engagement Software
Customizable Branding
Document Management Software
Employee Engagement Software
Employee Portal
Employee Training
Extended Enterprise Learning
Gamification Software
Health Score
Interactive Content
Learner Portal
Learning Management
Learning Paths/Tracks
Microlearning Software
Mobile Learning Software
Multi-User Collaboration
NPS of Customers
Onboarding Software
Progress Reports
Progress Tracking
Reminders
Reporting & Statistics
Reporting/Analytics
SCORM Compliance
Screen Recording Software
Self-Learning
Self-Service Content Curation
Social Learning
Social Sharing
Synchronous Learning
Task Progress Tracking
Tests/Assessments
Third Party Integrations
Third-Party Integration
Training Administration
Training Companies
Training Management
Usage Tracking/Analytics
User Management
Video Archiving
eCommerce Management
Frank
Director of Learning & Development in US
Verified LinkedIn User
Real Estate, 501–1,000 Employees
Used the Software for: 6-12 months
A new way of training
Comments: Raven360 blew my mind! I was hoping to find something like this, but was only looking in a traditional LMS. I would have never thought of a CaaS as a way to train, but they have exceeded all my expectations. Their service team is friendly, prompt, and highly qualified to train on their software. They listen to feedback and truly help find the best way to train teams.
Pros:
The software allows me to upload unlimited 4K videos and manage them in well developed channels and learning paths. The Awards Module has been a huge motivator for our team! We are having leaders request customized content now just so they can take on the leader boards.
Cons:
I think the quizzes can have a few added features, such as fill in the blank responses.
Tyler
Director of Client Engagement in US
Professional Training & Coaching, 2–10 Employees
Used the Software for: 6-12 months
Focused on the Client Experience
Comments: Overall, the experience has been very healthy and we look forward to growing more with Raven360. Coming into the partnership, we wanted to make sure we continued to evolve and improve upon our on-demand sales training programs - with the Raven360 platform, we are able to do so.
Pros:
We went through a rigorous evaluation process to find the right online platform/LMS to host our sales training programs. Since our clients would be leveraging the platform to learn new sales skills, it was very important to us that the LMS we selected met or exceeded all of our requirements. We found that in Raven360. Here are our top reasons why we selected and continue to work with Raven360: - The customer success team and attention we receive is top notch. We have a designated account manager that we collaborate with and who is responsive to our communications. They have been very accommodating with our requests and finding solutions to our needs. - The flexibility of the platform allows us to host a plethora of different content types in the platform, easily adjust the training to client specifications, and to customize the CSS to our branding. - Everyone does not learn the same way, so having many different learning elements/functionality of the platform allows us to deliver our on-demand sales training more effectively. - A healthy addition of new features that are released on a consistent basis allows us to continually grow and evolve our training programs, which elevate our own customers experience.
Cons:
As with any SaaS product, we have encountered a few minor bugs. However, when we bring them to the attention of the Raven360 team, they are responsive and fix them in a reasonable amount of time.
Raven360 Response
3 years ago
Thank you Tyler for taking the time to give us your review! We all appreciate it and we also really enjoy working with you and Funnel Clarity.
Cristina
VP, Market Development and Training in US
Medical Devices, 51–200 Employees
Used the Software for: 1-5 months
Good product, great customer service
Comments: For a company our size, Raven360 has the functionality we need and a good price point. I actually think it probably has most of the functionality that other systems have, but it's sometimes hard to tell because it's buried in the clunky interface and navigation. However, the thing that really keeps us loyal to Raven is our Account Manager and the quality of service he's provided. We've only been with Raven for 6 months, but they've really helped us be successful with our goals and I'm sure they'll continue to do so. We're not a large company so I was really impressed with their service, since it's absent with most other vendors we work with. My final piece of advice is keep working to improve the interface and navigation and hire 50 more [SENSITIVE CONTENT HIDDEN].
Pros:
I like the fact that it can serve different needs within our organization. We use it for training and as a document library for Sales. The overall training functionality is good and what I'd expect from a platform. The document library has been great and it has been easy for our team to access their content. The best part of Raven 360 is our Account Manager who has been one of the best I've worked with: always responsive and a problem solver. When we were launching the document library for Sales, we needed a lot of help in a very short period of time and [SENSITIVE CONTENT HIDDEN] hand-held us to get it set up the way we needed it.
Cons:
The interface is clunky and it's not intuitive to find what you're looking for. I previously sold education software, so I'm familiar with a lot of different platforms. It took time to get used to and some of the flow isn't natural. For instance, in many places when you click on a screen it opens a new tab, which is odd for anyone who uses an internet browser (which is everyone), since we've been trained to have to open a new tab for most things, as opposed to that being the default. It also just looks older and not as sleek as others out there. That's not a big deal, but it adds to the clunkiness feel of the user experience.
Alternatives Considered: Brainshark
Reasons for Switching to Raven360: Chose for price, but staying for service.
Raven360 Response
3 years ago
Thank you Christina for the review!
Computer Software, 11–50 Employees
Used the Software for: 6-12 months
Accelerated Time-to-Value and Reduced Churn for our SaaS solution
Comments: Onboarding new customers at scale and reducing churn
Pros:
Raven360 is a B2B SaaS company with a solution for B2B SaaS companies that need to onboard new customers accurately and quickly. This leads to less churn, fewer trouble tickets, and more product experts! They understand what our pain points are - and we could not be happier with the results
Cons:
So far so good - Their CS teams have been very responsive
Edward
Director, Digital Learning Technology in US
Information Technology & Services, 10,000+ Employees
Used the Software for: 2+ years
Ebooks by Raven360
Comments: Utilizing the Raven 360 ebook solution, the solution has really worked out. Savings have been realized in the cost of books, efficiency in process, and protecting our IP.
Pros:
We have been using the Raven 360 ebook solution for several years. The ease of installation, support, and technology advancements have been great. Truly a great company to partner with!
Cons:
No features are really missing. We haven't yet taken advantage of the platforms other features, but are looking to do that in the future.
Raven360 Response
3 years ago
Thank you Ed for the review and taking the time to provide us feedback! We're looking forward to using more of the platform capability with you.