What Is Confluence?
Confluence is a team workspace where knowledge and collaboration meet. It's a central source of truth for fast-moving companies. Confluence keeps everyone organized and aligned with everything from meeting notes to strategy docs and IT documentation so they can make better decisions faster and be more responsive to change. Confluence integrates seamlessly with the Atlassian suite of products like Jira Software and Trello, and allows for endless customization with apps from our Marketplace.
Who Uses Confluence?
Today all kinds of functional departments of any size use Confluence, from technical teams and project management groups, to marketing, HR, legal, and finance. All teams get work done with Confluence.
Confluence Details
Atlassian
Founded in 2013
Confluence pricing
Starting Price:
US$5.50/month
No free trial
Yes, has free version
Confluence has a free version and does not offer a free trial. Confluence paid version starts at US$5.50/month.
Pricing plans
get a free trial
Confluence Details
Atlassian
Founded in 2013
Confluence videos and images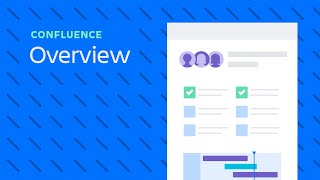 Confluence deployment and support
Support
Email/Help Desk
FAQs/Forum
Knowledge Base Software
Phone Support
24/7 (Live rep)
Chat
Deployment
Cloud, SaaS, Web-based
Mac (Desktop)
Windows (Desktop)
Linux (Desktop)
Windows (On-Premise)
Linux (On-Premise)
Android (Mobile)
iPhone (Mobile)
iPad (Mobile)
Training Software
Webinars
Documentation
Videos
Steve M.
Dir. of Dig. Marketing in U.S.
Verified LinkedIn User
Nonprofit Organization Management, 501-1,000 Employees
Used the Software for: 2+ years
The Collaboration Platform You've Waited For
Comments: We document everything in Confluence. I run a digital marketing team of around 20 people and have a total of 40 users in the tool (a few other teams besides mine use it). It's been a fantastic tool to get everyone on the same page and keep track of our how-tos, meeting notes, plans, goals, features/specs, etc.
Pros:
Real-time simultaneous editing Ease of finding and organizing what I've written Constantly adding new features Integration with Jira and Trello is great, but also works as lightweight project management by itself
Cons:
Honestly, they've fixed my biggest cons, like storage space (now you can buy a bigger plan) and they keep adding more things. I think my colleagues would say there's still a learning curve, which is understandable, and I think Confluence has been changing the interface with more tips and features for new users (which is sometimes confusing for long-time users like me, LOL) One big con is still the limited integration with MS Office. Confluence fully replaces the need for Word in most cases, so that's not a big deal, but I wish the Excel integration and/or the table functionality was better. Also, printing is pretty tough when you have tables.
Alternatives Considered: Microsoft SharePoint
Reasons for Switching to Confluence: Confluence is quite inexpensive for what you get and it's super powerful. I really love the quick, accurate search results. The macro functionality and new "Slack" style slash commands are really cool. The notification system is very nice, especially the @mentions.
Giovanni M.
Document Analyst in Philippines
Internet, Self Employed
Used the Software for: 2+ years
A wiki like software, Successful Tracking and Project Management
Comments: As mentioned in the title of my review, it's like a wiki version for the company's documents. I can easily find almost everything that I am looking for specially when tracking a document or checking for reference of hierarchy. It is the best solution for providing guide and solution documentation for my clients/customers.When I was still employed under an e-commerce company, we used confluence across most of our departments. It is very useful for finding information, reference for training because it serves as a knowledge base for our company's content. It can also be used as reference when checking metrics and product information within the company that is very important for the decision making of higher management.
Pros:
-No need to use multiple MS software like Ms Project, excel or even Word for documentation. Now I'm using a single tool for my Checklist, Requirement list, action plans, help guides, and testing strategies. -I like how it is integrated with JIRA which is also one of the main tools we use at work. All Jira dashboards are available within Confluence which allows documentation to be supported by task. -There are ready templates for creating different types of documents. There is an option to create hierarchy for documentation and link them to each other to avoid duplication.
Cons:
-Right now, exporting of documents is only limited to Word and PDF file types. It would be better if there were more options. -Adding the option to customize forms would be a convenient feature. Instead of only having the pre-build forms. -It is also better if there will be more complex support for searching algorithms for discovery when searching, not just by typing the exact keyword
Rami R.
Project manager in Israel
Gambling & Casinos, 51-200 Employees
Used the Software for: 2+ years
all knowledge in one place
Comments: in overall i'm using it on daily basis, create and update new docs.
we use to create all docs on google docs and now everything is manage on confluence
Pros:
Ease content editor, ease sharing doc system. Drag and drop working fantastic Ease to categories docs and set permissions
Cons:
There aren't much documentation templates options which causing sometimes to use screens shots or out the box solutions to make more user friendly
Verified Reviewer
Manager in U.S.
Verified LinkedIn User
Information Technology & Services, 1,001-5,000 Employees
Used the Software for: 2+ years
Great for users to collaborate on content, but not at the same time
Comments: With the exception of the overwriting problem, Confluence is an excellent place to display content for future reference. Pages and content are easily created, maintained, and permissioned by users and it is a pleasant tool to use. As long as you don't have to do so at the same time as your coworker...
Pros:
The software is very easy to use for its most basic features - as a place to create and store content. It is a solid tool for a knowledge base or even project management. Macros allow creatively in how content is displayed and linked or mirrored from other pages. Users can control permissions, visibility and see a clear history of changes - which can be easily reverted back to if necessary. Page trees make it simple to navigate complex "spaces" of information and the search functionality is robust. Overall, a great place to develop content for internal collaboration and future reference.
Cons:
Although Confluence is a great place to create and collaborate on content, it has a few major downfalls that are a constant source of frustration. The biggest issue relates to users working on the same page at the same time. This is a horrible experience at best. Content between users is frequently lost or overwritten and you can never be confident in if your content will save successfully and not disappear. When Confluence tries to merge changes, it often will lose content or simply not work at all. The result is users ensuring that only one person is editing at a time, which is a terrible annoyance and slows teams down. It often causes teams to actively collaborate in another tool where this is not an issue and then simply link to it through Confluence.
Verified Reviewer
Technical Operations Manager in U.K.
Verified LinkedIn User
Medical Devices, 11-50 Employees
Used the Software for: 2+ years
Notes and Document Management for Pros
Comments: Confluence is the best notes taking and document creation software available - it's a well-integrated, easy to navigate tool that enables live collaboration whilst providing a range of integrations to other business tools!
Pros:
Easy to use navigation bar per space (topic area) of store notes coupled with a range of text formatting and style features - Confluence is one of the best software tools available for notes taking! The inbuilt macros, linking page functions, mentions, comments and live editing all add to the allure of the Atlassian product range.
Cons:
Confluence can be a steep learning curve due to the overwhelming amount of functionality available - including the permissions and access control clashes.
Alternatives Considered: Microsoft OneNote and Google Docs
Reasons for Choosing Confluence: Confluence was cleaner and more agile with a clear collaborative value over other products.
Switched From: Evernote Teams, Asana and HubSpot CRM
Reasons for Switching to Confluence: The range of features, integration potential and ease of collaboration. The storage, navigation and organisation of Confluence sold it beyond any other product.