What Is eZee Absolute?
eZee Absolute is a complete cloud-based hotel PMS system that automates all hotel operations; namely front-office, back-office, reservations, billing, housekeeping to impart the best guest experience and increase revenue. It is packed with integrated booking engine and channel manager to provide an all-in-one hotel solution.
It is a perfect fit for all types and sizes of accommodations viz. hotels, motels, guest houses, B&Bs, serviced and boutique apartments, hostels, and hotel groups.
Who Uses eZee Absolute?
Hospitality Industry - Hotels, Motels, Resorts, Guest Houses, B & Bs, Lodges, Hostel, Small to big hotel chains, Clubs, Condos, Villas, and Serviced and Boutique Apartments.
Where can eZee Absolute be deployed?
Cloud-based
On-premise
---
About the vendor
eZee Technosys
Located in Gujarat, India
Founded in 2005
eZee Absolute support
Phone Support
24/7 (Live rep)
Chat
eZee Absolute pricing
Starting Price:
US$50.00/month
Yes, has free trial
No free version
eZee Absolute does not have a free version but does offer a free trial. eZee Absolute paid version starts at US$50.00/month.
Pricing plans
get a free trial
About the vendor
eZee Technosys
Located in Gujarat, India
Founded in 2005
eZee Absolute support
Phone Support
24/7 (Live rep)
Chat
eZee Absolute videos and images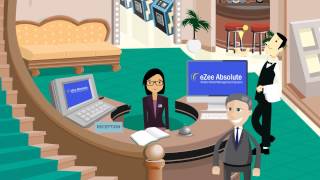 Features of eZee Absolute
CRM Software
Channel Analytics
Channel Management Software
Contact Management Software
Dynamic Pricing
For Vacation Rentals
Front Desk Management
GDS/OTA Integration
Guest Experience Management
Housekeeping Management
Lead Management Software
Maintenance Management Software
Marketing Automation Software
Online Booking
Payment Processing Software
Point of Sale (POS)
Promotions Management
Rate Management
Reporting & Statistics
Reporting/Analytics
Reservations Management
Room Inventory
Work Order Management
Alternatives to eZee Absolute
Shaharuzzaman
Assistant Manager in Bangladesh
Verified LinkedIn User
Hospitality, 201-500 Employees
Used the Software for: 1+ year
Great Experience with eZee Absolute
Pros:
I familiar with eZee Absolute from my last organization. I liked most of this PMS features, such as - Revenue Management System, OTA Management, Booking engine, Reporting system, Sales & Reservation module. Being a sales man I always prefer easy and smooth operating system, which is totally providing by eZee Absolute. specially I would like to share one thing about eZee Absolute supporting team - they are very much smart and supportive. If I found any kind of difficulties, I can find out myself through YouTube tutorial. On YouTube lots of tutorial available. eZee Absolute PMS is fully internet based PMS, that's way i can always use this PMS from my laptop or mobile from Outside of property.
Cons:
eZee Absolute is little bit slow due to fully internet based PMS. Sometime i found myself waiting for Hi Speed connection for access eZee Absolute. They should think about alternative way like desktop based.
eZee Technosys Response
2 years ago
Hi Shaharuzzaman, Thank you for your detailed review. We're glad to know that you find eZee Absolute easy to use and it's meeting your expectations. Addressing your cons, we will surely share this to the concerned team. At eZee, we're always trying to enhance our products and improve the user experience. And we assure you that with time, you will not face any such issues; and have a seamless experience with us. If you'd like to share any more suggestions, please drop an email on [email protected] Regards, Team eZee.
Charl
Director in South Africa
Hospitality, 2-10 Employees
Used the Software for: 2+ years
ASH Technologies
Comments: Very good
Pros:
Incredibly user friendly, able to conduct various daily tasks from one screen. Moving from one application to the other is simple as well as returning to the initial task.
Cons:
Reports need some work in terms of stock standard reports already loaded for guest history and customer relationship management.
Alternatives Considered: Benson, Apex Property Management System and Mews Commander
Reasons for Choosing eZee Absolute: Cost as well as the additional modules offered are also cloud based.
Switched From: RoomRaccoon, protel PMS and OPERA Cloud Property Management
eZee Technosys Response
5 months ago
Hi Charl, Thank you so much for an amazing feedback. We constantly work on enhancing our software for better experience and reporting will surely be considered. However, we would like you to mail your suggestion at [email protected] Regards, Team eZee
Hospitality, 11-50 Employees
Used the Software for: 1+ year
Ezee Absolute Software Review
Comments: Overall Good Experience
Pros:
ezee Absolute Chanel manager and PMS is User friendly
Cons:
Personally suggest Ezee Absolute improve your PMS Basic Features
eZee Technosys Response
2 weeks ago
Hi Suraj, Thanks for the feedback. We are glad to know that you ae having a decent experience with eZee Absolute. However, we promise you to enhance features in future updates. In case you have any suggestion, please mail us at [email protected] Regards, Team eZee.
Firoz
Managing Director in U.K.
Verified LinkedIn User
Hospitality, 11-50 Employees
Used the Software for: 1-5 months
Source: GetApp
Horrible, terrible and a system full of mistakes, error , flaw and poor support team.
Comments: As a fellow hotelier having worked in the industry for 20 years I would not recommend this terrible PMS/channel manager system to anyone as you will loss money than you can image and your team will be scared to work on it as they do not trust the system at all.
Pros:
It is all in one software with PMS, chancel manager, booking engine, guest review platform
Cons:
The Ezee PMS system is flawed and the hotel will lose more revenue than it gains using this system. Every time the hotel marks the booking as a paid no-show or cancellation, the PMS will report to the OTAs free of cost. This will result in the hotel losing the virtual cards or credit card details for the no-shows + cancellations. In the last three, we lost almost 2200 in no-shows and cancellations using this flawed system. When the same was reported to the software company and escalated to higher levels, I was informed this is a system enhancement and will need to discuss internally. I am 100 % confident all hotels who have used Ezee absolute so far would have lost a lot of money due to this error in the system. The new version is boring and slow and it takes ages to process check and checks out. My team is very scared to do anything on the system as they fear losing money and we are at a point where we doing everything manually including night audits, posting of payments, and canceling bookings (writing on a book then marking on PMS system. This is how bad the system is. Every now and then you will receive over bookings during sold out days and your team would have to go through the pain of relocating an angry guest as the system made an error and hotel will receive negative reviews and have to pay extra to relocate the guest. It is not easy to move the PMS system overnight and we are waiting for the Ezee management to revert to us.
Dilip
Owner of the property in India
Hospitality, 2-10 Employees
Used the Software for: 2+ years
Suggestion
Comments: Request you to print invoice number and invoice date on invoice. If it is possible print it before check-out.
Pros:
Ease of use. Stay view GST reporting. Cloud operations Mobile app
Cons:
1. The dashboard after logging can be avoided. It makes the operations slower. 2. When I am single user or when I am the same person who was working on the reservation, please do not lock the reservation and other operations. The performance of the software is negatively impacted due to locking.
eZee Technosys Response
last week
Hi Dilip, Thank you for the truthful review. We will surely consider you suggestions and try imparting the best user experience. We request you to share you suggestion on [email protected] Regards, Team eZee