15 years helping Canadian businesses
choose better software
What Is eZee Absolute?
eZee Absolute is a complete cloud-based hotel PMS system that automates all hotel operations; namely front-office, back-office, reservations, billing, housekeeping to impart the best guest experience and increase revenue. It is packed with integrated booking engine and channel manager to provide an all-in-one hotel solution.
It is a perfect fit for all types and sizes of accommodations viz. hotels, motels, guest houses, B&Bs, serviced and boutique apartments, hostels, and hotel groups.
Who Uses eZee Absolute?
Hospitality Industry - Hotels, Motels, Resorts, Guest Houses, B & Bs, Lodges, Hostel, Small to big hotel chains, Clubs, Condos, Villas, and Serviced and Boutique Apartments.
Where can eZee Absolute be deployed?
Cloud-based
On-premise
---
About the vendor
eZee Technosys
Located in Gujarat, India
Founded in 2005
eZee Absolute support
Phone Support
24/7 (Live rep)
Chat
eZee Absolute pricing
Starting Price:
US$50.00/month
Yes, has free trial
No free version
eZee Absolute does not have a free version but does offer a free trial. eZee Absolute paid version starts at US$50.00/month.
About the vendor
eZee Technosys
Located in Gujarat, India
Founded in 2005
eZee Absolute support
Phone Support
24/7 (Live rep)
Chat
eZee Absolute videos and images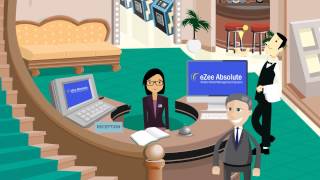 Features of eZee Absolute
Booking Management
CRM Software
Channel Analytics
Channel Management Software
Contact Management Software
Dynamic Pricing
Financial Management Software
For Vacation Rentals
Front Desk Management
GDS/OTA Integration
Guest Experience Management
Housekeeping Management
Maintenance Management Software
Marketing Automation Software
Multi-Channel Management
Online Booking
Payment Processing Software
Point of Sale (POS)
Promotions Management
Rate Management
Reporting & Statistics
Reporting/Analytics
Reservations Management
Revenue Management Software
Room Inventory
Alternatives to eZee Absolute
Shaharuzzaman
Assistant Manager in Bangladesh
Verified LinkedIn User
Hospitality, 201–500 Employees
Used the Software for: 1+ year
Reviewer Source
Great Experience with eZee Absolute
Pros:
I familiar with eZee Absolute from my last organization. I liked most of this PMS features, such as - Revenue Management System, OTA Management, Booking engine, Reporting system, Sales & Reservation module. Being a sales man I always prefer easy and smooth operating system, which is totally providing by eZee Absolute. specially I would like to share one thing about eZee Absolute supporting team - they are very much smart and supportive. If I found any kind of difficulties, I can find out myself through YouTube tutorial. On YouTube lots of tutorial available. eZee Absolute PMS is fully internet based PMS, that's way i can always use this PMS from my laptop or mobile from Outside of property.
Cons:
eZee Absolute is little bit slow due to fully internet based PMS. Sometime i found myself waiting for Hi Speed connection for access eZee Absolute. They should think about alternative way like desktop based.
eZee Technosys Response
3 years ago
Hi Shaharuzzaman, Thank you for your detailed review. We're glad to know that you find eZee Absolute easy to use and it's meeting your expectations. Addressing your cons, we will surely share this to the concerned team. At eZee, we're always trying to enhance our products and improve the user experience. And we assure you that with time, you will not face any such issues; and have a seamless experience with us. If you'd like to share any more suggestions, please drop an email on [email protected]. Regards, Team eZee.
Charl
Director in South Africa
Hospitality, 2–10 Employees
Used the Software for: 2+ years
Reviewer Source
ASH Technologies
Comments: Very good
Pros:
Incredibly user friendly, able to conduct various daily tasks from one screen. Moving from one application to the other is simple as well as returning to the initial task.
Cons:
Reports need some work in terms of stock standard reports already loaded for guest history and customer relationship management.
Alternatives Considered: Benson, NebulaPMS and Mews
Reasons for Choosing eZee Absolute: Cost as well as the additional modules offered are also cloud based.
Switched From: RoomRaccoon, protel PMS and OPERA Cloud Property Management
eZee Technosys Response
2 years ago
Hi Charl, Thank you so much for an amazing feedback. We constantly work on enhancing our software for better experience and reporting will surely be considered. However, we would like you to mail your suggestion at [email protected]. Regards, Team eZee
Verified Reviewer
Verified LinkedIn User
Hospitality, 2–10 Employees
Used the Software for: 1+ year
Reviewer Source
Source: GetApp
Incompetent Integration Team
Pros:
I liked previous version better. It was easy to click on "Today", then 15-day view, 30-day view. Now they have "Compact" and "Cozy". What a headache to make weekly reservations! The updated version is difficult to make/extend reservations by scrolling left-right on stay view window. No comments section that previous version had. Folio view does not work on my Safari, I had to switch to FireFox browser, the support team could not figured it out. There was no training provided to new version. Ugh, poor implementation. I like that now each scroll bar has an icon to see if a guest has a balance, it was a good update.
Cons:
The integration team is inexperienced. I obtained new gateway provider (Authorize.net, pretty big company), its a company that process credit card payments on our booking website and then sends the information back to Ezee absolute so we can see that payment was made. A year ago the engineer who connected my ezee reservations to Authorize.net did it in a few days. Now, this year its been a nightmare. I cannot explain how upset my whole team is. We have 2 motels and both websites for bookings are useless because engineer cannot connect new Authorize.net accounts to Ezee reservations. Its been more than 2 weeks. I am emailing, calling, chatting with ezee absolute team- its not getting me anywhere. I contacted Authorize.net myself, figured out that Response/Relay URL was not specified by ezee engineer in Authorize.net and that is the reason there is no connection. I emailed what needs to be done to ezee Development team what needs to be done from the moment I opened the ticket few weeks ago. It still not working. I am frustrated and disappointed. We are loosing money. Guests are upset. Its a nightmare. We are getting phone reservations from guests. Its ridiculous. I asked that ticket to be reassigned to a different engineer, I asked my issue to be escalated. My ticket number is [SENSITIVE CONTENT]. It feels like nobody cares. Yes, they talk to you politely, but there is no progress. I am considering researching other Hotel Management Softwares because I cannot afford this type of support.
Manish
Managing Director in India
Hospitality, 51–200 Employees
Used the Software for: 2+ years
Reviewer Source
Spend little Save unlimited
Comments: It helped in expansion a lot, Using technology is not a task, but adopting the technology is difficult, we are still not been able to adopt its 100% of the features, it offers a lot more what we actually use internally.
Pros:
The first thing i like in Ezee is its Customer Support which is not a easy task , Currently we are running 7 properties and almost each property use live chat option when they get stuck and it get resolved without connecting a call. The speed of the software is too good, it never crashes on group check ins, no errors at all
Cons:
It's overall look and feel is not that good, but it can be ignored as it is being used internally. Guest portal look and feel can be improved
Alternatives Considered: Flight Commerce, Djubo and Insta
Reasons for Switching to eZee Absolute: When connected with each company for the first time, Only ezee was having the solution to all our requirement and that too completely on Cloud network
eZee Technosys Response
3 years ago
Hi Manish, Thank you so much for taking out time to review us and appreciating our support team. We are constantly working on making our software and services as user-friendly as possible. We request you to please send your suggestions at: cm@ezeetechnosys. Your suggestions are heart fully welcomed. Regards, Team eZee
Ahmed
Chairman in Pakistan
Hospitality, 51–200 Employees
Used the Software for: 2+ years
Reviewer Source
Dedicated to make Hotelier's Life really Ezee
Comments: Being Ezee Absolute users for the last 3 years in almost 13 of my hotels ranging from a small boutique hotel of 10 rooms to a medium-range hotel of 70 rooms inventory, I can confidently say that the experience of absolute professional business relations starts right from the time you submit your product joining request to Ezee followed by the pricing quotation, Data gathering process, profile creation, OTA's mapping, operational staff training and continues with endless 24/7/365 support.
Pros:
Overall as an "HMS/PMS", Ezee Absolute is 2nd to none in terms of any operational or administrative requirements of any accommodation service provider no matter how big or small it is. Being the single company to offer both HMS & Channel Manger and the connectivity between Ezee Absolute (PMS) & Ezee Centrix Centrix (Chammel manager) is something which makes this product very exclusive and a top choice for hotels as most of the other systems do not offer both these services through one platform. Besides all these "24/7/365 live chat on Ezee Absolute" is something I like the most about Ezee Absolute as it is not only the real 24/7/365 support available as it claims but at the same time the response from the support team, the product knowledge of the support team staff, their eagerness to help, professional attitude, etc are some of the features that make Ezee the top choice for hoteliers.
Cons:
It is a real tough ask from a customer that is enjoying the product with complete satisfaction but the missing system-generated P&L report is something to be looked forward soon in place.
Alternatives Considered: Cloudbeds
Reasons for Choosing eZee Absolute: Multiple reasons were there to opt for Ezee but the most important one is the option of "Child Room" which was not supported by ResNet
Reasons for Switching to eZee Absolute: Quick response to joining request from the sales team The professionalism of the product demo presenter Pricing structure
eZee Technosys Response
3 years ago
Hi Ahmed, Thank you so much for taking out time to write such a detailed feedback. We are elated to hear such an amazing feedback from you and its truly a delight to serve clients like you. We are constantly working on making our software and services as user-friendly as possible. We request you to please send your suggestions at: cm@ezeetechnosys. Your suggestions are heart fully welcomed. Regards, Team eZee