15 years helping Canadian businesses
choose better software
What Is innRoad?
innRoad's award-winning property management system is trusted by thousands of hoteliers around the world. This all-in-one software is specifically designed to save time, increase occupancy, boost revenue and provide guests with a seamless booking experience. Customers report a 20% increase in direct bookings and a 10% increase in room revenue when switching to innRoad.
Who Uses innRoad?
innRoad's award-winning PMS is designed to boost room revenue and increase bookings. innRoad meets the needs of properties of all sizes including hotels, motels, resorts, B&Bs, lodges & campgrounds.
Where can innRoad be deployed?
Cloud-based
On-premise
---
About the vendor
innRoad
Located in New York, US
Founded in 2000
innRoad support
Phone Support
24/7 (Live rep)
Chat
Countries available
Ireland, United Kingdom
innRoad pricing
Starting Price:
Yes, has free trial
No free version
innRoad does not have a free version but does offer a free trial.
About the vendor
innRoad
Located in New York, US
Founded in 2000
innRoad support
Phone Support
24/7 (Live rep)
Chat
Countries available
Ireland, United Kingdom
innRoad videos and images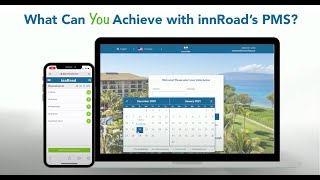 Features of innRoad
Availability Management
Billing & Invoicing
Booking Management
Booking Notes
CRM Software
Calendar Management
Calendar/Reminder System
Channel Management Software
Customer Support Software
Employee Management
For Vacation Rentals
Front Desk Management
GDS/OTA Integration
Group Reservations
Guest Experience Management
Housekeeping Management
Maintenance Management Software
Marketing Automation Software
Online Booking
Payment Processing Software
Point of Sale (POS)
Promotions Management
Rate Management
Reporting & Statistics
Reporting/Analytics
Reservations Management
Revenue Management Software
Third Party Integrations
Carla
Sales Manager in US
Verified LinkedIn User
Used the Software for: 1+ year
Reviewer Source
Customer Service Is The BEST!!!
Comments: It was an easy transition from our previous pms. Customer support is excellent.
Pros:
The system was really easy to learn and easy to train. I love the immediate customer support response. I can email an issue over and I usually get a call right away. I am very happy with the choice we made.
Cons:
We did have some hiccups in the beginning but we worked them out. There are some more detailed reports I'd like to be able to get and maybe speed it up some but I know they are still working on it. Overall great for our property.
Baris
Hotel Manager in Spain
Hospitality, 10,000+ Employees
Used the Software for: 1+ year
Reviewer Source
Once great PM solution with a great customer service
Comments: InnRoad needed a alot of training for our staff to be able to be used with its full capability for the beginners who are not familiar with multiple channel management softwares. Customer care representatives are responsive and smart at solving the problems we have faces so far.
Pros:
Customer service representatives are pretty familiar with each module of Innroad as if they are a real user of the platform so that they can understand our problems and figure out solutions about the side effects along with the major aspects of the problem that our officials counter. OTA integrations works flowlessly and the updates we have pushed are reflected to all the integrated platforms without delay.
Cons:
If you are familiar with the multiple channel management programs like me it is easy to understand the workflow of the platform however for the inexperienced staff we needed a alot of training to get them used to use the platform with all capabilities. I needed to eaither assist them manually or direct them to the customer care representatives which is not good for a successful product like Innroad.
Alternatives Considered: Cloudbeds and HotelRunner
Reasons for Choosing innRoad: Customer service of the RMS Cloud was slow to respond and their number of OTA integrations were lower then Innroad that's why we switched to Innroad. Additionally multi language and multi currency support of Innroad was better which was influencial in our decision to make the switch.
Switched From: RMS Cloud
Reasons for Switching to innRoad: Of these alternatives innroad was the best one in terms of customer service and it was one with the highest number of integrations.
Hospitality, 2–10 Employees
Used the Software for: 2+ years
Reviewer Source
Source: SoftwareAdvice
Years of Service
Comments: positive interactions, good follow up, immediate technical support
Pros:
Inroads does an excellent job of getting clients.
Cons:
Some of the booking agencies (Booking.com, Expedia) are not consistent and sometimes difficult to get customer service
Hospitality, 11–50 Employees
Used the Software for: 2+ years
Reviewer Source
Source: SoftwareAdvice
Save your Money
Comments: Very poor. Management doesn't follow up and they think I have nothing but time to sit at my phone and wait for return calls. They don't take suggestions. They did a report "update" and it is no longer formatted to be printed. They do not vet their updates. The system is very slow and you get the wheel of death. We had a seasonal worker quit because Innroad constantly had errors and made her look bad. They did an update before our 2021 season that left our automatic payments at the time of check in stop. You had to manually go into the folio and take payment. It was embarrassing. I could go on about why not use them but the CEO and CFO do not care about users. You can even read the reviews on Glassdoor about management. There are much better systems out there. Guest counts are off as the only way to add additional guest is by creating a addition charge versus updating the reservation. If you update the reservation it will reflect the current price which could be higher or lower then originally booked.
Pros:
It's very simple. It was very automated. highlight was. With updates now you are clicking more and more. Now to add a new guest to the reservation you have to click add guest. Prior it was on the same screen.
Cons:
They have no clue what hotel operators need to thrive in the industry and fail to release any updates. During a pandemic you would think they would develop contactless check-in. They do nothing to allow hoteliers to drive the bottom line using technology.
Jason
Desk attendant in US
Hospitality, 11–50 Employees
Used the Software for: 1+ year
Reviewer Source
Source: SoftwareAdvice
innRoad makes managing reservations easy
Pros:
Even as a mid-sized bed and breakfast, we can have some busy times when we are at full capacity and innRoad makes keeping our reservations organized convenient and straightforward. The software allows us to easily rearrange room assignments or adjust length of stay. It also integrates smoothly with third party reservation sites such as Expedia and Booking.com.
Cons:
On very rare occasions the software can have some glitches, such as updating charges to reservations or freezing actions for changing a reservation status. Fortunately customer service is easily available 24/7 and can promptly address whatever issues arise.