15 years helping Canadian businesses
choose better software
What Is Zoho Invoice?
Zoho Invoice is a 100% free, online invoicing software for freelancers and small to medium enterprises (SMEs). Key features include project billing, time tracking, reporting, customizable templates, and a client portaI. Teams using Zoho Invoice can track estimates, convert them to invoices, and send reminders to clients to complete their outstanding payments. Additionally, users can create tasks, collect advance payments for projects, and keep track of their invoice history.
Who Uses Zoho Invoice?
Zoho Invoice is the perfect invoicing tool for freelancers and small business owners. It caters to the needs of every size of business, especially small businesses.
Where can Zoho Invoice be deployed?
Cloud-based
On-premise
Zoho Invoice pricing
Starting Price:
US$0.00/month
No free trial
Yes, has free version
Zoho Invoice has a free version and does not offer a free trial. Zoho Invoice paid version starts at US$0.00/month.
Zoho Invoice videos and images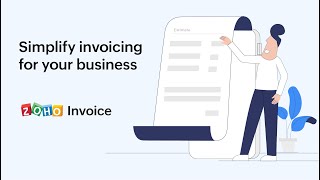 Features of Zoho Invoice
Accounts Payable Software
Accounts Receivable Software
Activity Dashboard
Activity Tracking
Alerts/Notifications
Automatic Time Capture
Billable & Non-Billable Hours
Billing & Invoicing
Client Portal
Contact Database
Core Accounting
Customizable Branding
Customizable Invoices
Employee Database
Expense Tracking
Financial Management Software
Financial Reporting Software
For Small Businesses
General Ledger
Invoice Creation
Invoice History
Invoice Management
Invoice Processing
Mobile App
Mobile Payments
Mobile Time Tracking
Multi-Currency
Online Invoicing
Online Time Tracking Software
Payment Processing Software
Project Accounting Software
Project Time Tracking
Project Tracking Software
Reminders
Reporting & Statistics
Reporting/Analytics
Task Management Software
Tax Calculation
Time & Expense Tracking
Time Tracking Software
Timesheet Management
Transaction Management
Alternatives to Zoho Invoice
Lynda
business systems strategist in Canada
Verified LinkedIn User
Information Services, Self Employed
Used the Software for: 2+ years
Reviewer Source
Great product for small business
Comments: excellent simple system for most small business
Pros:
Simple invoice and expense tracking easily tracked on dashboard with drilldown to details. Can add business logo to invoice. Can enter time and have projects populate an invoice; can add items for quick entry; can add invoice discounts at $ or %; can attach timesheets; option to send to multiple emails, option to attach pdf of invoice to email and modify email contents. Also great support.
Cons:
when a new invoice line is entered, the empty default line remains and has to be deleted
Alternatives Considered: Quickbooks Online and Wave Accounting
Reasons for Choosing Zoho Invoice: integration with expenses and Zoho expense entry has faster and better receipt attachment auto scan from emails and app. i.e. expenses in email can be inline or attached and it will auto-scan either
Switched From: Wave Accounting
Reasons for Switching to Zoho Invoice: qbo not requred for simple business, zoho better than wave as described in 'why switched'
Legal Services, 2–10 Employees
Used the Software for: 1-5 months
Reviewer Source
Excellence
Comments: I am satisfied with the Zoho Invoice overall.
Pros:
I love the payment processing. The security for processing online payments is excellent.
Cons:
That it takes 24- 48 hours to get the payment processed through Stripe or Paypal.
Alternatives Considered: FreshBooks, NetSuite and Xero
Reasons for Choosing Zoho Invoice: Because I was not satisfied with the security of their online payments. I was defrauded multiple times over the years using Quickbook.
Switched From: Quickbooks Online
Reasons for Switching to Zoho Invoice: The 14 day trial period made me like the easy of it and the I seen the payment security.
Nicholas
Director Of Operations in US
Real Estate, 51–200 Employees
Used the Software for: 1+ year
Reviewer Source
good software - some useful features
Comments: Overall it got the job done with creating invoices but we ultimately cancelled the subscription. It was too expnesive for what it was and we just started doing invoices through Word or Excel. If you have the entire suite I could see why some businesses love and succeed with Zoho.
Pros:
we used this software mostly to create intercompany and corporate invoices to vendors. I liked how you can set them up on a recurring basis, customize recipients and the look of the invoice and that you could access on your mobile device.
Cons:
didn't integrate with our main accounting software so it was a lot of double entry. I also didn't like how every part of Zoho was a different section and product and price. For just Zoho invoice it was expensive and confusing for some users, being unable to use other parts of the system
Alternatives Considered: Expensify and SAP Concur
Switched From: Expensify and SAP Concur
Reasons for Switching to Zoho Invoice: At the time we just needed the invoice feature so it was easier and cheaper to set up than others.
Zoho Response
4 years ago
Dear Nicholas, Thanks for taking the time to share your feedback. We understand that you felt the product to be expensive and that some of your users found it could be more intuitive. Sorry about that. If you are ready to give us a chance, we are happy to schedule a call, know your requirements and suggest the best plan. We believe the import/export functionalities and our REST APIs could help you with pushing the data to your accounting platform. Just drop an email to [email protected] and we shall get in touch with you. We would love to have you back with us! Regards, Harikrishna The Zoho Invoice team
Environmental Services, Self Employed
Used the Software for: 2+ years
Reviewer Source
Invoicing for non-tech users
Comments: I like Zoho invoice for professional service invoicing. It allows you to enter daily descriptions of services and hours/ fractions of hours that clients want to see.
Pros:
It was easy to set up a company account, clients, projects and invoice fields
Cons:
It was not possible to select new time entry and have the same project without entering new entry and re-enter client, project, etc.
Julieann
Office Manager in US
Construction, 2–10 Employees
Used the Software for: 1+ year
Reviewer Source
Don't Let the Name Fool You
Comments: Love it. So economical and packed with features. Love Zoho
Pros:
Even though Zoho Invoice creates and processes invoices (which is our only main use) it has many other features such as time tracking, estimates, and expenses. Simple software but, at the same time, not so simple that it does not fit our needs perfectly. Not to mention also, the suite of Zoho business solutions. They have thought of everything a business needs
Cons:
I really cannot think of anything that I do not like about this program.
Alternatives Considered: Jotform and Quickbooks Online
Reasons for Choosing Zoho Invoice: I discovered first the Zoho suite of business solutions (which I use many of) and found invoicing. It is easier to use and it (obviously) works perfectly with all other Zoho business solutions