What Is Zoho Invoice?
Zoho Invoice is a 100% free, online invoicing software for freelancers and small to medium enterprises (SMEs). Key features include project billing, time tracking, reporting, customizable templates, and a client portaI. Teams using Zoho Invoice can track estimates, convert them to invoices, and send reminders to clients to complete their outstanding payments. Additionally, users can create tasks, collect advance payments for projects, and keep track of their invoice history.
Who Uses Zoho Invoice?
Zoho Invoice is the perfect invoicing tool for freelancers and small business owners. It caters to the needs of every size of business, especially small businesses.
Where can Zoho Invoice be deployed?
Cloud-based
On-premise
Zoho Invoice pricing
Starting Price:
No free trial
Yes, has free version
Zoho Invoice has a free version and does not offer a free trial.
Pricing plans
get a free trial
Zoho Invoice videos and images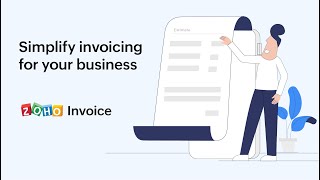 Features of Zoho Invoice
Accounts Receivable Software
Activity Dashboard
Activity Tracking
Alerts/Notifications
Automatic Time Capture
Billable & Non-Billable Hours
Billing & Invoicing
Client Portal
Contact Database
Core Accounting
Customizable Branding
Customizable Invoices
Employee Database
Expense Tracking
Financial Management Software
Financial Reporting Software
For Small Businesses
Invoice Creation
Invoice History
Invoice Processing
Mobile Access
Mobile App
Mobile Payments
Multi-Currency
Online Invoicing
Online Payments
Online Time Tracking Software
Payment Processing Software
Project Accounting Software
Project Tracking Software
Reporting/Analytics
Time & Expense Tracking
Time Tracking Software
Timesheet Management
Alternatives to Zoho Invoice
Priyansh
Owner in India
Verified LinkedIn User
Animation, 2-10 Employees
Used the Software for: 1-5 months
GST Invoice Management and Generation has never been easier!
Comments: Immediately after our GST registration we chose Zoho for invoice generation and management and so far it has been an integral part of our small business. It being completely free is a big plus point or we would have had to choose another options.
Pros:
As soon as we registered for GST, we had a need for invoice generation and management software. Zoho Invoice came in like a superhero to help us at zero cost. - Completely free with all the features available to you without any catch. Haven't seen that anywhere. - They marketed themselves with GST support, which was important to us in India, and they delivered it as well without any false marketing. - All the features that you need from billing, invoicing, storing data, tracking, analytics etc are provided and that too on a single dashboard. - You can also collect payments in cash, cheque and bank transfer. - Complete integration with all the common business apps, we needed it to work with our website CMS. - Also helped us track expenses and receipts and juggle all our projects. - Complete security, never had a data leak or hack as far back as their founding.
Cons:
Not much to dislike, we have been using it for 2 months now - Support is somewhat lacking, but for a free service, it is okay. But definitely room for improvement there. - Invoice designing options are limited, have to go with their pre-existing designs and structure. - Has a slight learning curve.
Alternatives Considered: QuickBooks Desktop Pro, FreshBooks and Wave Accounting
Reasons for Switching to Zoho Invoice: They were expensive and didn't have India GST specific options.
Krishna
Human Resources Generalist in US
Verified LinkedIn User
Hospital & Health Care, 5,001-10,000 Employees
Used the Software for: 1+ year
Zoho Invoice has been a wonderful and superb experience for me
Comments: So that I can capture clients at the exact time they are ready to on-board, Zoho's phone app and website interface flawlessly, allowing me to produce booking deposit invoices while on the go. Once I've set up all of my templates, sending an invoice to a new client through email or SMS is as simple as a few clicks.
Pros:
Invoicing and bookkeeping in a small business are a snap with Zoho. Because I can simply compile and print out all of my billing and revenue information from the year, I no longer have to worry about tax season. If you're in the market for a straightforward and easy-to-use invoicing system, I highly suggest Zoho. We had a few difficulties with help early on, but they've been fixed and the assistance has been excellent since.
Cons:
When premium plans were removed, a free forever plan was introduced, however Zoho branding was applied to the papers, which was a downfall. Zoho Invoice could charge a modest price to remove branding or a note that users may produce free invoices like this.
Maitham Abdulkarim
Finance & accounting manager in Bahrain
Verified LinkedIn User
Accounting Software, 2-10 Employees
Used the Software for: 2+ years
Zoho User
Comments: Im very happy using Zoho
Pros:
I liked the simplicity and the procedure tracking for billing and invoicing
Cons:
Cash flow format which is not as per the standard format
Nicholas
Director Of Operations in US
Real Estate, 51-200 Employees
Used the Software for: 1+ year
good software - some useful features
Comments: Overall it got the job done with creating invoices but we ultimately cancelled the subscription. It was too expnesive for what it was and we just started doing invoices through Word or Excel. If you have the entire suite I could see why some businesses love and succeed with Zoho.
Pros:
we used this software mostly to create intercompany and corporate invoices to vendors. I liked how you can set them up on a recurring basis, customize recipients and the look of the invoice and that you could access on your mobile device.
Cons:
didn't integrate with our main accounting software so it was a lot of double entry. I also didn't like how every part of Zoho was a different section and product and price. For just Zoho invoice it was expensive and confusing for some users, being unable to use other parts of the system
Alternatives Considered: Expensify and SAP Concur
Switched From: Expensify and SAP Concur
Reasons for Switching to Zoho Invoice: At the time we just needed the invoice feature so it was easier and cheaper to set up than others.
Zoho Response
3 years ago
Dear Nicholas, Thanks for taking the time to share your feedback. We understand that you felt the product to be expensive and that some of your users found it could be more intuitive. Sorry about that. If you are ready to give us a chance, we are happy to schedule a call, know your requirements and suggest the best plan. We believe the import/export functionalities and our REST APIs could help you with pushing the data to your accounting platform. Just drop an email to [email protected] and we shall get in touch with you. We would love to have you back with us! Regards, Harikrishna The Zoho Invoice team
Computer & Network Security, 201-500 Employees
Used the Software for: 6-12 months
Clean, Simple & highly Customizable
Comments: The overall experience has been nothing short of amazing! 10/10 will recommend to anyone.
Pros:
I've been using Zoho for my business as well as personal invoicing. The experience has been nothing short of amazing! I've tried other free invoicing tools but nothing comes close to Zoho. It looks so simple and will fit almost every requirement related to invoicing - billing, expenses, payments, and timesheets. It makes it super easy to track projects, clients, payments, and business metrics with a single dashboard. The quarterly and yearly accounting is a breeze ever since we started using Zoho. They also seem to have a bunch of payment gateway integrations that we are yet to try.
Cons:
The software does the job very well. Some people might consider the UI a little dated.