NICE CXone
What Is NICE CXone?
NICE CXone is the world's #1 cloud customer experience platform. Delivering omnichannel routing, analytics, workforce optimization, automation, and AI, CXone empowers organizations of all sizes to
Read more
provide exceptional customer experiences.
Read less
Who Uses NICE CXone?
Contact centers in small, medium, enterprise and government organizations use NICE CXone to deliver exceptional customer experiences across all channels digital and voice.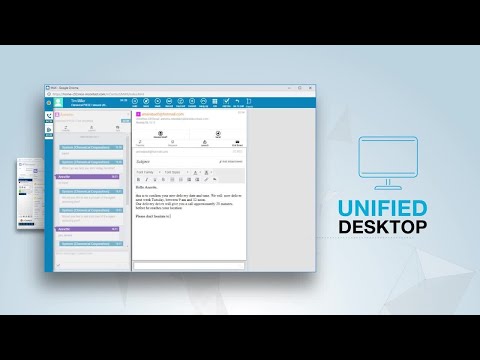 Not sure about NICE CXone? Compare with a popular alternative
Alternatives to NICE CXone
Ryan
IT Manager in US
Verified LinkedIn User
Information Technology & Services, 51-200 Employees
Used the Software for: 2+ years
Alternatives Considered:
Excellent VOIP Service
Comments: We've had a great experience with NICE inContact CXone so far, I'm very glad that we switched over from our previous VOIP provider.
Pros:
I really appreciate the level of customization NICE inContact has, we have many different profiles for phone agents and the ability to tune everything in to exactly what each agent does has been really great.
Cons:
The biggest issue we've had was in setting up supervisor dashboards, anyone with privileges can set one up and the menus start to get cluttered after awhile. We're able to occasionally prune down the views and get things looking reasonable again though.
NICE inContact Response
2 years ago
We appreciate the feedback, Ryan! We'll share your feedback with the appropriate teams.
Emily
VP Contct Centers in US
Hospitality, 10,000+ Employees
Used the Software for: 2+ years
Alternatives Considered:
InContact Review
Pros:
Very user friendly. We very rarely need help from our IT team to make any changes or updates. Most reports and tools can be figured out. Training tools are great. Integration very simple, using Skybox to assist. TAM, Garland Bailey, is excellent.
Cons:
Analytics are hard to use and are not accurate based on what I know. InView does not match InContact reporting. We have asked for support/assistance resolving issues and we have not received resolution in over 3 months. We need additional widgets in the dashboard but can't get them.
NICE inContact Response
2 years ago
Thanks for your detailed review, Emily!
Verified Reviewer
Partner Relationship Manager, Reservations and Customer Care in US
Verified LinkedIn User
Hospitality, 51-200 Employees
Used the Software for: 2+ years
Omnichannel, Multi-site, International Contact Center
Comments: InContact has allowed us to increase flexibility in handling contacts across multiple sites. We have been able to utilize functionality that allows our agents to know the guest who is calling and the reason for their contact. Like any tool, there is pros and cons. We have had to adapt some of our business practices to the tool. It is nice, no pun intended, to have all of our tools in one platform (ACD, Quality, Reporting, WFM, etc.).
Pros:
InContact allows us to utilize our global staff to ensure our guests receive prompt response time to their phone calls, emails, and chats. We are able to skill and staff our agents across multiple sites to increase efficiency. The software was easy to learn and adapt to for our users when we switched. The tool gives us access to data both real-time and historical needed to make decisions and operate effectively. We are able to have multiple tools (WFM, Quality, ACD, Reporting, etc.) in one platform.
Cons:
We skill agents with both voice and digital (email and chat) skills. Because InContact treats chat as a digital media type, it will route both chats and phone calls at the same time which is challenging and limits our ability to utilize the omnichannel feature as we would want to. Without case ownership on email, each reply after the initial email may route to a different agent, which creates challenges with continuity of the communication. Email reporting has been and continues to be a challenge. It is difficult for us to see how many emails were handled on a certain day if the email was handled on a different day than when it came into the system.
NICE inContact Response
3 years ago
Thank you for your detailed review. We are always working to improve our software. We will pass along your valuable insight to our development teams.
gabriela
Quality Analyst in Dominican Republic
Telecommunications, 201-500 Employees
Used the Software for: 2+ years
Very easy to use
Comments: Very good experience, highly recommended for call centers.
Pros:
The software is very easy to use, especially the softphone. It is so simple to use that haven't had any issues training even elderly people on its use. It's very convenient for Quality Assurance purposes since the calls are recorded.
Cons:
I would say that the reporting isn't that simple, but once you get a hang of it you can get any report you can imagine.
Tarell
Customer Service Rep in Jamaica
Outsourcing/Offshoring, 1,001-5,000 Employees
Used the Software for: 2+ years
Best Contact Software
Comments: I've been using this software for over 2 years taking inbound and making Outbound calls. The audio quality is the best I've ever used. I'm glad we were able to switch from our previous contact resolution software.
Pros:
What I enjoy most about Nice is that it's pretty easy to use. The distributing feature for multiple agents to use the software handling each call is unbelievable.
Cons:
The biggest challenge I've faced is setting up a new profile w/dashboard etc. After over and hour we were able to have it set up.