What Is Avantio?
Use Business Intelligence tools, manage your time effectively and provide the best guest experience with powerful vacation rental management software. Diversify your distribution strategy with Channel Manager connected to 50+ different global and niche channels.
Opt for all-in-solution available in 7+ languages and awarded by Airbnb, Booking.com, and VRBO.
With over 20 years in the industry and a team of 100+ people from 24 countries, Avantio is a partner you need to empower your business.
Who Uses Avantio?
Designed for professional property management businesses worldwide, the VRMS handles vacation rental properties in 6 languages & multi currencies using automated features.
Where can Avantio be deployed?
Cloud-based
On-premise
---
About the vendor
Avantio
Located in Paterna, U.S.
Founded in 2001
Avantio pricing
Starting Price:
US$200.00/month
Avantio does not have a free version. Avantio paid version starts at US$200.00/month.
About the vendor
Avantio
Located in Paterna, U.S.
Founded in 2001
Avantio videos and images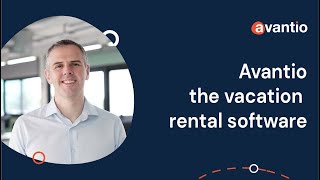 Features of Avantio
Contact Management Software
For Vacation Rentals
Guest Communications
Guest Experience Management
Lead Management Software
Marketing Automation Software
Owner Statements
Reservations Management
Vendor Management Software
Work Order Management
Dominic
Betriebsdirektor (COO) in Switzerland
Verified LinkedIn User
Hospitality, 11-50 Employees
Used the Software for: 6-12 months
An honest assessment by an apartment company with 200 holiday and business apartments
Comments: About a year ago we looked around for a new VRMS/Chanel Manager all in one system. Avantio was shortlisted because, compared to its American competitors, it did not charge for every extra service - at least that was what was promised.
We then held several Skype conferences with our former supplier, the competition and also avantio.
Since we know after 10 years of experience in the industry how important it is that a chanel manager keeps his promises and doesn't take time out, we flew to valencia to avantio. The first impression was very impressive for my operational manager as well as for me as a young company boss. A young team led by an older fox and supervised by a family that owns avantio. We knew immediately that this could become our partner. Especially the fact that there are no hungry investors behind the company made us confident. We had already had the experience with the hungry investors with the former provider, the new version only became available to us if we had quintupled the commission payment, and even then we would not have received all the features. back to avantio - after our visit to valencia, we stayed cautious and first of all we connected four test apartments to the new system and stayed with our provider with the remaining 180 apartments. We let the testapartments run via the avantio chanel manager on some platforms like booking.com, airbnb etc. No we have been live for 6 months. We are really happy with the product!
Dominic Hess
Hitrental
Pros:
- Great API connection to all bigger portals with no downtime - Much better homepage design than our former provider - family owned company - provides all we need to have our apartments on an attractive homepage, on various plattforms, manage cleanings - Syspay as an integrated payment provider makes it very easy to charge your clients creit card with one click - harmony for automated email communication is great and reduces your workload - great support (always, Alexia is the best) - the guest area is a new development that will decrease our workload again, when the guests from around the world start to accept it as the main communication tool.
Cons:
- The loading speed of our homepage is partly not sufficient. avantio should make suggestions to the customer about image reduction and the like. - Statistics which are important for me as a manager could be improved. - the cooperation with pricelabs (pricing tool)and syspay(payment provider) is very good. but these two are the only ones that allow full functionality in cooperation with avantio. this dependency should be broken. Because in the end we chose avantio and not pricelabs. (Syspay was only listed as an example, the cooperation with them is really great. probably the best payment provider for hospitality operations on the market) - the pricing tool is not as good as it could be better
Leisure, Travel & Tourism, 2-10 Employees
Used the Software for: 6-12 months
The endless search...!!
Comments: I have to say that having made the decision to switch software, and after looking at endless comparison sites and endless reviews, weighing up all the pros and cons, (as i am sure you are doing right now), i decided that as we are a company based in Spain, then a PMS from a company in Spain made sense and we went for Avantio. Truth be told, that has undoubtedly been one of my better decisions in recent times. There will be plenty of work to do once you make the switch, and a heck of lot of learning that only really begins once you turn it on, but in the long run, which is how i was looking at it, it seems to have been a very good decision. We have been using this software exclusively since September 2021, and i am still learning new things each and every week. There are still also a vast number of functions that i have yet to use/learn that i will be using for the first time in the coming months. Finally, a special mention must go to the team at Avantio, who really are there to make sure you know how to get the best out of the system and help you when you are unsure about something. From speaking with [SENSITIVE CONTENT] who helped us decide on the right package suitable to our business and answering any questions we had, to the many sessions of Onboarding training with [SENSITIVE CONTENT], website design and implementation with [SENSITIVE CONTENT], and finally the online support from [SENSITIVE CONTENT]. The team as a whole and after support really is first class and should rightly be commended.
Pros:
This really is a very comprehensive piece of software that allows, you, the rental manager/agent to keep on top of all the essential functions of your business. Areas of excellence, to mention a few, would be the automated payments/refunds, unified inbox, scheduled messages (aka "Harmony"), channel manager, and the semi-automated reporting to the Guardia Civil of guest information and to the Hacienda for Modelo 179.
Cons:
The least favourite thing about the software, is not actually the software itself, its in choosing the right time to switch software! I don´t think there is ever a perfect time, but if you are used to a fairly basic piece of software, be warned that switching to Avantio should be left to a time when you have a few months of reasonably "quiet" time to get to grips with everything.
Alternatives Considered: Kigo
Reasons for Choosing Avantio: I was looking for a far more comprehensive software package, that enabled us to grow the business, drive bookings, improve the guest experience as a whole from start to finish and also to better involve and communicate with our property owners. This software / website package has certainly achieved those aims.
Switched From: Lodgify
Reasons for Switching to Avantio: Integration of such modules like Modelo 179 exportation, guest information export to the Guardia Civil, owner login function, account settlement functions.....to name just a few.
Leisure, Travel & Tourism, 2-10 Employees
Used the Software for: 2+ years
Our business is expanding exponecially thanks to AVANTIO!
Comments: In all, it has made us visible and competitive, through our website and all other portals
Pros:
Can be concret on this point! But no doubt the help and suport we get of the AVATION staff!
Cons:
Nothing we experinced until now. And if something in a future doesn't readly satistye us, we'll contact to feed back!
Leisure, Travel & Tourism, 11-50 Employees
Used the Software for: 2+ years
Great product for the money
Comments: Avantio is probably one of the best property management software products on the market, we have trialed a few other softwares and wasted a lot of money along the way with many promising you everything but actual deliver nothing.
Pros:
The product is easy to use and has most things you need to make your day to day running of your business easier. I like that I can reach out to my account manager and have one to one conversations. The product is also good value for money with no commission on bookings.
Cons:
Avantio does lack some features I would like but I know they are working on them and I am confident that within the next year I will have all the features I need.
Avantio Response
3 years ago
Thank you for your review, Andy. It is a real pleasure and priveledge to work with you and your feedback is always welcomed and valued
Leisure, Travel & Tourism, 2-10 Employees
Used the Software for: 6-12 months
Comprehensive and flexible PMS / Channel Manager with powerful synchronization
Comments: Avantio provided us a comprehensive and dynamic vacation rental management SW that significantly improved our business: Increased revenue, fiability, management and operations control as well as web marketing exposure and conversion
Support team always available for help desk and improvements
New functionalities and updates on a regular basis
Pros:
All operations in one place 2 ways PMS and channel manager (listings, reservations and operations) Full synchronization with main platforms (booking, airbnb, homeway, expedia and many more) Synced website for direct reservations Synchronization with main revenue management tools and payment gateways Check in online, tourist internet Owner´s module for automatic reporting Powerful management and reporting tools
Cons:
Guest´s invoices module not compatible with Portuguese law