What Is ShareKnowledge?
ShareKnowledge is an award-winning LMS for highly regulated industries. It seamlessly integrates with existing client technologies while automating training, reporting and other business processes. Secure, customizable and scalable, ShareKnowledge LMS provides an arsenal of training tools to effectively meet the learning goals of a complex, distributed workforce, all while greatly reducing the chance of compliance failures.
Who Uses ShareKnowledge?
ShareKnowledge focuses on serving organizations of all sizes in Corporate and Public sectors, specifically in highly regulated industries
Where can ShareKnowledge be deployed?
Cloud-based
On-premise
---
About the vendor
ShareKnowledge
Founded in 2009
Countries available
Canada, United States
ShareKnowledge pricing
Starting Price:
Yes, has free trial
Yes, has free version
ShareKnowledge has a free version and offers a free trial.
About the vendor
ShareKnowledge
Founded in 2009
Countries available
Canada, United States
ShareKnowledge videos and images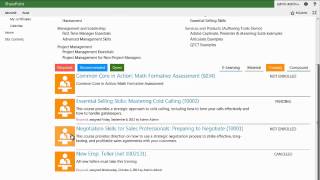 Features of ShareKnowledge
Activity Dashboard
Alerts/Notifications
Assessment Management
Assignment Management
Asynchronous Learning
Blended Learning
Built-in Course Authoring
Certification & Licensing
Compliance Tracking
Content Library
Course Authoring Software
Course Management
Gradebook Software
Learner Portal
Learning Management
Learning Paths/Tracks
Mobile Learning Software
SCORM Compliance
Social Learning
Synchronous Learning
Tests/Assessments
Training Administration
Training Management
Virtual Classroom Software
eCommerce Management
Alternatives to ShareKnowledge
Reviews of ShareKnowledge
McKenzie
HR Training & Project Specialist in US
, 201-500 Employees
Used the Software for: 6-12 months
Overall Great System with Opportunities for Improvement
Comments: I have enjoyed working with the ShareKnowledge system so far. I've been working with it for a little over six months in a launched capacity at our organization and about a year overall with the system. It seems like there are some limitations to the system in terms of what it can capably handle right now, but I am reassured that as I (and others) make suggestions the team gets to work on seeing how they can provide the feature I am looking for in a future released version(s) of the system. There are definitely opportunities for improvement when it comes to features and functionality as well as ease of use, but as with anything these things come with time and I am reassured they will get better as customers provide feedback on what works best for them. Some things that seem like they should be easy to navigate take quite a few clicks of the mouse to finish, but with time I am confident the system will find a way to make this process a little bit more efficient. Some of the reports are hard to navigate if you're looking for very specific information, but overall you can almost always manipulate the report to receive what you're looking for. It will be exciting to see how the system continues to develop the features it offers as the time goes by. As a user it has been fairly easy to navigate through the system and understand how it all works together with a small amount of a learning curve. The customer support after you've finished launching the system is great, but before that I had a hard time getting in-touch with my project manager. My project manager during the implementation and launch phase would sometimes take 2-3 days to answer a question I had and our official launch of the system to our organization was delayed because of errors on their end not ours, which was frustrating. On the other hand, I have really enjoyed working with my Customer Service Representative. He truly does whatever he can to help solve a problem I am experiencing. Overall, I would recommend this system to other organizations, but I also would recommend really doing research to find what system is going to work best for your end goal as an organization. Ask yourself, what are you trying to achieve using your Learning Management System? ShareKnowledge is great for delivering E-Learning and staying up to date on compliance related training. If you wish to create SCORM compliant material, you will be required to purchase a third party software.
Pros:
Delivery of E-Learning Material Reminder features for attending training and signing up for training are great Setting up rules to stay compliant on training
Cons:
There is a lot of mouse clicking that needs to be done to complete a task Pulling reports can be tricky It would be really nice if a trainer could login to the system and see all of the training their trainees need to complete and go through completing it using the trainers portal instead of having to sign each employee in individually when you want to complete training with them It is a long process to assign new employees to all of the organizational units they might be apart of... it would be really nice if you could do more than one at a time
ShareKnowledge Response
6 years ago
Thank you for honest feedback. We are always listening to our customers and improving our product to fit their needs and expectations.
Travis
Training Manager in US
Verified LinkedIn User
Aviation & Aerospace, 501-1,000 Employees
Used the Software for: 1-5 months
ShareKnowledge for SharePoint Review
Comments: In the short time with ShareKnowledge, the customer support stands out. Our rep is very easy to speak with, understandable in translation from his experience to a novice, and is patient. Their positive behavior is helping our company find the solutions to it's needs.
Pros:
The customer support with ShareKnowledge is phenomenal. Our rep came to our location for three days, but shared his expertise that will last for months to come. His professionalism was superb and did not detract from any part of the presentation. He filled a significant cognitive gap training members were previously struggling with. He answered almost every question each student threw his way. If there was a question he couldn't answer, it was something not in his span of control.
Cons:
The naming convention and navigating through the different features is not very easy for a newer user to grasp on to. The functions of the software are predominantly there; however, it is a strong effort to navigate between the different tabs/settings.
ShareKnowledge Response
4 years ago
Thank you for the excellent review. We understand that the rich features in ShareKnowledge take more time for a training team to master. This is why we are so hands on with our training and support. Although some clients can simply turn off the advanced features to simply their deployment, we find companies in high compliance environments benefit from these features. These include hierarchical permission management, version control, SOP/work instruction automation, automated/recurring training and on-the-job checklists. These have been developed in collaboration with our customers in Aerospace, Oil & Gas, Energy and Manufacturing. It will take time for the training team to be fully comfortable using these new options, but our customers report saving hours in training administration time each week through automation, enhanced intelligence and reporting. We would love to continue to gather your feedback and suggestions. Your dedicated support rep will be in touch soon
Matt
Business System Analysts in US
Used the Software for: 2+ years
Easy implementation, great support, few technical issues, reporting could use enhancements
Pros:
Ease of use Scalability to the entire organization Very strong technical team supporting the software
Cons:
Reporting could use enhancements It was difficult for management to view their data, just because some of the terminology was confusing. Dashboarding would be a great enhancement
ShareKnowledge Response
4 years ago
Hi Matt, Thanks for the great feedback. We now have easy Manager Reporting by email. We agree an LMS needs an easy way to keep Managers up to date on critical training details. ShareKnowledge Dashboards with Manager distributions directly solves this issue and does a whole lot more. Now Users, Managers and Executives can get customized reporting right to their email inbox on the desired schedule. These powerful new reports are flexible and easy to use and automate for everyone. Your representative will reach out to schedule a quick overview call at your convenience.
Tracy
Chief Learning Officer in US
Nonprofit Organization Management, 51-200 Employees
Used the Software for: 2+ years
Chief Learning Strategist
Comments: Best software support experience than any other product -- LMS and other. Functionality easy for learners. Administrative functionality is answers all needs.
Pros:
SharePoint-based which helps learners quickly adapt to the user interface and makes administration a snap. Piggybacks onto Active Directory so learner login was implementation was easy.
Cons:
Support team was able to be responsive to all special needs, so really no cons. Just personal taste, the ShareKnowledge GUI is designed for mobile platforms, as well, so some of the GUI elements are larger than I would like - but I'm betting I'm in the minority on that preference.
ShareKnowledge Response
6 years ago
Thank you for the great review!
Used the Software for: 1+ year
Straight forward installation and use.
Pros:
Dead simple integration with Office suite. Intuitive. Affordable. Great LMS that is Corp-centric (not academia). End user and administrative interfaces are very user-friendly.
Cons:
Ability to "extend" or add additional content libraries would be a great addition. Notifications work well, but would be nice to have Instructor's ability to send messages ad-hoc and have the ability to create and use concurrently, multiple Day,Week, Month templates.
ShareKnowledge Response
4 years ago
Hi Thomas, great feedback. A new Email Participants feature was added to certain admin and trainer screens to make it easier to communicate with groups of users. You can use this feature along with normal automated emails. We can connect to walk you through these new email features that are now available. We can also work with you to set up specific customized email distribution lists or an Announcement web-part to make group communication easier for you. These are standard features that can be enabled anytime. Keth