What Is MRPeasy?
Affordable and user-friendly self-service ERP/MRP system for small manufacturers and distributors (10-200 employees). Seamless management of production, stock, customers, purchases, finances, and your team. Stay organized with accurate scheduling and reporting, real-time inventory and purchase management, and a complete view of the business. No more spreadsheets, always promise an accurate lead time, prevent stock-outs and overstocking, improve internal communication and customer satisfaction.
Who Uses MRPeasy?
MRPeasy serves all manufacturing industries as well as distributors, offering small businesses with 10-200 employees a sophisticated yet user-friendly Enterprise Resource Planning system.
Where can MRPeasy be deployed?
Cloud-based
On-premise
---
About the vendor
MRPeasy
Located in Tallinn, Estonia
Founded in 2014
Countries available
Australia, Canada, Estonia, United Kingdom, United States
MRPeasy pricing
Starting Price:
US$49.00/month
Yes, has free trial
No free version
MRPeasy does not have a free version but does offer a free trial. MRPeasy paid version starts at US$49.00/month.
Pricing plans
get a free trial
About the vendor
MRPeasy
Located in Tallinn, Estonia
Founded in 2014
Countries available
Australia, Canada, Estonia, United Kingdom, United States
MRPeasy videos and images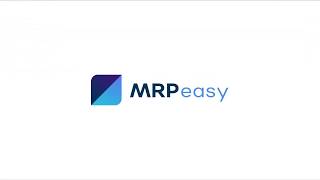 Features of MRPeasy
Accounting Integration
Accounting Software
Alerts/Notifications
Automated Scheduling
BOM Creation
Barcode/Ticket Scanning
Barcoding/RFID
Bills of Material
Built-in Accounting
CRM Software
Capacity Management
Capacity Planning Software
Change Management Software
Cost Tracking
Document Management Software
ERP
Financial Management Software
For Small Businesses
Forecasting
HR Management
Integrated Business Operations
Inventory Control Software
Inventory Management Software
Inventory Optimization Software
Inventory Tracking
Item Management
Job Costing Software
Kitting
Material Requirements Planning
Mobile Access
Multi-Location
Order Entry Software
Order Management Software
Order Tracking
Price and Cost Calculations
Procurement Management
Product Configurator Software
Product Identification
Production Management
Production Scheduling Software
Purchase Order Management
Purchasing & Receiving
Quality Management Software
Quotes/Estimates
Real Time Data
Reorder Management
Reporting & Statistics
Reporting/Analytics
Returns Management
Scheduling Software
Search/Filter
Serial Number Tracking
Shipping Management
Supplier Management
Supply Chain Management Software
Third Party Integrations
Traceability
Warehouse Management Software
Stefano
Plant Manager in Mexico
Verified LinkedIn User
Building Materials, 11–50 Employees
Used the Software for: 2+ years
A most dependable platform for your organization.
Comments: For the past 7 years I've been an active user of MRPEasy through different organizations and it comes to no surprise that MRPEasy has always been up to the task. From metalworking to composite extrusion, this tool has been able to adapt to our very specific factory needs. Definitely a great aid in growing a small business to a medium size company!
Pros:
It's ease of use and friendly interface makes it easy to train and quick to migrate to. We have had very little to no resistance from personnel when migrating them to use the system.
Cons:
Limited customization on the dashboards and reports are also a bit simple.
MRPeasy Response
last year
Thank you for the review!
Daniela
Business Administrator in US
Airlines/Aviation, 2–10 Employees
Used the Software for: 1-5 months
Fantastic!
Comments: My experience with MRPeasy is fantastic! The transition has been seamless, my team really likes the new upgrade.
Pros:
Our Company had been using the same software for 17 years. This software is night and day compared to what we had. I have all the information I could need if I have any questions. I did not have that with our previous software. It's very user friendly and self explanatory, I can definitely figure out what I need with all the help they provide.
Cons:
The only thing I feel could be improved upon, is the quoting process. I don't like having to create an item to quote a product I might not receive. If it's possible to quote a job with out creating an item that would be amazing. Once I have the PO, then the system should prompt me to create the items.
Alternatives Considered: Personica
Reasons for Choosing MRPeasy: I did not have videos, tutorial, information I could look up. Every time I needed something I had to call a representative that has all of Texas to cater too. I would be weeks before he could get to me or I would just have to figure it out.
Switched From: Pilot ERP
Reasons for Switching to MRPeasy: I felt it was the best option for our needs, after trying out all the systems and looking at multiple reviews, videos. I felt more comfortable with MRPeasy.
MRPeasy Response
3 years ago
Thank you for the review. For quoting without stock item use Invoice mode, not Customer order mode.
Peter
Managing Director in UK
Mechanical or Industrial Engineering, 11–50 Employees
Used the Software for: 1+ year
Source: SoftwareAdvice
The most Straght foward MRP system
Comments: 2 Years ago we set about moving from an excel based order management system to something more modern, easier to control and better suited to our growing business. Having demo-ed a number of MRP systems none really ticked the boxes for our business and or seemed over complicated or had too many functions and a very steep learning curve. We had given up until I stumbled acrsoss MRPeasy. Its layout, self taught nature and ease of implementation sold the product to me and after the free trial it was a no brainer for our business. Over the last 2 years we have increased learning, improved our systems and expanded use of MRP easy into different aspect sof our business.
Pros:
MRP Easy is layed out very simply, it easy to navigate and simple to understand. It is customisable for your business and certain functions can be deactivated until you come to use them. There was easy to use instructions which made learning at your own pace very simple
Cons:
Produciton Planning and the interactions of the system are not perfectly suited to our manufacturing process. It means we cnanot use this functionality eaactly as we woudl like.
MRPeasy Response
2 weeks ago
Thank you for the feedback!
Andrew
Product Development Manager in UK
Electrical/Electronic Manufacturing, 2–10 Employees
Used the Software for: 2+ years
Source: SoftwareAdvice
Such a shame
Comments: I am pulling all of my customers away from it because a backup is the customer's data! To restrict it to a short time period is really not acceptable. After all the work is done so why force customers to do it again. For me this caused major embarrassment and had a negative impact on my reputation and as such I will not be associated with the software or business again. I am movint to Katana and will be pushing all past and future clients there too.
Pros:
The software is easy to pick up and run with. As a contracted product Development Manager I have set it up for many clients who continue to use it. Training is easy too. The system is smooth and intuitive and literally guides you to the correct sections as you progress. They didn't miss a trick.
Cons:
The trial does not allow you to back up for more than 30 days. As it takes 12 to 18 months to launch a product you can get bribed into paying a monthly premium as a contractor to keep the main purpose of the software in order during that time. Others allow you to trial backup then when you are ready upload your backup and hit the ground running saving money and time. MRP Easy however does not!
MRPeasy Response
last year
As usual, we provide a free trial of up to 30 days. It can be used up to 6 times. Yes, for security reasons, by default we do not allow uploading a backup from one account to another.
Packaging & Containers, 2–10 Employees
Used the Software for: 1-5 months
Source: SoftwareAdvice
Great, flexible cloud software that can grow with you
Comments: Quick to deploy and easy to use. Purchasing and despatch working well. May need support to set up BOMs and manufacturing side.
Pros:
Easy to access while travelling with app or browser version. Simple and cloud based. Quick to deploy and easy to understand. Good help guides.
Cons:
Being cloud based customisation seems limited. Initial support to help set up as part of onboarding would have been a help.
Alternatives Considered: OrderWise and Xero
Reasons for Switching to MRPeasy: Quick to deploy and freiend recommended it - knew they were using it sucessfully in manufacturing
MRPeasy Response
3 months ago
Thank you for the feedback!