Paycor
What Is Paycor?
Paycor empowers leaders to modernize every aspect of people management so they can focus on what really matters: building winning teams. The unified HCM solution ensures employee data is in one
Read more
place, so you'll never have to switch platforms, access multiple systems or re-key information. Automate tedious work, mitigate compliance risk, drive efficiencies, empower employees to control their own financial health and gain a deeper understanding of your business with robust analytics and insights.
Read less
Who Uses Paycor?
More than 29,000 medium-sized and small businesses trust Paycor to help them manage and develop employees and run their business. Paycor is known for delivering modern, intuitive recruiting, HR & payr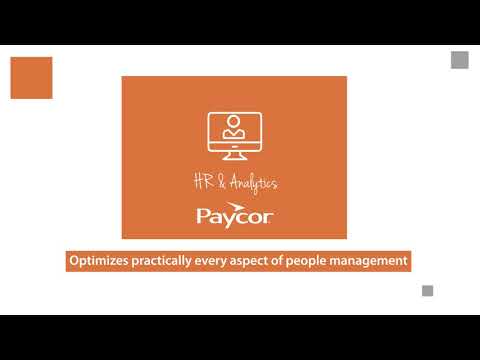 Not sure about Paycor? Compare with a popular alternative
Not available in your country
Rebecca
HR Specialist in US
Food & Beverages, 1,001-5,000 Employees
Used the Software for: 1+ year
Alternatives Considered:
Why go with Paycor
Comments: My overall experience with Paycor has been great! Their HRIS and HCM offer us so much customization that we didn't have before we came to Paycor. The transition was seamless and they offer so many wonderful products, not to mention their partnership with so many other valuable companies.
Pros:
The software is easy to use, most of it is very intuitive and the implementation team we had was amazing! They made sure that the transition to Paycor went smoothly. They listened to our needs and were very prompt at helping us with any issues we had!
Cons:
There are some reports that I would like to run, but cannot. If there is data for something, it should be reportable. However, Paycor reporting does offer a lot of reports and customization.
Paycor Response
3 months ago
Hello Rebecca, thank you so much for the positive review! We are ecstatic to hear how effortless and simple your implementation process has been. We appreciate your feedback and are happy to hear you are enjoying our second to none customer service! We are always looking for ways to improve our products and encourage you to bring your reporting concerns directly to our product team by logging into perform and selecting "give feedback" as we believe it could be very helpful!
Cortney
HR Director in US
Verified LinkedIn User
Consumer Goods, 11-50 Employees
Used the Software for: 1+ year
Alternatives Considered:
Paycor Makes My Life So Much Easier
Comments: Highly satisfied with the product and I recommend it to everyone!
Pros:
Paycor has given us a cost savings as well as time savings. The integration between Applicant Tracking (which is amazing) and Onboarding has reduced our time to find, hire and set up new employees. Payroll processing time is dramatically faster as well as the time clock integration makes payroll easier. There is a great analytic component. The team is very helpful and we are seeing huge savings over ADP.
Cons:
The tax component has been the only part that has been a little difficult. The time to get a response from this team is pretty long and it's not possible to contact them directly.
Paycor Response
3 months ago
Hello Cortney, thank you so much for your positive review! We are delighted to hear Paycor has saved you time and money and that you are enjoying our onboarding product. I do see your concern about the tax team and I wanted to let you know that we have hired many additional members to this team. We are continuing to make optimizations to our service model and invest in our customer experience to ensure we are consistently delivering the highest level of customer service. If you have any additional comments please feel free to reach out to me direct at [email protected] as I believe your feedback could be very helpful.
Heather
HR Director in US
Hospital & Health Care, 51-200 Employees
Used the Software for: 2+ years
Alternatives Considered:
Great payroll software
Comments: I used Paycor for two years for payroll and time reporting. The system did very well. I would have stayed with them if their HRIS was better.
Pros:
The time and attendance and payroll functionalities are fantastic. Easy to use for both admins and employees. Robust reporting features. Employee profiles easy to use. Able to track 401k loans by setting goals.
Cons:
HRIS features were not as robust as other platforms. Document storage was a big downfall as uploads were only saved by date of upload. No customization at all. There was no ability to create electronic workflows for setting up/terminating access when multiple roles (HR, IT, Payroll, etc.) had parts to play in the process. My other dislike was my rep changed multiple times and I was not informed of the change. I would send emails with no response; finally call customer service (which took up to 2 hours to reach someone) and then to be told my rep changed.
Construction, 51-200 Employees
Used the Software for: 1+ year
Stuck with disappointment
Comments: I am very torn. I do like the system and feel like there are a lot of functions to take advantage of, however because the customer service is so poor I can not get help to utilize them to the full extent. Also I am disgusted by their billing department, I don't understand why I cannot get answers on what I am expected to pay for and why it changes each week. I honestly want to look for something different, but I feel stuck since we just went through the transfer last year. I have 150 employees and I don't want to put them through another change so quickly. I would change if I could and I would not recommend this to anyone. This is my last hope to try to get someone's attention, 4 months ago I expressed all my frustration with the sales people and was hopeful for some change, but nothing has changed.
Pros:
I really like the payroll function of the software, it is very easy to set up and run payroll. Also the user side of things is very simple and available in Spanish.
Cons:
Billing is inconsistent and uninformative, you ask questions and cannot get a direct or clear answer, I think it is very fair to be asking what I am paying for. Which then leads to the other worst function for this company which is customer service, I have been working on a billing question about delivery fees for over a month now, I have now had to ask 3 different people which include the sales people that sold me on Paycor. I have been working on getting a user simple access to review our time cards and it is taking 3 weeks now. I called the support team, they told me it was fixed (it was not). I then created a case number by reaching out to through their support email, a week later I had to follow up with another phone call and they told me they had not even started working on this, so I had to sit on the phone for an hour while they worked on it.
Paycor Response
2 years ago
Thank you for taking the time to share your feedback! It is great to hear that you are enjoying your Paycor experience. Have a great day!
Andrew
Executive Director in Australia
Verified LinkedIn User
Information Technology & Services, 51-200 Employees
Used the Software for: 6-12 months
Alternatives Considered:
Link Business Strategy with Individual Objectives, Measurement and Performance Reviews
Comments: We wanted a system to easily allow us to execute our Business Strategy through the OKR mechanism and link these to our individual Performance Planning and Review for staff. 7Geese fits that bill.
Pros:
7Geese makes implementing Objectives and Key Results (OKRs) in your business fast and efficient. It compliments this with integration to Performance Reviews and other feedback mechanisms to create a holistically mechanism to integrate Business Objective setting with staff alignment and engagement. It's simple to use and the interface is fast.
Cons:
OKRs are a great way to set goals and align staff. Initiatives, which are the strategic steps to get to the Objective, need to be understood and tracked. 7Geese does not have a mechanism for this yet. If it did, it would be almost perfect. It would also be great if the software had better 'at a point' reporting on OKRs, so that more traditional static monthly status reports could be generated.