What Is Handshake?
Handshake Rep is the leading B2B order entry platform for manufacturers, distributors and wholesalers with sales reps on the road. Gives reps the power to write orders fast, with all customer info and history on hand.
Handshake Rep is fully integrated with the Handshake Direct B2B eCommerce website and mobile app that gives your customers 24/7 convenience of online ordering.
Capture orders from all of your B2B sales channels with Handshake, integrated to your ERP.
Who Uses Handshake?
Designed for businesses in the retail industry, it is a cross channel eCommerce platform that includes bulk purchasing, catalog management, promotions, payments functionality, and more.
Handshake Details
Handshake
Founded in 2011
Handshake Details
Handshake
Founded in 2011
Handshake videos and images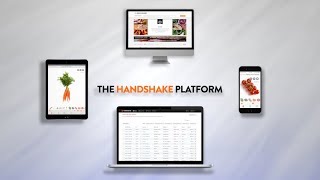 Compare Handshake pricing with similar products
Starting price
US$39.95/month
N/A
N/A
N/A
Handshake deployment and support
Support
Email/Help Desk
FAQs/Forum
Knowledge Base Software
Phone Support
24/7 (Live rep)
Chat
Deployment
Cloud, SaaS, Web-based
Mac (Desktop)
Android (Mobile)
iPhone (Mobile)
iPad (Mobile)
Training Software
Live Online
Webinars
Videos
Carol V.
Research Business Associate in U.S.
Verified LinkedIn User
Biotechnology, 2-10 Employees
Used the Software for: 6-12 months
Alternatives Considered:
a free alternative to other job listing sites!
Comments: I love this product because it allows your listing to be shared with colleges, which is very useful if you want to recruit college students.
Pros:
Handshake is definitely an underrated gem, to say the least. Other platforms are quite expensive to post jobs, but this one is for free! Even though it is free, it does not diminish its features. You, as an employer, get to reach out to many schools and showcase your listings to many colleges. I've gotten great candidates from this site and I like how it caters to college students.
Cons:
One of the things that is slightly annoying is that it takes a while for the listing to get approved on schools' pages. I do understand that you need to meet certain criteria, but it's not standardized across the board, therefore it gets confusing when trying to maintain your listing with different schools.
Tina S.
Verified LinkedIn User
Information Technology & Services
Used the Software for: 1+ year
Source: GetApp
Save Time with Handshake
Comments: We provided our 65 sales reps with iPad back in 2010 and wanted to utilize it to it's full extent with apps that saved the sales reps time and saved us money. Handshake accomplished both of those. Back then- sales reps were handwriting order forms and faxing them to our customer service dept. Then we had 4 people in our home office manually entering those orders! That is so much wasted time on both sides and there was a lot of room for error. With Handshake- our sales reps can easily find the product, show the images to their account, and place the order within a few minutes. Then the order is sent directly into our system- no more manual data entry. Time saved by the sales rep- 1-2 hours each day, which means they could see an extra customer during the day (and make another sale!) or not have to work at night. Time saved by the home office 4-5 hours per day. Now 2 of those 4 people in our home office have been moved to other open positions in the department, saving us money that would have been spent hiring someone new. Overall the experience with Handshake has been exceptional. It's a great product, easy to use and very efficient. We now have over 200 sales reps internationally that have been using Handshake for almost 4 years and they love it!
Pros:
Great customer service, very knowledgeable and courteous. They have a great team at Handshake- from the CEO to the Customer Support Specialists. There are no regrets with choosing Handshake for our sales rep ordering tool.
Cons:
Just keep doing what you are doing Handshake!
Spencer B.
CEO in U.S.
Verified LinkedIn User
Wholesale, 51-200 Employees
Used the Software for: 1+ year
Disappointing partnership
Comments: This is absolutely the worst company we have partnered with in my 12 years with my business. Their customer service is simply horrible and I'm worried they almost got shut down because they weren't PCI compliant even though they told us they were. They gave us 2 days. Yes, 2 days to find a new CC processor and have it setup. You can only use their specific processors which don't even work with all of their tech. Their processors costs $6000 more than what we were currently paying and Handshake refused to help in that cost. The process we have to do now is different than what was initially presented to us. They switched it mid contract and then refused to refund a prorated amount. It's highway robbery in my mind. Be very cautious of anything you sign with them. Even then they'll just end up changing it mid way through the contract. Absolutely disappointed in a company that would conduct business like that.
Pros:
I liked the simplicity of it. It is a very basic system.
Cons:
Disappointed in the promises made about the product and the contract put in place. Horrible to pay up front for the year.
Kerry P.
Verified LinkedIn User
Wholesale
Used the Software for: 1+ year
Source: GetApp
Have not written an order for over 3 years
Comments: For producing orders quickly and reliably there is no equivalent app for electronic devices. it is slick and easy to use for my sales team. I use it on my iPhone 6 plus as my preferred device for creating orders as the iPad is sometimes not on me so I can run everything from this device including upto date sales reports. If a customer rings I can do the order there and then while on handsfree. I have all there sales history and the sales can be confirmed, emailed to client and in the office within seconds of saying good bye to my client. It does not get any better than this for creating orders.
Pros:
Not complicated Can be used on iPhone or iPad Very very quick and we have thousands of skus and each reps produces up to10 orders a day and we have had not a single issue in 3 years Customer history is an invaluable sales tool Customer support the best I've ever experienced considering we are in Australia and there in USA Product matrix or variants
Cons:
Not a single Con but Wishlist Able to produce a customer credit easily Customer history sorted there category in addition to the default date taken A user field that can be used to sort and filter customers by a unique run code A 4x2 grid or similar for showing product catalogue as we have to many products for the single item view
Michael I.
Chief Operating Officer in U.S.
Verified LinkedIn User
Wholesale, 51-200 Employees
Used the Software for: 1+ year
Happy handshaking
Comments: Great. We are able to service customers with technology that is advanced and feels cutting edge. Customers love the pictures and being to see you new items. We're now starting to offer programs through handshake and I have also benefit from having an online website which is in past What is an underappreciated feature by chex.
Pros:
We get hundreds of handshake orders every week from customers big and small. The onboarding was fantastic and I enjoyed my weekly calls with their integration specialist. The software was flexible and was able to adapt to our company needs.
Cons:
The sync had unanticipated challenges and though improvements are being made created some issues for customers. The development has been slow for custom features that are company specify.