What Is Brilliant Directories?
---- TRY OUR 7-DAY FREE TRIAL:
https://www.brilliantdirectories.com/trial ----
Brilliant Directories offers an Affordable, All-In-One Member Management Solution to streamline all aspects of your membership website or association. A complete, turn-key solution with quick setup and free, unlimited support from real people. Includes website design, online payment processing, multi-level memberships, past due monitoring, premium member's only content, and more.
Who Uses Brilliant Directories?
We serve online membership communities who are looking for a streamlined solution to easily manage their website, members, payments and more.
Where can Brilliant Directories be deployed?
Cloud, SaaS, Web-based, Android (Mobile), iPhone (Mobile), iPad (Mobile)
About the vendor
Brilliant Directories
Founded in 2008
Phone Support
Chat
Languages
English, French, German, Spanish
Brilliant Directories pricing
Starting Price:
US$145.00/one-time
Yes, has free trial
Yes, has free version
Brilliant Directories has a free version and offers a free trial. Brilliant Directories paid version starts at US$145.00/one-time.
Pricing plans
get a free trial
About the vendor
Brilliant Directories
Founded in 2008
Phone Support
Chat
Languages
English, French, German, Spanish
Brilliant Directories videos and images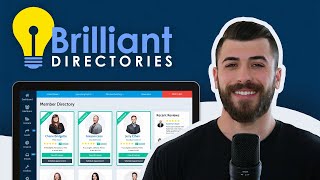 Features of Brilliant Directories
Access Controls/Permissions
Advertising Management
Alerts/Notifications
Application Management
Content Management System (CMS) Software
Customer Portal
Directory Listing Management
Discussions / Forums
Dues Management
Email Marketing Software
Event Management Software
Group Management
Ideation
Layout & Design
Member Communication
Member Database
Member Directory
Member Portal
Member Types
Membership Management Software
Membership Renewals
Moderation
Payment Processing Software
Profile Change Approvals
Profile Templates
Profile Visibility Controls
SEO Management
Search/Filter
Alternatives to Brilliant Directories
Reviews of Brilliant Directories
Tess
Physician in U.S.
Verified LinkedIn User
Hospital & Health Care, Self Employed
Used the Software for: 1-5 months
The Perfect Directory Builder Software for the Non-Techie Newbie!
Comments: I've never built a directory or listing site before but when I finished, I was so impressed with my work that I couldn't even believe I built what I was looking at! If I had blog content already completed, I literally could have launched the first night I first started working with the software.
Pros:
I love this software because it is easy to use and has the perfect format for building an online directory. It is also easy to customize and personalize. I didn't have to know anything about what a directory should have as they've included everything. All that's missing is your original content.
Cons:
I prefer front-end builders. I normally use Divi, Elementor, Blocksy, etc and I can move so much quicker. It took me a while to finish which was due to the constant flipping to the front to evaluate my work.
Marketing & Advertising, 2-10 Employees
Used the Software for: 1-5 months
Great software for Directory builders and membership sites.
Comments: The number one choice for directory software. I've been looking for a suitable directory software for some time.
The only viable alternatives to Brilliant directories are either way too expensive or WordPress based. For me, WordPress is simply too risky to use for a business making money unless you are a WordPress ace or employ someone else to manage it.
I've had numerous bad experiences with WordPress and would rather spend my time making money than messing around with tricky software. Also my last WordPress site got hacked badly. So, Brilliant directories is a no Brainer due to the security of Saas and ease of use.
I bought a comprehensive package, because if your serious about using the product, it has all the features you need with a generous member limit and the necessary bandwidth. Navigating the software is very simple and the options for set up are comprehensive. I like the payment gateway features included and the way that I can set up the membership plans for my website.
I'll be interested to see what future features will be added, but make no mistake, this is not a new solopreneur startup as many thousands of businesses are already running on BD. Therefore the risk is negligible It's 5 stars from me! Recommended.
Pros:
It's Saas based and very easy to get started with.
Cons:
There are some confusing plans to choose from. It's not cheap, but it could be worse. At the end of the day, you get what you you like pay for!
Alternatives Considered: ListingProWP
Reasons for Switching to Brilliant Directories: I wanted to avoid WordPress I researched other Saas options and Brilliant Directories appeared to be the best option based on what people were saying online.
Publishing, Self Employed
Used the Software for: 1-5 months
Great and Comprehensive Software for Building a Directory!
Comments: My overall experience with Brilliant has been great so far. I love that there is a huge knowledgebase filled with articles and videos to help users create and enhance their directory websites. There is also a large and helpful community of users and Brilliant Directories staff members to help along the way.
Pros:
I am impressed with how customizable Brilliant Directories is and how easy it is to create and manage a professional directory website. I love the huge library of add-ons which allows Brilliant Directories users to create a website that meets their specific needs and use cases. Also, the incorporation of customer feedback into developing a mature product is obvious and just one of Brilliant Directories' many strengths. Brilliant Directories makes it fairly easy to create a directory website that looks fantastic and functions well.
Cons:
I haven't been using Brilliant Directories for a long time. But, so far there's not much that I don't like about the platform. In the past, I would have said that I'd like to see Brilliant Directories prioritize the ability to connect with other software. But that appears to be changing/improving very soon with the continued development of the API.
Marketing & Advertising, 2-10 Employees
Used the Software for: 1+ year
Great system from start to finish
Pros:
ease of use ease of deployment pricing good developer marketplace
Cons:
dynamic category layers client reporting on profile activity banner ad monetization limited
Alternatives Considered: eDirectory and DirectoryEngine
Reasons for Switching to Brilliant Directories: cost and ease of deployment. A site in a box from go, with no plugin work required
David
Director of Compliance in U.S.
Medical Practice, 2-10 Employees
Used the Software for: 1-5 months
Stop Looking Elsewhere
Comments: When it comes to building a membership site or a professional services directory, the range of options available is staggering. But if you've made it this page or have reviewed what Brilliant Directories offers, then look no further. You'll only be wasting more time. Brilliant Directories is a breeze to work with and the results look spectacular. Its feature set is ample, and the organization of its admin center and dashboard is first rate. Everything is layed out in a meaningful way, and the buttons and sections are labeled in plain English. No baffling technobabble and TONS of help videos that walk you through each process so you know exactly what to do. The support staff is awesome, being as friendly as they are helpful. Once you've done research in every other area, you'll quickly see the quality and passion behind this teams product and service. If you're looking to serve any professional niche with a membership site or experts directory, BD provides exactly what you want for the best results.
Pros:
The look and stable feel of the platform immediately spells quality of development; the organization of the back end is well thought out; the features enabling the selling of digital downloads, emailing, coupon codes, levels of membership; private member chat, and click-to-call... there's little that's lacking from the package or from available plugin-in functions.
Cons:
Initial storage and bandwidth allotments seem to be on the low side, but they know the numbers and assure us that most people never come close to or exceed those levels. Upgrades are always available if needed.