What Is Cin7?
Cin7 is a highly configurable inventory management and order management solution with built-in EDI and integrations to all the popular eCommerce platforms, marketplaces, and 3PLs. It's best-in-class for all combinations of B2B and D2C sales channels, warehouses, shipping, and fulfillment. Cin7 provides exceptional automations, workflows, reports, and analysis to enable brands, retailers, and wholesalers to operate efficiently as they scale and efficiently match demand to supply.
Who Uses Cin7?
Brands, wholesalers, retailers, distribution and light-manufacturers who need automation across everything to run smoothly, operate at scale, and easily match supply to demand.
Where can Cin7 be deployed?
Cloud-based
On-premise
---
About the vendor
Cin7
Located in Auckland, New Zealand
Founded in 2011
Cin7 support
Phone Support
24/7 (Live rep)
Chat
Cin7 pricing
Starting Price:
US$399.00/month
Yes, has free trial
No free version
Cin7 does not have a free version but does offer a free trial. Cin7 paid version starts at US$399.00/month.
Pricing plans
get a free trial
About the vendor
Cin7
Located in Auckland, New Zealand
Founded in 2011
Cin7 support
Phone Support
24/7 (Live rep)
Chat
Cin7 videos and images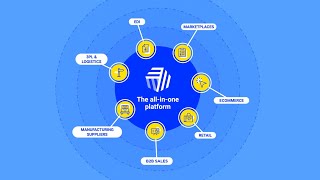 Features of Cin7
3PL Management
API
AS2 Capability
Accounting Integration
Activity Dashboard
Alerts/Notifications
Archiving & Retention
Backorder Management
Barcode / Ticket Scanning
Barcoding/RFID
Billing & Invoicing
CRM Software
Cataloging/Categorization
Channel Management Software
Check-in/Check-out
Contact Database
Cost Tracking
Credit Card Processing
Customer Accounts
Customer Management
Customization
Data Import/Export
Data Security
Data Transformation
Database Support
Demand Forecasting
Discount Management
Electronic Payments
Email Marketing Software
Exceptions Management
For B2B
For Retail
Forecasting
Import/Export Management
Integrated Business Operations
Inventory Auditing
Inventory Control Software
Inventory Management Software
Inventory Optimization Software
Inventory Tracking
Invoice Management
Item Management
Kitting
Marketplace Integration
Mobile Access
Multi-Channel Management
Multi-Currency
Multi-Location
Multiple Format Support
Order Entry Software
Order Fulfillment Software
Order Management Software
Order Tracking
Payment Processing Software
Point of Sale (POS)
Procurement Management
Product Identification
Promotions Management
Purchase Order Management
Purchasing & Receiving
Quality Management Software
Real Time Data
Receiving/Putaway Management
Recurring Orders
Reorder Management
Reporting & Statistics
Reporting/Analytics
Retail Inventory Management Software
Returns Management
SEO Management
Sales & Operations Planning
Sales Forecasting Software
Sales Reports
Search/Filter
Serial Number Tracking
Shipping Labels
Shipping Management
Shopping Cart Software
Supplier Management
Supply Chain Management Software
Third Party Integrations
Warehouse Management Software
Website Management
Workflow Management Software
eCommerce Management
karl
change manager in UK
Retail, 11-50 Employees
Used the Software for: 2+ years
Great software for SMB
Comments: Cin7 has helped our business grow massively in the 4 years that we have been working with it, and we have seen it continuously develop its features and functionality, further improving our processes and data accuracy.
Reporting and documents are customisable but do have limitations.
I would still recommend CIN7 as the price is reasonable for the service. The onboarding should be used to the fullest as this is where you will get the best support.
They are in the process of expanding their customer support so this should get back to the standard that it once was.
Pros:
Easy to use and some great tools to make your processes a lot less manual I have onboarded multiple entities and [SENSITIVE CONTENT] as an honourable mention is great, very responsive and knowledgable. Costing features with multiple currencies and BOMs are easy to use and following a strict process for the staff means that this is accurate and can be reconciled with Xero.
Cons:
Customer support is very slow. takes weeks to start looking into a ticket and can take a long time to resolve issues. but on the flap side, can be very quick when adding small features to your account. Product information that should be pretty standard isn't in the system by default, like commodity codes and commercial invoices. but work around are easy to achieve with cin7 support
Retail, 2-10 Employees
Used the Software for: 6-12 months
Cin7 or the others.
Pros:
Inventory management in Cin7 gives a very clear and precise overview of our business. Managing inventory by using Cin7 is super easy and clear. We always had issues with gaining a bird eye view of our inventory with other past inventory softwares, but Cin7 gives a complete snapshot and details for our inventory, as we are a product-based company, inventory asset is the most valuable asset to us. Inventory tracking with Cin7 is very detailed! We can trace the sales order back to its source, which stock we used for a particular sales order. If there's quality issues or any other issues arise with a sales order, we know which batch or purchase order the stock comes from and we could perform quality inspections to the entire batch or purchase to prevent the same issue arising again, which ensures customer satisfaction. Inventory tracking at each location is also extremely detailed, it may not be the most user friendly (even though it's already very user friendly), but it gives a very detailed information of tracking every single unit we have on every single location, including Amazon FBA. Cin7 has some reports or functionalities for replenishment and re-ordering, but these features are a bit simpler than I though it would be. Improvements could be made on to these functionalities for sales demand forecasting, reordering based on lead time and safety stock. Currently, we use Inventory Planner to predict, forecast, and reorder our inventory.
Cons:
The software integrates with ShipStation for label printing, there're multiple extra steps for our warehouse team to print the shipping label from ShipStation, rather than directly in Cin7. ShipStation only expose carrier packages, instead of custom package types via API, which we couldn't select the custom package types in Cin7's WMS app for direct label printing. And the workflow for packing and shipping in WMS could be improved, a lot to be improved. Custom product label needed to write CSS code. We print product or purchase order label on different label size and that took me 6 hours to write, since my major in university is not computer science.
Alternatives Considered: DEAR Systems and NetSuite
Reasons for Choosing Cin7: Previous system did not have an integrated warehouse management system, QBO integration.
Switched From: Skubana
Reasons for Switching to Cin7: More comprehensive, built-in EDI, Amazon inbound shipment, better for larger catalog.
Marcos
Director of E-Commerce in US
Verified LinkedIn User
Packaging & Containers, 11-50 Employees
Used the Software for: 1+ year
CIN7 is Great for the Middle Tier company looking to move from small business
Comments: CIN7 was easy to implement into our Techstack, When placing orders on CIN7 it was made with ease. But CIN7 only works with small to mid-level businesses. If your company continues to grow, You will grow out of CIN7.
Pros:
CIN7 works excellently as a Sales Tool, CRM, and Order Management software when connecting your eCommerce platform. it is excellent for Small businesses looking to get a grip on a more enterprise-level Inventory Management system.
Cons:
CIN7 works great for a company not focused on manufacturing and just distribution. Due to CIN7 not being able to Commit stock for Backorders. Also not being able to have a Barcode System is a negative aspect.
Alternatives Considered: Fishbowl, NetSuite and Zoho Desk
Reasons for Choosing Cin7: Zarmoney was only able to keep inventory, Not locations, and create sales orders.
Switched From: ZarMoney
Reasons for Switching to Cin7: CIN7 was just the right fit for us at the right time
Peter
Past General Manager/ Board Member in Australia
Electrical/Electronic Manufacturing, 11-50 Employees
Used the Software for: 2+ years
Maxlight Cin7 Integration
Comments: Cin7 meets the needs of our Business, we have used this platform across 5 different businesses.
Our knowledge will continue to grow on how to best operate Cin7.
We signed up for premium support to assist with API integration for another part of the business group which was very successful
Pros:
As a project based business we have found Cin7 simple to setup and run while providing us the tools to manage the business, it has direct integration with Xero our accounting software. We can track and import product, warehouse locally and remotely, control purchase orders, sales order and invoices. We also use Cin7 to assist with local manufacturing , production jobs are key to this, we can also buy components overseas and ship to and overseas manufacturer and control all components and roll up landed costs
Cons:
Some of Cin7 warehouse functions are not as sophisticated as other software, namely cycle counting and and total location bin transfers.( only be component) Also a planning and scheduling module would be a welcome addition. We have had problems with the imbedded exchange rates on purchase orders causing stock valuation errors
Meagan
Sales and Operations in Australia
Wholesale, 2-10 Employees
Used the Software for: 1-5 months
Great inventory management system
Pros:
- The onboarding for the software was great. We had access to the Cin7 Academy which walked through most steps and our dedicated onboarding specialist [SENSITIVE CONTENT] helped us weekly with any other issues that required more knowledge. No pressure was given to speed up this process and onboarding was overall a very good experience. - Cin7 has a lot of features that are helpful for a growing business such as contact logs and templates, linking orders to PO's and credit limits.
Cons:
- The software is somewhat 'clunky', not as intuitive as other softwares. An update in the overall users interface could help. - Onboarding is expensive but if you have a great onboarding specialist it is worth it. - Can be laggy - Some features could be more fleshed out, especially in the B2B but they are working on that.
Alternatives Considered: Unleashed
Reasons for Choosing Cin7: TradeGecko/Quickbooks Online announced in June that they would be sunsetting their software for customers outside of the US. We needed a new platform that could take over and have features that TG was missing.
Switched From: Quickbooks Online
Reasons for Switching to Cin7: We considered Unleashed as a potential software, and almost went with them as the B2B portal was outstanding. But ultimately choose Cin7 as the Unleashed did not have a seperate field for SKU and description, but rather combined them.