15 years helping Canadian businesses
choose better software
What Is Cin7 Omni?
Cin7 is a highly configurable inventory management and order management solution with built-in EDI and integrations to all the popular eCommerce platforms, marketplaces, and 3PLs. It's best-in-class for all combinations of B2B and D2C sales channels, warehouses, shipping, and fulfillment. Cin7 provides exceptional automations, workflows, reports, and analysis to enable brands, retailers, and wholesalers to operate efficiently as they scale and efficiently match demand to supply.
Who Uses Cin7 Omni?
Brands, wholesalers, retailers, distribution and light-manufacturers who need automation across everything to run smoothly, operate at scale, and easily match supply to demand.
Where can Cin7 Omni be deployed?
Cloud-based
On-premise
---
About the vendor
Cin7
Located in Auckland, New Zealand
Founded in 2011
Cin7 Omni support
Phone Support
24/7 (Live rep)
Chat
Cin7 Omni pricing
Starting Price:
US$325.00/month
Yes, has free trial
No free version
Cin7 Omni does not have a free version but does offer a free trial. Cin7 Omni paid version starts at US$325.00/month.
Pricing plans
get a free trial
About the vendor
Cin7
Located in Auckland, New Zealand
Founded in 2011
Cin7 Omni support
Phone Support
24/7 (Live rep)
Chat
Cin7 Omni videos and images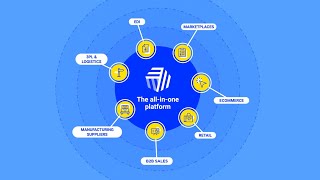 Features of Cin7 Omni
3PL Management
API
AS2 Capability
Accounting Integration
Activity Dashboard
Alerts/Notifications
Archiving & Retention
Backorder Management
Barcode Recognition
Barcode/Ticket Scanning
Barcoding/RFID
Billing & Invoicing
CRM Software
Cataloging/Categorization
Channel Management Software
Check-in/Check-out
Contact Database
Cost Tracking
Credit Card Processing
Customer Accounts
Customer Management
Customization
Data Import/Export
Data Security
Data Transformation
Database Support
Delivery Management Software
Demand Forecasting
Discount Management
Electronic Payments
Email Marketing Software
Exceptions Management
Financial Management Software
For B2B
For Retail
Forecasting
Gift Card Management
Import/Export Management
Integrated Business Operations
Inventory Auditing
Inventory Control Software
Inventory Management Software
Inventory Optimization Software
Inventory Replenishment
Inventory Tracking
Invoice Management
Item Management
Kitting
Marketplace Integration
Mobile Access
Multi-Channel Management
Multi-Currency
Multi-Location
Multiple Format Support
Order Entry Software
Order Fulfillment Software
Order Management Software
Order Tracking
Payment Processing Software
Point of Sale (POS)
Procurement Management
Product Identification
Promotions Management
Purchase Order Management
Purchasing & Receiving
Quality Management Software
Real Time Data
Real Time Synchronization
Receiving/Putaway Management
Recurring Orders
Reorder Management
Reporting & Statistics
Reporting/Analytics
Retail Inventory Management Software
Returns Management
SEO Management
Sales & Operations Planning
Sales Forecasting Software
Sales Reports
Search/Filter
Serial Number Tracking
Shipment Price Calculation
Shipment Tracking Software
Shipping Labels
Shipping Management
Shopping Cart Software
Supplier Management
Supply Chain Management Software
Third Party Integrations
Warehouse Management Software
Website Management
Workflow Management Software
eCommerce Management
Alternatives to Cin7 Omni
David
Verified LinkedIn User
Used the Software for: 6-12 months
Reviewer Source
Source: GetApp
Great Cloud based Software - Easy to use and lots of features
Comments: We were a loyal system based inventory software user for almost 3 years (Inflow), everything with our previous software (Inflow) was good. As we have grown, we wanted multiple users and we looked at other options and decided we have to upgrade to a cloud based software. I personally did not want to go on the path of server, VPN etc.. We were very nearly about to sign in for another cloud based system and at the last minute we realised that it is not a special software for fashion industry.. We wanted a software that can cope with Size, Colour, Fabric, Style and Fit variations.. Thank God the other software people actually recommended Cin7 which is a Fashion Industry special software. We are so glad we made the move.. It makes our business day to day operation a breeze and our sales agents in multiple locations (Some offshore as well) entering orders directly into the system.. This cut down or data entry time dramatically.. also we are now able to see or "Out of stock items" by size.. Also the Web portal B2B is a God Send... Our customers love this feature.. I also have to say that the customer service experience I had is double 2 x 5 STAR... On Boarder Jeff made the whole operation so smooth that I never felt I was all alone in this journey... This is genuinely a good product backed by good people.. I recommend this to any business who are looking to upgrade from system based software to cloud based programme.. Thank you guys.. we are still a long way to go with implementing this software in our business, but I am confident that we will get through this..
Pros:
Software specially designed for Fashion Industry.. Multiple Size, Style, Fit, Fabric etc.. No problem... Many advanced features like B2B webportal, Xero Integration, Email Integration etc at no extra cost. On-Board support is worth $$$$ of dollars.. They do this so well.. Thank you Jeff... Pivot table reports - We were used to excel reports.. But this Pivot table stuff is out of this world..
Cons:
At times Crashes during log-ins.. I assume a bug... It is understandable considering cloud based system.. Not a major, but it will be great if they can rectify this soon. Automatic email reports.. for example a weekly email to our customers on stock or sales report etc would be a great feature. Simplified data entry short cuts (like Control + D - for entering same data for all lines) would be a great feature to add. Rather than Xero or QuickBooks, a simplified inbuilt payment system in Cin7 will be beneficial for small businesses who don't want to use accounting packages. Single user low cost (under $ 100 per month) version would benefit some small operators..
Cin7 Response
7 years ago
Hi David, thank you for the overall 5 star review! It's great to hear you think the product is awesome and the staff at Cin7 have been helpful. Thank you for the great feedback especially about Jeff your on-boarder. Thank you for the honest feedback we're always looking to improve for our customers and this has been passed onto support. We look forward to the continued support and value you as a customer.
Andrew
Consultant in Australia
Construction, 11–50 Employees
Used the Software for: 2+ years
Reviewer Source
Onboarding
Comments: [sensitive content hidden] Made our overall experience great. No request was too small or difficult.
Pros:
We have been using Cin7 in an existing business. For a few years now, but for this review, it's a for a new business we have just set up. We were in a time crunch, so on boarding and to be sped up. We had [sensitive content hidden] as our onboarding manager, and he was exceptional. He was very helpful, prepped for our meeetings, and adaptable with all our requests. He made the experience super easy, and smooth from our first contact to complication.
Cons:
When I reached out to cin7 at the start, it took close to 7 weeks to get onto someone who could help us. I sent in multiple sales call requests and emails, but no one got back to me. I had to get in contact with someone through the support team rather than the sales team.
Alternatives Considered: Unleashed
Reasons for Switching to Cin7 Omni: We were familiar with the product through our other business.
Charlotte
General Manager in New Zealand
Farming, 11–50 Employees
Used the Software for: 1-5 months
Reviewer Source
Functionality & Support
Comments: Pretty reasonable. Our final Onboarding specialist was very knowledgeable, organised for our meetings and prompt with responses and actioing requests.
Pros:
Integration with Shopify and Xero was easy. As we implemented all three programs at once it has been alot to take on board but Cin7 seems to be doing what it needs to.Went through a number of onboarding specilaists which was not ideal. We were not given reasons for the turnover. Our final specialist who saw us through the go live process was brilliant. Made himself available when we needed, followed up on actions and explained thinsg clearly.
Cons:
Having so many onboarding specialists was not ideal for continuity of our onboarding.So much to cover off in a short period and it is not until you are actually live that you understand what you dont know. WOuld be good to have a customer success manager post go live and onboarding to meet weekly for a period of 6 weeks say to ensure things are bedded in well and you get an opportunity to explore greater use of the program as you learn more about how it works in a real life setting
Alternatives Considered: Katana and Unleashed
Reasons for Switching to Cin7 Omni: Functionality, Testimonials of current users, Price
Michael
Managing Director in Australia
Wholesale, 11–50 Employees
Used the Software for: 2+ years
Reviewer Source
Worst Inventory System - RUN
Comments: Run away - please do yourself the favour. It looks great from the outside, which is why we chose it. Spend a bit more money and invest in a good product
Pros:
Cin7 Promises to do all the things you need
Cons:
Cin7 has bugs throughout the system and the support is non existent to the point you simply cannot run a business using this software. We have had an inventory value difference of $80k that cannot be explained or fixed for over 12 months with zero support.
Alternatives Considered: MYOB Advanced Manufacturing, NetSuite and SAP Business One
Reasons for Choosing Cin7 Omni: We needed a system that we could rely on and a support system that is existent
Switched From: MYOB Advanced Manufacturing
Reasons for Switching to Cin7 Omni: Price and Functionality looked great, but the reality on the inside has been a horrible experience.
Food Production, 11–50 Employees
Used the Software for: 6-12 months
Reviewer Source
Aman Solanki
Comments: Fundamentally changed every single thing that we do with every single order that we process. Has made it so that instead of five people inputting orders and potentially messing up because they were trying to go so quickly while doing other things, they're now freed up for other things!
Pros:
Aman Solanki. Honestly, potentially the best help I've ever received for any product. Truly wouldn't be live on Cin7 without him, and I can't give him enough thanks. Knowledgeable without trying to lie about any limitations, insightful on different options I could explore without being over-complicated; everything you could ever want. Truly, truly incredible customer service.
Cons:
Tax should be applied to individual items, rather than solely nominal codes / GL accounts - sure, I could create loads of accounts, but would be nice to be able to edit on each product. Also, would be nice if the selection for sales account showed whether it was purchases or sales, and the tax level.