What Is Freshservice?
Freshservice is an intelligent, right-sized ITSM solution that delivers exceptional employee experiences with an intuitive, scalable, no-code solution. With its state-of-the-art AI and ML capabilities, Freshservice helps organizations ease an IT agents workload and improve their productivity by automating mundane tasks. In addition to its AI capabilities, Freshservice is flexible and scalable enough to be used by both: companies relying on legacy systems and modern enterprises.
Who Uses Freshservice?
Freshservice's customers include MSP's, financial organizations, educational institutions and several government organizations.
Where can Freshservice be deployed?
Cloud, SaaS, Web-based, Android (Mobile), iPhone (Mobile), iPad (Mobile)
About the vendor
Freshworks
Located in San Mateo, U.S.
Founded in 2011
Phone Support
24/7 (Live rep)
Chat
Freshservice pricing
Starting Price:
US$19.00/month
Yes, has free trial
No free version
Freshservice does not have a free version but does offer a free trial. Freshservice paid version starts at US$19.00/month.
Pricing plans
get a free trial
About the vendor
Freshworks
Located in San Mateo, U.S.
Founded in 2011
Phone Support
24/7 (Live rep)
Chat
Freshservice videos and images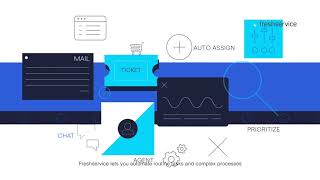 Features of Freshservice
Access Controls/Permissions
Activity Dashboard
Activity Tracking
Alerts / Escalation
Alerts/Notifications
Asset Lifecycle Management
Asset Tracking Software
Assignment Management
Audit Management
Audit Trail
Backup and Recovery
Barcoding/RFID
CMDB Software
Cataloging/Categorization
Change Management Software
Collaboration Tools
Completion Tracking
Compliance Management
Compliance Tracking
Configuration Management
Content Management System (CMS) Software
Contract Drafting
Contract Lifecycle Management Software
Contract/License Management
Corrective and Preventive Actions (CAPA)
Cost Tracking
Customer Complaint Tracking
Customizable Branding
Customizable Reports
Customizable Templates
Dashboard Software
Device Auto Discovery
Drag & Drop
Electronic Signature
Email Management Software
Feedback Management
For IT Project Management
Full Text Search
Help Desk Management
IT Asset Management Software
Incident Management Software
Incident Reporting
Inventory Management Software
Investigation Management Software
Issue Auditing
Issue Management
Issue Tracking Software
Knowledge Management Software
License Management Software
Live Chat Software
Maintenance Management Software
Maintenance Scheduling
Mobile Access
Multi-Channel Communication
Multi-Language
Performance Metrics
Prioritization
Problem Management
Real Time Monitoring
Real-Time Chat
Relationship Mapping
Release Management
Remote Access/Control
Remote Monitoring & Management
Reporting/Analytics
Routing
Search/Filter
Self Service Portal
Service Catalog
Service Level Agreement (SLA) Management
Supplier Management
Task Management Software
Third Party Integrations
Ticket Management
Widgets
Workflow Configuration
Workflow Management Software
Alternatives to Freshservice
Erick V.
Client Technologies Manager in U.S.
Verified LinkedIn User
Automotive, 1,001-5,000 Employees
Used the Software for: 1+ year
Probably the best tool for Help Desk Management
Comments: This is probably the best I used for ticketing. The support is really good, the only bad thing is that you have to contact mostly via chat.
Pros:
The features it provides are really good. The ticketing flow is easy to follow, we can handle our Service Catalog, integrate with Active Directory, manage Asset Inventory and now we started using the Project management tool.
Cons:
The configuration (Initial Setup) is kind of complex. Design the flows is friendly, but complex if you have many rules, but the good thing is that support guides all the way during this process.
Tom L.
IT Support & Operations Manager in U.S.
Education Management, 1,001-5,000 Employees
Used the Software for: 2+ years
Freshservice Review
Comments: I've really enjoyed having Frehservice in our organization. It has made my job as a manager much easier in that I can easily review team performance, post announcements for the organization, and identify trends in issues or requests.
Pros:
Freshservice has been a game-changer for our organization. The service catalog and user-friendly interface has allowed our employees to improve their productivity over the past 2+ years we have had the system implemented. The customizable forms and workflow has allowed our IT department to streamline processes and improve efficiency.
Cons:
I wish the reporting capabilities were more customizable. There have been a few situations where I reached out to Frehservice for support on reports I needed but found the reports were not possible. The freshservice support team told me my reporting needs would be added to the list of potential "future enhancements'.
Alternatives Considered: ServiceNow Customer Service Management, ManageEngine ServiceDesk Plus and Zendesk
Reasons for Choosing Freshservice: Our previous product did not have a customizable system and did not provide our employees with a way to track their tickets once created. It also lacked any type of reporting capabilities.
Switched From: Cerb
Reasons for Switching to Freshservice: Cost and ease of customization
Verified Reviewer
Head of Application Services (System Administrator & Controlling Function) in Switzerland
Verified LinkedIn User
Management Consulting, 201-500 Employees
Used the Software for: 6-12 months
Source: GetApp
No bang for the buck, an overpriced form submission tool that disappoints in reporting and integration
Pros:
Friendly user interface. Copy screenshots directly into the form (although there's a bug for the last 3 months that screenshots are displayed double in edit mode.) Plenty of fields to configure for more complex workflows.
Cons:
Default categories and labels with awkward naming (synonymous use of "Tickets" and "Incidents" for "Issues", "Change" for "Change Request", "Problem" for "Bugs") No possibility to convert issues to change requests. Agent needs to recreate the entire case in the back resulting in significant adminstrative overhead. Reporting is practically inexistent. REST API not covering many functions and object attributes. (You cannot substitute reporting externally.) HTML editor limited and bugged. (CSS code in support articles not supported, Bootstrap not supported, code gets changed or reformatted upon saving articles) No access to the file and image repository. Frankly, with every new cosmetic change and "functionality no can do" message from the Team, I am growing more and more wary of this application. At this point, I am thinking of it as an overpriced form tool with practically no reporting, a gimped Knowledge Management base, and an asset list functionality that quickly drains your wallet. I am spending significant time rewriting issues as change requests in order to subsequently manually attach them to the original issue ticket and explain to the user why I would want to close his ticket after all. Writing knowledge articles is best done in a separate HTML editor. The Text Editor lacks basic functionality, removes formatting and images in unpredictable ways with undoing, and stores images and files in a central repository you have no access to. You might as well do that with a forms tool readily available on the internet.
Sean C.
ITSM Leader in U.S.
Wireless, 501-1,000 Employees
Used the Software for: 2+ years
FreshStatus Review
Comments: Good
Pros:
GUI for users and technicians is easy to navigate.
Cons:
We use some other FreshWorks products, like FreshChat, and the switching between the 2 can be tricky.
Mel W.
Operations Support Specialist in U.S.
Real Estate, 501-1,000 Employees
Used the Software for: 1-5 months
Implementation and Management
Comments: I had used FreshService in the past at different places of employment and had enjoyed it. This was the first time I was tasked with picking a ticketing system for a company. The fact that you get a trial based on the level you want to pay for, can basically have it customized during the trial to see if it's the right fit, extremely helpful and responsive customer service, and its easy to use for all levels of tech comfortability were the big reasons we chose FreshService. Every time I check in with our team of Agents, everyone is extremely happy with the switch and, overall, I am looking forward to the positive changes this is bringing our teams.
Pros:
There are several reasons I pushed to choose FreshService over other products. The value of the features I was getting with the ease of set up. Within the trial period, I had most of the set up done before I presented to my department head. The ease of switching from the previous (and archaic) system to FS for our end users was, overall, seamless. The ability to customize the product with minimal knowledge makes it easy to manage and make changes. After reviewing a dozen other ticketing systems, FreshService provided the ease of implementation and change that we were looking for.
Cons:
I love Freddy and want to use it however it's limited features over the traditional portal are frustrating. I understand it's a new feature and it's in a state of constant improvement but I wanted to launch with it and was unable to because key features that we needed specifically for our company would not show up. The reports aren't quite what I thought they would be either and I will probably have to do some work with powershell to get the information I really need.
Alternatives Considered: HappyFox Help Desk, Jitbit Helpdesk, Zoho Desk, JIRA Service Management, ServiceNow, Kayako and Zendesk
Reasons for Choosing Freshservice: The system we had was a basic portal for entering the request and then it would email it out to everyone. There was no way to properly manage, track, or pull reports on the work being done and tickets were falling through the cracks. It was making everyone's job harder than it needed to be.
Reasons for Switching to Freshservice: This list is only a partial list of all the systems I looked at but I had issues with identifying what features each level had, lack of trials, unresponsive or slow customer service were some of the few issues I ran into.