Sendinblue
What Is Sendinblue?
Sendinblue empowers businesses to build and grow relationships through marketing automation, email campaigns, transactional emails, SMS messages, chat, CRM, Facebook ads and retargeting ads. What
Read more
makes us different? Sendinblue is powered by our world-class customer happiness team and we offer pricing plans guaranteed to make you smile. Our platform combines a robust suite of services within a single, user-friendly solution.
Read less
Who Uses Sendinblue?
We offer cloud-based email marketing and marketing automation tools to 300,000+ growing companies around the world.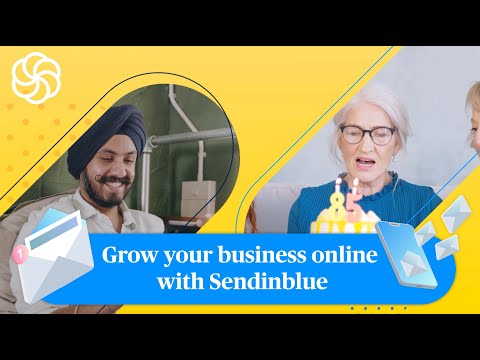 Not sure about Sendinblue? Compare with a popular alternative
Alternatives to Sendinblue
Miguel
Desarrollo de nuevos negocios in US
Verified LinkedIn User
Marketing & Advertising, 2-10 Employees
Used the Software for: 1+ year
Alternatives Considered:
Email marketing with most of the tools you need and the least limitations.
Comments: My experience with Sendinblue has been awesome, I use it for 3 of my websites, and the tools offered can definitely improve your business.
Pros:
-Ease of creating an email campaign. -Their own CRM is connected to user behavior. -Even the free version is so complete. -Integration with many apps especially several WordPress form builders. -Multi inbox, manages emails and even Instagram messages.
Cons:
-The landing page feature could be so powerful but it is outdated.
Juliet
Blogger in South Africa
Health, Wellness & Fitness, 2-10 Employees
Used the Software for: 6-12 months
Sendinblue - The Best Features Pros and Cons
Comments: When it comes to pricing, Sendinblue has four plans available with a free plan that allows 300 emails a day. It is cost effective for small businesses as it comes in handy to users who're at the beginning of their email marketing journey who do not have a budget. Sendinblue has a very good CRM filtering and segmentation of contacts feature. It also provides social media marketing, SMS Marketing, landing pages creation, online surveys and many more tools for digital marketers. More advanced features are available in the premium and enterprise plans.
Pros:
What I liked most about Sendinblue is its easy of use with a variety of customizable templates. I liked the fact that it is a cloud-based email marketing tool that offers a range of features and functionalities for both beginner and advanced users. It is also a marketing automation platform that provides the right marketing and sales tools you need to build strong relationships with your customers all in one place.
Cons:
I found the onboarding process on this app to be difficult especially when it comes to data transfer. Steep learning curve on some of the features like configuring a dedicated IP or sending targeted emails. Also, if you want more features, they're are only available in the premium and enterprise plans where you have to pay for them.
Nina
Founder in US
Verified LinkedIn User
Alternative Medicine, 2-10 Employees
Used the Software for: 2+ years
Pass on this one
Comments: Underwhelming
Pros:
For what it is it works. I'm not saying it works well, but it does work.
Cons:
Where can I start? SIB has been a pain since the beginning. My company used to use them for email marketing, campaign management, and customer database but after 2 years we moved everything except for the transactional emails over to Square...and since them it has been blissful. SIB has a lot of bugs, issues, and isnt really user-friendly. If you have a built from scratch website you will more than likely need to hire a professional if you re using SIB. Pass and use another company to avoid the headaches.
Kaitlyn
Partner and Sales Manager in US
Apparel & Fashion, 2-10 Employees
Used the Software for: 1+ year
Alternatives Considered:
Free but limited
Comments: Sendinblue is free and effective. The ironic thing is that we grew so much from using sendinblue that we needed a bigger and better platform.
Pros:
It's free until you go over a certain amount of emails per month and your contact storage is unlimited, no restrictions! Custom templates, automation/auto responders, custom CTAs, and click tracking are all pros. APIs for integration with your website. The reporting is pretty well detailed. Customer support is very responsive and polite. I was able to set up sendinblue very quickly and I had no problems using it.
Cons:
Sendinblues free version is limited and when you go over the email limit you need to buy a subscription to keep using the service. The customizable templates are there but they're limited.. Sendinblue could be slow and glitchy at times, most often when sending emails with attachments.
Sotheary
Digital Marketing Coordinator in US
Health, Wellness & Fitness, 51-200 Employees
Used the Software for: 2+ years
Best Email Platform Yet
Comments: Overall experience with Sendinblue has been positive. The platform has gotten better over time in the last couple of years and that's something that makes me want to stick with them.
Pros:
This product is easy to use and convenient. Love being able to add as many contact columns as we need to and customize the email with names, etc. Looks sleek and aesthetically better than a lot of the other platforms like constant contact.
Cons:
There isn't much to not like so far. Any concerns or issues I had before was solved over time. One example: I wasn't able to use GIFs in the emails before and now I can. The only other downside is one that I know they had to follow was protecting open rates of recipients due to privacy crackdowns. Wish we could get better info on the success of our emails but we get it.