What Is Front?
Front is a customer communication hub that surrounds every high-stakes conversation with team collaboration capabilities and contextual data to ensure responses are always fast, accurate and deeply personalized. More than 8,000 businesses, including Shopify, Airbnb, Hulu, Lyft, and Mailchimp, use Front to build better customer relationships, one conversation at a time. Learn more at front.com.
Who Uses Front?
Any business aiming to build and grow strong relationships with clients, customers, or teammates.
Where can Front be deployed?
Cloud-based
On-premise
---
About the vendor
Front
Located in San Francisco, US
Founded in 2013
Front pricing
Starting Price:
US$19.00/month
Yes, has free trial
No free version
Front does not have a free version but does offer a free trial. Front paid version starts at US$19.00/month.
Pricing plans
get a free trial
About the vendor
Front
Located in San Francisco, US
Founded in 2013
Front videos and images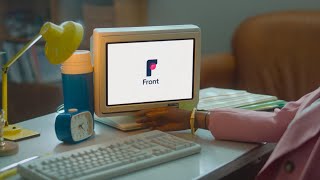 Features of Front
Access Controls/Permissions
Account Alerts
Account Management Software
Activity Dashboard
Activity Tracking
Alerts / Escalation
Alerts/Notifications
Appointment Management
Appointment Scheduling Software
Auto-Responders
Automated Routing
Brainstorming
Business Process Automation
CRM Software
Calendar Management
Calendar/Reminder System
Call Center Management
Call Recording Software
Campaign Analytics
Campaign Management Software
Chat/Messaging
Chatbot Software
Client Management
Collaboration Tools
Commenting/Notes
Communication Management
Computer Telephony Integration
Contact Database
Contact Management Software
Customer Communication
Customer Complaint Tracking
Customer Database
Customer Engagement Software
Customer History
Customizable Reports
Customizable Templates
Dashboard Software
Data Import/Export
Data Visualization Software
Deal Management
Discussions / Forums
Dynamic Content
Email Management Software
Email Marketing Software
Email Reminders
Email Templates
Email Tracking Software
Employee Database
Employee Directory
Event Triggered Actions
Feedback Management
File Sharing Software
For iPad Devices
Health Score
Inbox Management
Interaction Tracking
Issue Tracking Software
Lead Capture Software
Lead Management Software
Lead Qualification
Live Chat Software
Macros/Templated Responses
Meeting Management
Mobile Access
Mobile App
Multi-Channel Communication
Multi-Channel Data Collection
Multi-User Collaboration
Multiple User Accounts
Negative Feedback Management
Notes Management
Onboarding Software
Opportunity Management
Order Management Software
Performance Management
Performance Metrics
Personalization Software
Prioritization
Process/Workflow Automation
Project Management Software
Quality Management Software
Queue Management
Read Receipts
Real Time Editing
Real Time Notifications
Real-Time Chat
Real-time Consumer-facing Chat
Remote Access/Control
Remote Support Software
Reporting & Statistics
Reporting/Analytics
Response Management
Role-Based Permissions
Routing
SMS Messaging
Sales Pipeline Management
Scheduling Software
Search/Filter
Secure Data Storage
Self Service Portal
Service Level Agreement (SLA) Management
Shared Inboxes
Shipping Management
Signature Management
Single Sign On Software
Social Media Integration
Supplier Management
Support Ticket Management
Surveys & Feedback
Tagging
Task Management Software
Team Management Software
Template Management
Territory Management
Text Analysis Software
Third Party Integrations
Ticket Management
Time Tracking Software
Transcripts/Chat History
Transfers/Routing
Two-Way Audio & Video
Usage Tracking/Analytics
Video Chat
Video Conferencing Software
Workflow Configuration
Workflow Management Software
Workforce Management Software
Mac
Sales Channel Coordinator in Canada
Consumer Goods, 51-200 Employees
Used the Software for: 1+ year
Great way to keep organized with multiple inboxes
Comments: Overall great software and I would highly recommend it to teams over using outlook or any other email platform.
Pros:
Front has been great for me to tune in to customer success email inboxes and my own personal inbox. It's awesome to have all emails filtered into one inbox, and I appreciate being able to tag a coworker on an email. The email templates are awesome and I like that I can attach files to a template.
Cons:
I honestly do not have many complaints. The mobile app is a bit glitchy when searching for keywords in emails, but that is all.
Corene
Legal Editor in South Africa
Law Practice, 51-200 Employees
Used the Software for: 1-5 months
Front is effective in assigning tasks for the day
Pros:
I can access my tasks for the day easily and complete them in time.
Cons:
The application works very well so I have no complaints.
Nadiv
Customer Service Emergency Hotline Employee in Netherlands
Consumer Electronics, 501-1,000 Employees
Used the Software for: 1+ year
Front: your home base for email communication with customers
Comments: Using Front, I am able to reach many customers on a daily basis. Front helps me solve their problems by allowing me to communicate quickly and effectively. I can't praise this software enough.
Pros:
I use Front daily to communicate with customers. Overall, Front is a powerful and accessible email client with a very pleasing UI. What I like in particular is the template functionality. Templates for emails can be stored, changed at any time, and are lighting-quick to access. I also like Front's internal messaging system for writing notes to colleagues (using the @ system). This means I can leave notes for colleagues, for customer cases that require more time or team input. Front's search functionality is also unparalleled. If my organisation has ever had any contact with a customer, I can find it using the barest of search strings. To give an example: Front will pull up alternative email adresses that customers have, by cross-referncing known information such as customer name. Lastly, the UI uses colors that aid readability, but are also visually very pleasing. All in all this software is critical to my daily work, and is the most pleasant and easy-to-use email client I've ever used.
Cons:
I personally find very few faults or things that could be improved, that would have a direct effect on the work I do. Having said that, I find the conversation tracking function ever so slightly redundant. This is because I keep track of conversations myself, by having multiple Front tabs open. On the alternate tabs, I use search strings to keep all prior conversation with a customer open. I am aware however that this is my personal style of working, so it doesn't say much about the tracking function itself.
Arielle
Head of Customer Success in US
Insurance Software, 11-50 Employees
Used the Software for: 1-5 months
Love Front- Would Recommend
Comments: Great experience. Sales Rep was educated, nice, responsive and a pleasure to work with. Then the product was easy to use and solved what we needed.
Pros:
It is incredibly easy to use. We transitioned to this from HubSpot support and we were concerned about a learning curve, it is about as basic and intuitive as it comes. We budgeted 2 weeks to implement and it took us less than 2 days to transfer everything over and learn how to use it for its core functions.
Cons:
I may be doing this incorrectly- but the Slack integration doesn't always work correctly. I think it would've been helpful in the integrations section to have a troubleshooting guide if it doesn't work. For us we filled out all fields and appropriate slack channels but the messages were not sent there. (Again could be our error)
Alternatives Considered: Zendesk Suite
Reasons for Choosing Front: HubSpot was AWFUL! I am so passionate about this. We had several situations with HubSpot where emails were sent to the wrong individuals with support tickets, the site crashed completely, and it was inconvenient that they did not have a mobile app. We got a Customer Success Representative at HubSpot assigned to us and they "follow-ed up" on the bugs and were never fixed. Eventually she ghosted us. Switching to front was the best thing that could've happened to us.
Switched From: HubSpot CRM
Reasons for Switching to Front: As part of our product offering, we send emails from our client's email domain to appear as it is from them. With these integrations, Zendesk's product was unable to support the configuration but Front was able to.
John
Founder/President/CEO in US
Telecommunications, 2-10 Employees
Used the Software for: 2+ years
Great Software, Terrible Billing and Support Policies
Pros:
It has a number of very good features for helping teams work together for sales and support. The abilities to share, assign, comment on, snooze and resurface issues makes zero inbox possible. Keeps clutter down and focus on what is most important at the moment. We really like the 'product'.
Cons:
-Front's Billing policies are absurd. If one signs up for an annual plan adding a user even if only temporarily for a day or a month while transitioning employees results in a charge for as much as a full year for that seat. -During the sales process, you will experience significant personal, real-time communications. Once the sales process is over, don't hope to EVER be able to have a real-time conversation with anybody. Regardless of the severity or complexity of the issue, the only option is email that often takes days to get a response which can be a real problem when the platform is down since it is the only way to contact them. They had a chat ability for a while but turned it off apparently because customer expectations for a timely response were too high. -Don't bother making suggestions. Although they have what appears to be a strong attitude towards involving customers, suggestions get a pat on the head and swept into a 'we'll pass that on' basket. No methods or interest to surface ideas and suggestions in a way that other end-users can expand upon or upvote/prioritize.