Ongage
What Is Ongage?
Ongage is an email marketing platform for email marketers who are looking to know their customers better and reach their inboxes at scale. Ongage has the most powerful email API in the market, a
Read more
built-in SMTP relay, segmentation, personalization, and campaign optimization capabilities that you have to see. Give your email operation a new home with Ongage and capitalize on all your previous platform features, while increasing your cost-effectiveness, deliverability, and more.
Read less
Who Uses Ongage?
Email marketers who run high-volume operation know that data and deliverability are everything. Ongage allows you to optimize your reach, engagement, and make decisions based on data with ease.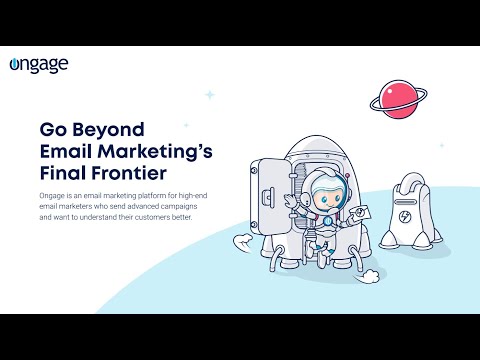 Not sure about Ongage? Compare with a popular alternative
Anton
Email Marketing Manager. in Israel
Verified LinkedIn User
Gambling & Casinos, 51-200 Employees
Used the Software for: 2+ years
Great ESP to manage multiple SMTP providers
Comments: We have 5 online casino brands and use Ongage for acquisition email campaigns. The main duty is to maintain high deliverability among a number of SMTP providers and manage very high volumes among hundreds of drip email campaigns across the world.
Pros:
The greates thing in Ongage is the feature to manage multiple SMTP providers for email marketing. I didn't see any comparable software in the market with such feature. This is a must for several markets where email marketing is more about deliverability than marketing. You can easily setup dozens of drip campaigns to be sent with two, three SMTP providers each for the specific ISP, for example, Gmail with SMTP #1, Hotmail with SMTP #2, etc for every single drip campaign. Ongage also has many useful features in database segmentation, drip campaigns management, analytics, and reports. All of that makes complex things much easier to manage.
Cons:
I am very waiting for the moment when Ongage will allow to group ISPs with different domains but the same company, e.g. Hotmail.de + Hotmail.com + Outlook or Yahoo + AOL, etc.
Cynthia
Email Marketing Manager in US
Marketing & Advertising, 11-50 Employees
Used the Software for: 6-12 months
Alternatives Considered:
Essential to Our Business
Comments: We were able to optimize our newsletter with this product more so than with our previous ESP. Customer support has been amazing. Our CSM [SENSITIVE CONTENT HIDDEN] is the best and [SENSITIVE CONTENT HIDDEN] has been such a great resource to every team member.
Pros:
This is exactly the product we needed to grow our email program. The functionality of A/B testing and WYSIWYG edit to create dynamic templates was not only easy to use, but absolutely crucial. Having built-in analytics is also something we use every day to help optimize our programs. Customer support is also attentive, reliable and quick. I know when I submit a ticket, I'm going to get a thoughtful response that will get me where I need to go.
Cons:
Integration was pretty easy but there are a couple things we'd like to see: segment growth over time so we can monitor in the platform how are segments are growing/decreasing a summary of a/b tests showing the results of the winner and loser so we can see the difference . we can see this in realtime but would like to be able to get this information for tests run early in the morning when we don't have eyes on it
eyal
VIP Account Manager in Israel
Gambling & Casinos, 11-50 Employees
Used the Software for: 6-12 months
eyal's review
Comments: Good and usful software, but it could be much better.
Pros:
I created a new review, because i wrote the wrong email before. the software is very usful, and offering a lot of options.
Cons:
There are a lot of options, but sometimes its hard to learn new stuff on it, sometimes the software get to complicated and un friendly and even if there are a lot of options, its hard to find them. also - the info button should more friendly too.
Ed
Email Deliverability Specialist in US
E-Learning, 11-50 Employees
Used the Software for: 2+ years
Alternatives Considered:
A powerful and effective solution for email marketing.
Comments: Our overall experience has been very positive. Not many services can handle our complex segment logic w/o providing access to a raw SQL-like interface, but Ongage is the exception. For some of our providers we have to manage this through a database and hard-flag records for mailing within the ESP! Ongage's solution is versatile and effective. Ongage's ability to "stagger" our sends, deliver across a period of hours rather than all at once, has been very helpful in mitigating deliverability challenges. This is a huge help for maintaining high delivery rates across larger campaigns. Since Ongage works in tandem with email service providers, you can easily move to a new service without having to re-upload your list or fret about losing data. Switching from one SMTP service to another is so much easier with Ongage and helps companies stay nimble.
Pros:
This software provides a "hub" for your email marketing list and can connect to multiple different email service providers. Managing sends through multiple service providers is easy in Ongage. Their platform supports complex list segmentation, incremental campaign deployment, and split-testing. Their support is top-notch, responding quickly to issues, comprehensive resolutions, and provides easy-to-understand descriptions of challenges. We've used multiple vendors over the years but Ongage is the only one where we've seen requested changes implemented directly into the product. Ranging from minor, cosmetic, changes to gigantic "export all send/open/click contact activity as a CSV from the web interface". It's nice to partner with a company who listens to their customers. Their API is robust and we've never had trouble getting the information we need out of their system.
Cons:
The cost can be prohibitive for smaller companies and the combination of Ongage plus sending service can be an increase to the cost-per-send when compared to an "out of the box" email service provider. Their segmentation tool is complex. This is great for flexibility but can be difficult for new users to grasp (especially with multiple nested groups of logic).
Eric
Dir Email Marketing in US
Marketing & Advertising, 201-500 Employees
Used the Software for: 2+ years
It's all about the Support and Features
Comments: All I can say is I wish ever product or service provider had the support that Ongage does. It's all about the customer for them - making sure the program is working the best it can for the user.
Pros:
First I must say the Support is by far the best team I've ever worked with for any product! They go over and above to make sure they have answered your question or found a solution for an issue. The Dev team listens to user case and is open to suggestions to build a better product. Sales team is not only in it to make money but they make sure you are on the correct plan and do what they can to help you all the way through the setup/onboarding process.
Cons:
I really have no issues with the product at all. Sure there could be some additional features but I've learned working with Ongage is making a suggestion to them and if it's a value for other customers or just a damn good idea they will implement over time.