What Is BigCommerce?
BigCommerce (Nasdaq: BIGC) is a leading software-as-a-service (SaaS) ecommerce platform that empowers merchants of all sizes to build, innovate and grow their businesses online. As a leading open SaaS solution, BigCommerce provides merchants enterprise-grade functionality, customization and performance with simplicity and ease-of-use. Tens of thousands of companies across 150 countries and numerous industries use BigCommerce, including Ben & Jerry's, S.C. Johnson, Skullcandy, Sony and Vodafone.
Who Uses BigCommerce?
Designed for retail businesses of all sizes, it is a cloud-based tool that lets businesses create eCommerce websites using customizable theme/templates & manage sales through centralized dashboards.
Where can BigCommerce be deployed?
Cloud-based
On-premise
---
About the vendor
BigCommerce
Located in austin, US
Founded in 2009
BigCommerce support
Phone Support
24/7 (Live rep)
Chat
BigCommerce pricing
Starting Price:
US$29.95/month
Yes, has free trial
No free version
BigCommerce does not have a free version but does offer a free trial. BigCommerce paid version starts at US$29.95/month.
Pricing plans
get a free trial
About the vendor
BigCommerce
Located in austin, US
Founded in 2009
BigCommerce support
Phone Support
24/7 (Live rep)
Chat
BigCommerce videos and images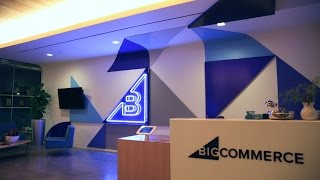 Features of BigCommerce
API
Abandoned Cart Saver
Activity Dashboard
CRM Software
Cataloging/Categorization
Channel Management Software
Content Management System (CMS) Software
Content Publishing Options
Customer Accounts
Customer Management
Customer Touchpoints
Data Import/Export
Data Security
De-Coupled Front & Back Ends
Design Management
Discount Management
Electronic Payments
Email Marketing Software
For B2B
For Small Businesses
Inventory Control Software
Inventory Management Software
Inventory Optimization Software
Marketplace Integration
Mobile Access
Multi-Channel Management
Multi-Currency
Online Store Builder
Order Management Software
Payment Options
Pre-built Templates
Preview Functionality
Promotions Management
Publishing Options
Real Time Editing
Reordering
Reporting & Statistics
Reporting/Analytics
SEO Management
SSL Security
Shipping Management
Shopping Cart Software
Tax Management Software
Template Management
Third Party Integrations
Website Management
eCommerce Management
Alternatives to BigCommerce
Micah
Owner in US
Verified LinkedIn User
Retail, Self Employed
Used the Software for: 2+ years
BigCommerce has made my online business possible
Comments: Overall I have had a great experience. When I had some integration issues with my payment processor, they were easy to chat with and very helpful.
Pros:
I like that it helps my small business look bigger. It's easy to navigate and use on a daily basis.
Cons:
There are only a handful of Free templates so many sites look similar.
Amadou saikou
Ingenieur informaticien in Guinea
Internet, 2-10 Employees
Used the Software for: 2+ years
BigCommerce
Comments: BigCommerce e-commerce software that I highly recommend
Pros:
This is the third (3erm) year that my BigCommerce store is still generating sales for me, this software is good
Cons:
Honestly, I have been using this software for 3 years without any problem
Max
Director of Systems Operations in US
E-Learning, 51-200 Employees
Used the Software for: 2+ years
Terrific admin UI and purchaser experience - BigCommerce will not fix bugs customers find
Comments: The software has been solid for our customers and the administration UI is very easy to use. We have outstanding technical issues that have been open for more than a year and are still not resolved (HTTP status 500 errors that intermittently are returned from their backend APIs) - they say they cannot see the errors in their backend logs and we must send them examples even though we have this happen 10-12 times a day, continually, for over a year. Their Stripe integration does not include the email address field when they send payment requests to Stripe, so customers do not get a credit card receipt from Stripe. Requesting this be changed resulted in them telling us only 1 other customer wanted this feature and that we should switch to Authorize or Brain Tree because it works with those processors) - this felt like a move to downplay the use of Stripe and push us towards vendors that BigCommerce perhaps prefers? It is hard to believe we are the only customer that would want Stripe to send CC receipts to customers - their built-in receipt mechanism does not allow a store to include the last 4 digits of the credit card in the receipt the store sends, which means customers have to call in to customer support when they are organizational customers to figure out which CC is used - a very poor experience for our customers and for our customer support team.
Pros:
It is highly customizable, has most of the features you'd expect in an e-commerce solution, and the APIs are well-documented.
Cons:
* Seemingly easy solutions to known issues get stuck in their support bureaucracy and disappear * Their logging does not allow software engineers nor CSRs to see the specifics of errors - customers must provide client-side stack traces to help them find errors on their backend (for example, API calls that return HTTP status 500)
Jason
Internet Marketing Analyst in UK
Pharmaceuticals, 201-500 Employees
Used the Software for: 2+ years
An outstanding ecommerce platform with great pricing and an amazing quality
Pros:
The platform is easy to use, and non-trained or non-technical users are able to use the platform. Comes in a very good pricing structure which is appealing to small and medium-sized businesses. Great website builder and CMS, perfect for creating products and product categories and managing SKUs. Order management, payment processing, shipping and taxation are very straightforward and useful for users. The platform is highly customizable and is one of the best eCommerce platforms in the market.
Cons:
The pricing for the platform is great but every add-on or plugin is paid which adds a huge cost for businesses as they expand, which makes them almost pay the same amount as other eCommerce platforms. Reporting and analytics are very basic, and not customizable as per analyst standards. Changing themes or anything within the backend requires expertise in HTML/CSS.
Gnankoye
Data Engineer in Guinea
Internet, 2-10 Employees
Used the Software for: 1+ year
BigCommerce e-commerce software
Comments: BigCommerce is software that I highly recommend for all e-merchants who want to create electronic store
Pros:
Thank you BigCommerce for helping me launch my very first online store. I am very grateful to the developers of this software.
Cons:
To be honest, I was new to e-commerce but with BigCommerce I was able to create my store without any problem