Ortto
What Is Ortto?
Ortto brings data, messaging and analytics on a single platform to helps businesses deliver remarkable experiences across the customer journey. Since 2015, Ortto has empowered over 16,000 users
Read more
across the globe including Microsoft, Bitly, StreamYard, westfund, and LiveChat.
Read less
Who Uses Ortto?
Ortto is used by SaaS, ecommerce, not-for-profit, B2B or B2C, from startups to the Fortune 500.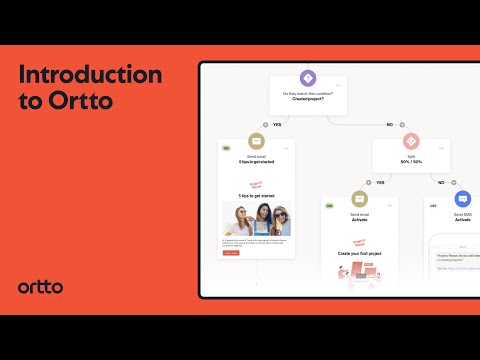 Not sure about Ortto? Compare with a popular alternative
Garrett
Marketing Manager - Technology in Canada
Verified LinkedIn User
Computer Software, 11-50 Employees
Used the Software for: Free Trial
A Great Alternative to Full-Fledged Automation Software
Comments: Autopilot is a great solution if you're looking for something to automate a sequence of emails. I wouldn't consider it a replacement for full-fledged marketing automation software... yet, but it's a fantastic tool for email automation. Just keep in mind that there are a few hiccups that you'll potentially need to navigate such as email SpamAssassin errors (always use mail-tester.com to check your emails) and CRM sync issues.
Pros:
It seems to me that Autopilot does only one thing - but it does that one thing REALLY well. I tested Autopilot briefly for a few weeks as an alternative to the drip program functionality in our Marketing Automation software. I was extremely impressed with how easy it is to build a drip program (called a "Journey" within Autopilot), as well as with the breadth of logic and functionality offered. Autopilot really sets itself apart with some amazing - seriously amazing - integrations and functionality that our Automation platform doesn't offer, such as sending SMS text messages or physical postcards. I really like that Autopilot offers in-app chat support, and that you generally don't need to wait longer than 5 minutes to get someone to help you out.
Cons:
During the few weeks I tested Autopilot, I found a few issues that prevented me from really continuing to use the software for my use-case. The integration with Salesforce was clunky and un-intuitive, and most concerningly, it seemed that when the platform saw leads that already existed in Salesforce, it would stop them from progressing through the drip program. This was a real frustration, and I ended up just disconnecting Autopilot from the CRM in order to finish my test. Another concern we had was that after testing the emails I had configured using mail-tester.com, there was an error identified that could only be resolved by getting a dedicated IP address - something which adds a significant additional monthly cost to the cost of the program.
Kate
Growth Manager in Canada
Verified LinkedIn User
Computer Software, 11-50 Employees
Used the Software for: 1-5 months
Source: GetApp
Alternatives Considered:
A great tool, with great visual cues, powerful automation and integrations
Comments: Great platform, easy to learn and use, engaging for the team, awesome customer support, truly helpful content. No regrets. It's perfect for teams that are just starting out.
Pros:
Because of the visual workflow (or journeys, as they appropriately call them) builder, this is an easy platform to catch on to. Getting the team to dive in and build our or edit journeys is quick and simple and doesn't require two days of reading documentation and tutorials to understand. Autopilot has done an amazing job of making the building of the workflows collaborative as well. Being able to annotate, comment, add images etc helps not only the team understand the goals, but is killer for reminding you why you built something the way you did a month later. The email, CRM, Slack integrations are all easy to set up and use as well.
Cons:
I believe they are working on it since there have been a lot of updates recently, but the email manager could use a bit more love - it just doesn't stand out as well against the rest of the platform. Building and editing an individual email is simple enough, but managing the full list can be tricky. The reporting on the messaging bot is also lacking - but that feature is easy to use and helpful. It's easy to trust that they will continue to improve this.
Internet, Self Employed
Used the Software for: 2+ years
Autopilot is going the wrong direction
Comments: I've been using Autopilot for years and was a big fan of the good old Journey. I was really excited about the new platform. The data integration and visualisation was promising. I was shocked when they rebranded to Ortto after so many years out of the blue, and even though the new platform does have really nice features, overall it has way too many bugs and shows inconsistent results all the time, making it worthless for KPI measurement. I am also not a big fan of how they have changed long time features, like dropping integration with Typeforms and locking in features, like removing SMS integration with Twilio, for example, forcing us to buy expensive SMS packages from them.Also think the new limits are too low. The email "allowance" is low, and you will end up paying extra every month.
Pros:
Interface and automation capabilities. It's clean, easy on the eye and most of the time, easy to find what you're looking for.
Cons:
The new platform has huge number of bugs and it's showing inconsistent data. Even within the app itself, you will see different results in different parts of the platform. Some results are very inconsistent, like for example, WooCommerce sales for a campaign reporting a much different number than the campaign.
Ortto Response
6 days ago
Hi Leni, Thank you for leaving a 4-star review. We are happy to hear you are enjoying Ortto's interface and automation capabilities. Our Support team has been in touch in regard to the data inconsistencies you were seeing, we are here to help if these problems persist. We do have a Typeform integration available to our users, you can find more information about this here: https://ortto.com/integrations/typeform/ If you would like to set up a demo to walk through the Ortto platform and discuss features like SMS, please reach out to our team on chat or [email protected] We would love to show you around the platform and ensure you are able to make the most of all of Ortto's features and capabilities. Thank you for being an Ortto customer.
Aleksandr
Principal Software Engineer in US
Verified LinkedIn User
Computer Software, 501-1,000 Employees
Used the Software for: 2+ years
Alternatives Considered:
Does not worth it's money
Comments: Overall, Autopilot seems to lag behind of Intercom in a term of features, developer support, documentation, and adoption. There are much less how to's, and it is rarely discussed on the internet.
In my opinion, it is poorly priced in a terms of proce-features.
I'd keep an eye on it as it may be able to make a leap and offer full-fledged solution. It is not there yet.
Pros:
I can not withstand the temptation to compare Autopilot to Intercom. So.. 2 rewievs in 1? It is somehow more stable than Intercom and overall offers a bit smoother experience. API server are bit more stable, less 500. Dashboard is ... standard. I mean at some point Autopilot and Intercom dashboards become prety much the same having the main differences in namings. Autopilot have journeys which are the same as Intercoms lifecycles (onboardings), there are the same chats, same integrations, same conversation channels. API recently got a long awaited updated and email is no longer the sole unique key - the thing that drove a number of customers including me away, because sometimes it is required to have different customers with a same email or without email at all. Well, now it is fixed.
Cons:
Autopilot offers no client libs except for JavaScript. You want to use it - you write your own client library, this is something you better keep in mind if your scenario includes server side events. It's API is somewhat cumbersome to understand. The technical support is a bit better that Intercoms, but I can not say it was of a much help. Probably the biggest issue we faced with autopilot is constant feeling that product developers would prefer not to meet client's need, they are living in a world where clients solve their problems on their own. Ivory tower one could say, huh?
Leonardo
CMO in Denmark
Verified LinkedIn User
Legal Services, 11-50 Employees
Used the Software for: 2+ years
Solid tool
Pros:
I love the email automation and how "complex" it can get if you want it to! The support is great.
Cons:
Still waiting to get transferred from the old version they had with the new one - to be done by end of year I hope.