What Is Insightly?
With more than 1.5 million users across all industries, Insightly is a leading CRM software with native integrations to Gmail, Office 365, MailChimp, and other popular applications. Use Insightly to manage customer data, leads, and projects at every stage of customer relationships, monitor sales pipeline, and measure performance against your sales and business goals.
Who Uses Insightly?
Organizations in any industry looking for an easy to use yet powerful CRM with project management and delivery. Track everything from sales prospects to delivered projects in the same platform.
Where can Insightly be deployed?
Cloud-based
On-premise
---
About the vendor
Insightly
Located in San Francisco, US
Founded in 2010
Languages
English, French, Portuguese, Spanish
Insightly pricing
Starting Price:
US$29.00/month
Yes, has free trial
Yes, has free version
Insightly has a free version and offers a free trial. Insightly paid version starts at US$29.00/month.
About the vendor
Insightly
Located in San Francisco, US
Founded in 2010
Languages
English, French, Portuguese, Spanish
Insightly videos and images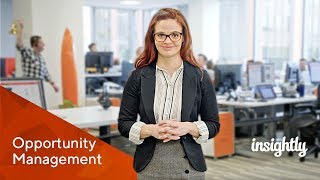 Features of Insightly
Access Controls/Permissions
Activity Dashboard
Activity Tracking
Alerts/Notifications
Appointment Scheduling Software
Assignment Management
Batch Processing
Budget Management
CRM Software
Calendar Management
Calendar/Reminder System
Campaign Management Software
Collaboration Tools
Commenting/Notes
Contact Database
Contact Management Software
Customer Database
Customer Engagement Software
Customizable Fields
Customizable Reports
Customizable Templates
Dashboard Software
Data Import/Export
Document Management Software
Document Storage
Email Management Software
Email Marketing Software
File Management
File Sharing Software
For Insurance Industry
For Mac Devices
For Small Businesses
For Startups
For iPad Devices
Gantt/Timeline View
Interaction Tracking
Kanban Board
Lead Capture Software
Lead Management Software
Lead Nurturing Software
Lead Qualification
Lead Segmentation
Marketing Automation Software
Mobile Access
Opportunity Management
Percent-Complete Tracking
Performance Metrics
Pipeline Management
Prioritization
Project Planning/Scheduling
Project Tracking Software
Quotes/Estimates
Real Time Notifications
Recurring Tasks
Reporting/Analytics
Reporting/Project Tracking
Sales Activity Management
Sales Pipeline Management
Sales Reports
Sales Trend Analysis
Search/Filter
Segmentation
Shared Contacts
Social Media Integration
Status Tracking
Task Management Software
Task Progress Tracking
Task Scheduling
Territory Management
Third Party Integrations
Third-Party Integration
Visual Analytics
Web-based Deployment
Workflow Management Software
Alternatives to Insightly
Amanda
Marketing Associate in US
Human Resources, 11-50 Employees
Used the Software for: 6-12 months
Used insigntly before HubSpot
Comments: Used it daily to manage customers and projects. Didn't have enough features so we switched to hubspot
Pros:
It was an ok product to use before we switched to HubSpot. Helped to manage customers, and projects.
Cons:
Couldn't do as much as Hubspot, though the price is very low
Anne
Director Operations in US
Professional Training & Coaching, 2-10 Employees
Used the Software for: 1+ year
Customizing Insightly
Comments: I think it is a great, affordable product. I'm disappointed in the Customer Care response (or lack thereof). The Customer Support team is great. They can troubleshoot and fix items. Customer Care is required if you are trying to better/best use the product. I think that group needs some work. Anyone customizing the product should be confident that Insightly knows how it will be used for user's business and that may mean more questions upfront, better understanding of a client's business.
Pros:
That we could customize. We were able to make this software work for our needs, which were a bit different than how the typical sales team might. We can track our orders and do great reporting. Dashboards are very nice feature. Ability to customize pipelines very helpful and visuals are great. Customer support team is helpful and responsive.
Cons:
Integration with our needs was a bit difficult. Our sales person seemed to understand what we needed to accomplish but I don't think the customer care person is as savvy. Customization is great, but if it impacts how you can report items or get most accurate data, user needs to understand that. We got creative in how we used items and where possible, didn't customize, just repurposed so we got the benefit of the connections Insightly makes. In our haste to be up and using, I don't think enough time was spent on that and rework was involved.
Alternatives Considered: Claritysoft CRM, HubSpot Marketing Hub, Salesforce Sales Cloud and Bigin by Zoho CRM
Reasons for Choosing Insightly: Did not like the web version as much as the local and the local had to sync properly. It's better to be in the web and Insightly affords that ease. People were challenged by using Act in some cases and I think just soured on it so sometimes it's best to start fresh.
Switched From: Act!
Reasons for Switching to Insightly: functionality, customization and cost
Matthew
Head of Client Engagement & Services in UK
Management Consulting, 11-50 Employees
Used the Software for: 2+ years
Insightly highs and lows
Pros:
It is relatively intuitive easy to customise, easy to align to specific business needs.
Cons:
Effective linkage of the databases that sit behind the product. If i log an activity for a against a contact that is part of an organisation, that activity will not be visible under the organisation. This is a big miss. There needs to be total linkage between all databases that sit within the system. There should be a hierarchy from Organisation to Contact to Project to Opportunity etc etc. This causes significant issues when trying to track client experience. Reporting No reports are drillable - they are simply static reports limiting their use. I constantly find myself needing to export a report to Excel so I can build a pivot table to effectively use it. User interface The user interface is very old fashioned and clunky. This is not just a statement about look and feel. When i create a report i get a list of objects with certain data that changes on a regular basis. So I need to select the item from within the report and change the value. But I cant do this quickly from within the report. I need to click on the item which then loads a separate page for the record. Then I need to click into that record which show all of the fields for the entire record. Then I need to click on the field in question, change it and then save it. I then need to close that page down and go back to the report page and refresh the page before this change is visible. This is a terrible UI and UX for a modern product today that is now significantly behind the the currently expected standard.
Computer Software, 2-10 Employees
Used the Software for: 1+ year
Source: SoftwareAdvice
Very easy to use and love the to-do list!
Comments: I like this program. I really do. I mean, that to-do list is so handy not only in theory but also in practice. The features make the program so easy to use and the fact that there is support on hand to explain any issues that the training videos did not cover is such a big bonus. We've had times during training where we were unsure of the functions, but one quick call to support cleared everything up. We feel like pros! However, the cost almost negates the good features. We are a small business and it's difficult to justify the cost when there are so many cheaper or free CRMs available. Maybe they'll come out with a small business version that isn't quite as expensive but has the features you need to run your day-to-day tasks.
Pros:
I absolutely love the to-do list. It makes it so much easier to assign tasks to my employees. I always prefer to have tasks written down to verbal tasks, so this program helps so much in that aspect. I also really like the clean, efficient look to this program. It makes it very easy to use and is not as cluttered as other similar programs. I loved the training videos that helped my employees learn the ins and outs of the program. The fact that there is tech support readily available is also a plus. I hate having only email or only phone support available, but Insightly has both!
Cons:
It's rather pricey. The free version does not provide all of the features that make this product worthwhile over the competitors'. To get all of the features, you have to pay more, which makes sense, just not for small business owners. The fact that a higher plan is required to forward emails is a big minus. It's something that almost all businesses need but paying the amount for the professional version is not necessarily a cost that can be justified. I believe that if this program were a little bit less expensive it would be more useful for small and new businesses.
Verified Reviewer
Enrolled Agent - Certified Tax Resolution Specialist in US
Verified LinkedIn User
Financial Services Software
Used the Software for: 1+ year
A necessary tool to run my business. No more searching for client information.
Comments: Ease of Marketing and Sales process. Total contact management software that include picture of person. What a plus. Great training videos to guide all level of users. Wonderful opportunity to scale the software as the company grows from startup to height unknown. Pricing is fair and Insightly is not living on past accomplishments it is improving product continuously.
Pros:
They offer a free version to evaluate. Since it is without a time limit I used it and gradually became totally dependent on it. During a planning meeting with staff it was determined we could increase our efficiency by adding the professional version that includes email marketing tools and an easy interface with MailChimp. Now they have my paid business. It is with confidence that I agree to pay them for a monthly service that will be used by all members of my company. The program can accommodate the growth curve in a company such as mine. We started out simply needing contact management software. Later as our sales and marketing needs became more our focus adding these features was an easy decision. There are many videos to quickly bring a new user up to speed. The experienced user can use the videos to explore the many functions that may yet be used by a company as needs and goals change. The reporting function has recently become important as we need to know the results of our marketing and sales efforts. The tool is there and ready for us to implement. I think the more our company commits to using Insightly the more our communication between owners and employees improves. We openly share information on Insightly and our feedback has been positive. In the past before Insightly, communication was dispersed informally and sometimes led to bad feelings due to the inefficiency of word of mouth. Insightly is constantly making changes and updates to its software.
Cons:
Its not visually pretty. I know that is silly but staff has to look at it all day and they like pretty. When a new user/employee first looks at program they make the mistake of thinking it is an old program. While I am able to bring them along and show them it isn't true, their first impression is a temporary detriment to their learning curve and acceptance of the program. In order for Insightly to be the awesome tool it is, requires employee and leader acceptance. Everyone on the team has input and others depend on that input to do their job. Sloppy work seems to come from lack of acceptance. Part of this is my responsibility as a leader to insist everyone use the tools as intended but again, if the program had a new interface and pretty colors it might make a difference. Personally I always choose function first and then presentation but input from staff is a factor I have to consider. One other area I would mention is the difference between leads and contacts. They are not intuitive to some people and I think a better explanation and reinforcement in training videos would make it easier for the new user. This confusion has lead to some mistakes by my users that require a bit of corrective action by more experienced users. There is very little for me to find wrong with Insightly that isn't based on personal style and preferences.