Visual Retail Plus
What Is Visual Retail Plus?
Modular application with CRM, reporting, POS, inventory management, time and attendance tracking features for retail chains.
Read less
Who Uses Visual Retail Plus?
Retail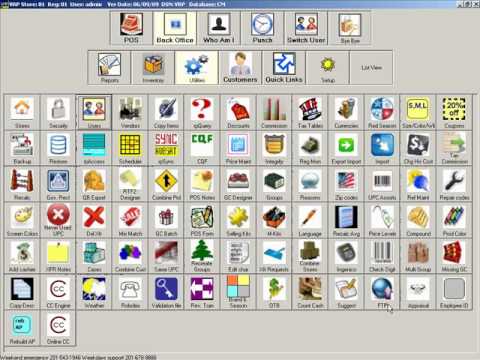 Not sure about Visual Retail Plus? Compare with a popular alternative
Not available in your country
Alternatives to Visual Retail Plus
Reviews of Visual Retail Plus
Jonathan
Payroll Analyst in Philippines
Retail, 501-1,000 Employees
Used the Software for: 2+ years
Source: SoftwareAdvice
Winner for retailers!
Pros:
I can say that it is really a winner software for us in retail industry. it let us manage the other stores easily, plus it is very easy to navigate even our staff can use this software easily that makes them more utilize.
Cons:
So far I don't have any complain for this, but i wish that it can be more customizable that would fit with the needs or our company
Apparel & Fashion
Used the Software for: 2+ years
Source: SoftwareAdvice
VRP Review
Pros:
As far as point of sales go, many over-complicate systems and worry too much about aesthetics. VRP focuses on functionality and ease of use. Kith has been loyal customers since inception of the company and our sister company, Atrium, has been a customer for 15+ years. Collectively we've made many additional pieces of the software allowing for growth and adapting to a fast pace retail environment.
Cons:
Very few downsides of the product, however, some of the integrations with current systems took a bit longer to perfect than I would have hoped for. With that said, VRP did a lot to get these integrations up and running and now work smoothly.
Apparel & Fashion, 2-10 Employees
Used the Software for: 6-12 months
Source: SoftwareAdvice
Slightly below average experience
Pros:
The one this I will say was fantastic while working with this particular product was the help I received from customer service.
Cons:
I can't say I found any features of this product to be especially standout, rather below average from my experience.
Apparel & Fashion
Used the Software for: 2+ years
Source: SoftwareAdvice
Visual Retail Plus Review
Pros:
I've been using VRP for 9 years and have been the main contact person from my company for about 2 years now. VRP is a great POS system and is very user friendly. There's a lot of functions that you can actually use, but us specifically we tend to use a handful which we've mastered. The tech support guys are friendly and relate able and actually make you want to give them a call to assist you with what you need.
Cons:
Sometimes there's a long wait and it can take a few hours to get a call back. When the issue is of urgency it can get frustrating to have to wait more than an hour.
Austin
Director of Marketing in US
Apparel & Fashion
Used the Software for: 1+ year
Source: SoftwareAdvice
My Review of VRP
Pros:
My favorite thing about this product is its level of customization. While the base level VRP system isn't something I'd say would fulfill our entire business needs, the assistance we get from our reps, and their ability to customize the platform to suit our particular practices is really amazing, and definitely something worth noting.
Cons:
Due to the nature of our business, VRP is unable to catch up to our rapid sales. On weekends, we have products online that will call for high customer demand. Our web platform Shopify is able to register the sales before VRP does, which causes pretty sizable inventory issues unless adhered to prior.