What Is ReservationKey?
ReservationKey is feature rich yet the most cost effective solution for the lodging industry. Our users include, Hotels, Motels, Campgrounds, Property Management and more. We offer a 30-day free trial, free set-up, free customization, multi-language with all the features found in other systems, but at a much lower price. Big enough to handle all your needs, yet low key enough where you can work directly with the owner and founder of the company. Serving thousands of clients for over 14 years.
Who Uses ReservationKey?
Booking system for independent properties in the hospitality industry such as Hotels, Motels, Resorts, Inns, Campgrounds, Cabins, Cottages & B&Bs. Our customers are very satisfied. Read our Reviews.
Where can ReservationKey be deployed?
Cloud-based
On-premise
---
About the vendor
ReservationKey
Located in San Ramon, U.S.
Founded in 2007
ReservationKey pricing
Starting Price:
US$37.00/month
Yes, has free trial
No free version
ReservationKey does not have a free version but does offer a free trial. ReservationKey paid version starts at US$37.00/month.
Pricing plans
get a free trial
About the vendor
ReservationKey
Located in San Ramon, U.S.
Founded in 2007
ReservationKey videos and images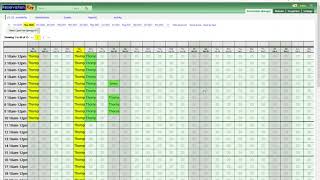 Features of ReservationKey
Booking Notes
CRM Software
Calendar/Reminder System
Channel Management Software
Customer Support Software
For Vacation Rentals
Front Desk Management
GDS/OTA Integration
Group Reservations
Housekeeping Management
Online Booking
Owner Statements
Payment Processing Software
Rate Management
Reporting & Statistics
Reporting/Analytics
Reservations Management
Third Party Integrations
Alternatives to ReservationKey
Reviews of ReservationKey
Robert
Owner in Mexico
Verified LinkedIn User
Hospitality, 2-10 Employees
Used the Software for: 2+ years
Reservation Key is Invaluable to my Business
Comments: I started a small hotel 7 years ago with never having been in the business and no idea where to start with a reservation system. Another hotel recommended Reservation Key and I am glad I followed their advice. From the beginning, it was very easy to set up and learn. Also, they continue to refine and add features. I am also amazed how fast and thorough the support is. The system is very easy to use but it also has LOTS of functions that I can sometimes forget. No question is too small for an answer, and it is easy to search on their support site for most answers. I do not hesitate at all to recommend Reservation Key to others.
Pros:
Flexibility, amazing support for questions, ease of use, email templates (with tracking capabilities), access on my computer and iPad.
Cons:
There really is nothing I am unhappy with.
ReservationKey Response
4 years ago
Thank you for your very nice and supportive comments!
Pelin
Complex General Manager in Germany
Hospitality, 10,000+ Employees
Used the Software for: 6-12 months
Great automation for multiple online room reservation channels
Comments: RezervationKey is making a great job for us by unifying the management of all sales channels at one place, that would be pretty good if they were adding local sales channels day by day and helps us to expand our marketing channels with more local online channels that are specific to each country.
Pros:
ReservationKey is compatible with website builders such as Wix and Squarespace -which is a great aspect from my view point- so that enables to create commision-free sales channels as well as unifying all online booking platforms that we are present in one single and lean management panel where we can update anything such as availability, change features, add new room types etc and ReservationKey reflects any update to all booking channels that we are integrated to.
Cons:
Although ReservationKey is great in covering the global reservation platforms it is weak to have integrations to the online booking platforms that are specific to each country. It would be the most powerful solution for us if it was helping us increasing our sales in local markets through local sales channels.
Alternatives Considered: ResNexus
Reasons for Choosing ReservationKey: Management panel of RezervationKey was easier to work in for our staff.
Switched From: WebReserv
Reasons for Switching to ReservationKey: RezervationKey's wix and squarespace integrations was the key factor in our decision.
Hospitality, 2-10 Employees
Used the Software for: 2+ years
ReservationKey is a good value
Comments: ReservationKey has worked well, and has been improving over the years that we have been using it. Customer service has been good when issues have come up.
Pros:
The platform is flexible, with the ability to make many different reservation pages. It also works well with MyAllocator and iCal calendars for interfacing with outside platforms.
Cons:
1) Guest addresses are all in one text field...organizing marketing efforts to previous guests by zip code is problematic. 2) Only one alternate rate plan can be used in a reservation page...it would be helpful to have more available to apply to various marketing sources.
ReservationKey Response
4 years ago
It actually is possible to split the address field into multiple fields. This is an option under the Settings tab, Account Preferences. Thank you for using the system and for your review.
Hospitality, 2-10 Employees
Used the Software for: 2+ years
Affordable and easy to use solution
Comments: Thank you both for providing such excellent customer service! The ReservationKey program was the perfect solution for managing and booking reservations at our small 20-room motel. Being able to keep an on eye on financials and daily bookings from wherever I could get an Internet connection was a game changer for me personally. Again, thank you, thank you!!
Pros:
Ease of use by inexperienced employees, Cloud based, income/expense/ tax reporting, outstanding customer service!
Cons:
There is nothing I do not like about this product.
Daryl Ann
Host, Owner in U.S.
Hospitality, 2-10 Employees
Used the Software for: 2+ years
I love Reservation Key!
Comments: I love knowing that the online interface is up to date. I love being able to check just who canceled. I love that it saves everything even when I forget. I love that it connects to channel managers and Square. Did I mention that I love Reservation Key?
Pros:
First, this software is easy enough that an old Great Granny like me can do it. That in itself is a huge plus. Admittedly, it gives me an opportunity to learn and grow (senior brain plasticity is a good thing)! However, [SENSITIVE CONTENT HIDDEN] and his staff are ALWAYS timely in answering questions. The Forum provides quick answers from Customer Support and gives suggestions in one spot. The Forum is one of my favorite places to head when I have trouble. The videos also show just how to set things up. On a very personal level, I know that team lead developed this software and has remained at the helm of the business. Dealing with the owner directly is a huge plus. I feel like a well-loved family member rather than a business customer. What incredible customer service! I also love the housekeeping reports. Those keep us clean and take the confusion out of running multiple reservations. This year we added RV Sites and Hunting to our facility. Customer Support help was timely and generous. We've used Reservation Key for at least 10 years if my (admittedly elderly) brain serves me correctly. I would not think of changing! Thank you, Reservation Key, for being part of our lives and business!
Cons:
This software goes above and beyond my expectations. So grateful!
Alternatives Considered: ResNexus
Reasons for Choosing ReservationKey: I needed something that had more functionality. Boy, I hit a gold mine!
Reasons for Switching to ReservationKey: Price, flexibility and mainly customer support.