15 years helping Canadian businesses
choose better software
What Is ReservationKey?
ReservationKey is feature rich yet the most cost effective solution for the lodging industry. Our users include, Hotels, Motels, Campgrounds, Property Management and more. We offer a 30-day free trial, free set-up, free customization, multi-language with all the features found in other systems, but at a much lower price. Big enough to handle all your needs, yet low key enough where you can work directly with the owner and founder of the company. Serving thousands of clients for over 14 years.
Who Uses ReservationKey?
Booking system for independent properties in the hospitality industry such as Hotels, Motels, Resorts, Inns, Campgrounds, Cabins, Cottages & B&Bs. Our customers are very satisfied. Read our Reviews.
Where can ReservationKey be deployed?
Cloud-based
On-premise
---
About the vendor
ReservationKey
Located in San Ramon, US
Founded in 2007
ReservationKey pricing
Starting Price:
US$37.00/month
Yes, has free trial
No free version
ReservationKey does not have a free version but does offer a free trial. ReservationKey paid version starts at US$37.00/month.
About the vendor
ReservationKey
Located in San Ramon, US
Founded in 2007
ReservationKey videos and images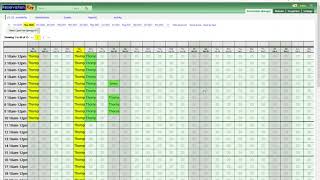 Features of ReservationKey
Activity Dashboard
Availability Management
Booking Management
Booking Notes
CRM Software
Calendar Management
Channel Management Software
Customer Support Software
Financial Management Software
For Vacation Rentals
Front Desk Management
GDS/OTA Integration
Group Reservations
Housekeeping Management
Multi-Channel Management
Online Booking
Payment Processing Software
Rate Management
Reporting & Statistics
Reporting/Analytics
Reservations Management
Third Party Integrations
Alternatives to ReservationKey
Reviews of ReservationKey
Charla
Owner/Operator in Canada
Verified LinkedIn User
Hospitality, 2–10 Employees
Used the Software for: 2+ years
Reviewer Source
So glad we signed on
Comments: I can truly say that our company growth was due, in large part, to implementing Reservation Key. I was originally a "One Woman Show" trying to keep on top of reservations, Guest Emails, Payments, Website Updates, etc. We adopted RK when we had 3 units. Today, our company has 22 units, and several staff members. Having access to this technology at such an easy Monthly Price and Easy Learning Curve meant that I could scale the business, and have more free time (and less frustration). Without RK, I would have easily been burnout once I hit 5 properties, and we would have never had the opportunity to provide employment to so many great people. I speak at Industry Events and "Have you considered ReservationKey?" seems to be a frequent piece of advice that I am giving attendees as they explain their personal frustration with choosing between Reservation Spreadsheets or Over-Priced Software. I know ... it sounds like too glowing of a review. I've used the ReservationKey since 2009. When any company over-delivers by as much as ReservationKey as over-delivered, it shouldn't be surprising that they have overly happy users willing to write long-winded online reviews. But if you don't believe that I am a real person, and a real user, just track us down on Google. Our Company is "Rockies Rentals". We are based in Canmore Alberta Canada. My name is Charla.
Pros:
Great Customer Service -- really responsive, and personable. The Built In Website, and Payments. Auto Scheduled Emails. No Contracts; No Set Up Fees. A great price -- well worth the fee even just for someone with one unit, or a small inn. Ease of use. Having Multiple Users. The Mobile Version -- I have easily been taking reservations from a hammock at the beach just on my Smart Phone.
Cons:
Because the software is made for a myriad of Hospitality Services Providers (Hotels, Campgrounds, BnBs, Vacation Rentals), it's hard to provide the right thing to a diverse group of users. That being said, the User Forum was amazing! If we encountered a quirk that worked well for a Hotel User, but not-quite-right for our needs, there would always be another helpful User who knew how to accomplish what we needed with just a few little User Tweaks. The entire User Forum was full of happy, generous users who were keen to share their ideas and help others.
Pelin
Complex General Manager in Germany
Hospitality, 10,000+ Employees
Used the Software for: 6-12 months
Reviewer Source
Great automation for multiple online room reservation channels
Comments: RezervationKey is making a great job for us by unifying the management of all sales channels at one place, that would be pretty good if they were adding local sales channels day by day and helps us to expand our marketing channels with more local online channels that are specific to each country.
Pros:
ReservationKey is compatible with website builders such as Wix and Squarespace -which is a great aspect from my view point- so that enables to create commision-free sales channels as well as unifying all online booking platforms that we are present in one single and lean management panel where we can update anything such as availability, change features, add new room types etc and ReservationKey reflects any update to all booking channels that we are integrated to.
Cons:
Although ReservationKey is great in covering the global reservation platforms it is weak to have integrations to the online booking platforms that are specific to each country. It would be the most powerful solution for us if it was helping us increasing our sales in local markets through local sales channels.
Alternatives Considered: ResNexus
Reasons for Choosing ReservationKey: Management panel of RezervationKey was easier to work in for our staff.
Switched From: WebReserv
Reasons for Switching to ReservationKey: RezervationKey's wix and squarespace integrations was the key factor in our decision.
Kristen
Bed and Breakfast Owner and Operator in US
Hospitality, 2–10 Employees
Used the Software for: 2+ years
Reviewer Source
Reservation Key is the backbone of our business
Comments: Reservation Key has been the backbone of our B&B business for three years now. The system software it's self is practical, reliable and user friendly from both the back end as an administrator and the front end for guests. And, while the platform has been wonderful, it is the customer service that really keeps us on point! Our account manager, [sensitive content hidden], is always professional incredibly efficient with response time, and there has never been a hiccup [sensitive content hidden] hasn't been able to get to the bottom of. We are so grateful for Res Key from software to customer care!
Pros:
customer service, user friendly, price point.
Cons:
Like any new platform, there is a learning curve. This is no fault of Res Key, but just learning a new system.
Hospitality, 2–10 Employees
Used the Software for: 2+ years
Reviewer Source
ReservationKey is a good value
Comments: ReservationKey has worked well, and has been improving over the years that we have been using it. Customer service has been good when issues have come up.
Pros:
The platform is flexible, with the ability to make many different reservation pages. It also works well with MyAllocator and iCal calendars for interfacing with outside platforms.
Cons:
1) Guest addresses are all in one text field...organizing marketing efforts to previous guests by zip code is problematic. 2) Only one alternate rate plan can be used in a reservation page...it would be helpful to have more available to apply to various marketing sources.
ReservationKey Response
5 years ago
It actually is possible to split the address field into multiple fields. This is an option under the Settings tab, Account Preferences. Thank you for using the system and for your review.
Hospitality, 11–50 Employees
Used the Software for: 2+ years
Reviewer Source
I have been a user for 19 years!
Comments: I love it!
Pros:
I have been working with Reservationkey for 19+ years. I am in awe of how the software has been so receptive to my needs and have been able to create and integrate the software to grow with my business!
Cons:
Flexing rates through the channel manager can be challenging although I chose to work with a more affordable channel manager. Reservationkey is compatible with more robust channel managers that cost a lot more. With channel management you get what you pay for but with Reservationkey, I get what I pay more and SO much more!