What Is Zapier?
Zapier connects the web apps SMBs use every day so you can save time, reduce tedious tasks, and focus on what matters most. Working with a larger team? Zapier for Companies offers collaboration and security features that let you bring the power of automation to your entire organization. In just a few minutes, you can set up automated workflows that connect over 4,000 of the most popular apps—no code required.
Who Uses Zapier?
Small and mid-sized businesses. Zapier helps business owners, marketers, IT professionals, operations professionals, and more unlock the power of automation.
Where can Zapier be deployed?
Cloud-based
On-premise
---
About the vendor
Zapier
Located in San Francisco, US
Founded in 2011
Countries available
Australia, Canada, United Kingdom, United States
Zapier pricing
Starting Price:
US$29.99/month
Yes, has free trial
Yes, has free version
Zapier has a free version and offers a free trial. Zapier paid version starts at US$29.99/month.
About the vendor
Zapier
Located in San Francisco, US
Founded in 2011
Countries available
Australia, Canada, United Kingdom, United States
Zapier videos and images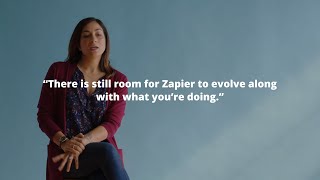 Features of Zapier
API
Access Controls/Permissions
Business Process Automation
Collaboration Tools
Compliance Management
Dashboard Software
ETL Software
Forms Automation Software
Integration Management
Integrations Management
No-Code
Pre-built Connectors
Process Modeling & Designing
Real Time Notifications
Rules-Based Workflow
Task Management Software
Third Party Integrations
Workflow Configuration
Workflow Management Software
Alejandro
Bachelor of Digital Marketing in Mexico
Verified LinkedIn User
Marketing & Advertising, 2–10 Employees
Used the Software for: 2+ years
Reviewer Source
Zapier the best application integrator
Comments: As a digital marketer, I use many applications that I cannot keep an eye on all day or manually pass information from one application to another and I also need all the data to be synchronized. Zapier makes my day easier, connecting the applications that I use, it executes tasks automatically according to the rules that I establish. I love it helps me save a lot of time and money by hiring programmers.
Pros:
Zapier changed the way I deal with applications and tasks. What I liked the most is the automation of work processes, another of its advantages is that Zapier includes a large list of applications to connect. Also that the Zaps are only executed with a filter rules. The user interface is nice so that anyone with basic knowledge can use it without the need to hire a programmer.
Cons:
The negative aspects of Zapier is that at the beginning it is difficult to take advantage of Zapier, due to the learning curve, the free version is very limited (the number of 'Zaps and applications), also something that I did not like is the customer support that sometimes does not provide solutions.
Alternatives Considered: Make
Reasons for Switching to Zapier: Facilidad de uso, precio, documentación y catálogo de aplicaciones.
Wes
VP in US
Verified LinkedIn User
Retail, 11–50 Employees
Used the Software for: 2+ years
Reviewer Source
Indispensable, Must Have SaaS
Comments: Stellar. I love it. You could not take it away from me.
Pros:
Zapier offers a number of benefits for users looking to streamline their workflow and automate repetitive tasks. The major components we use include:1. Automate time-consuming and repetitive tasks, freeing up time to focus on more important work.2. Zapier helps to simplify workflow and eliminate the need for manual data entry and other time-consuming tasks.3. Our automated workflows are less prone to human error - important tasks are completed accurately and efficiently.4. Allows teams to work more efficiently by automating the sharing of information and tasks across different platforms and services. We use it intensely to keep everyone updated via Slack integrations.5. Cost savings - Zapier integrations have, in my estimation, afforded us not having to hire at least 2 people to keep things updated.6. The extensive library of pre-built integrations makes it easy to create and manage automated workflows.
Cons:
Price: Zapier can be expensive. The more complex you get - the more it costs. There is definitely value of service, but that doesn't make it inexpensive.Limited functionality: the platform doesn't always offer the level of functionality we need, particularly when it comes to more complex workflows. There are several Zaps we would like to create, for instance, with Quickbooks online and their partner SOS Inventory. QBO offers Zaps with Sales Invoices but not Sale Receipts - this creates a frustrating blockage and you are relegated to having to deal with confusing API programming to get things to work.Reliability: while vaslty reliable, Zapier occasionally fails to trigger certain automated workflows, leading to delays or missed tasks.Technical support: support takes forever EVEN if you are on a higher service. The good news is that you only need support infrequently.
Alternatives Considered: OneSaas
Reasons for Switching to Zapier: OneSaas seemed not nearly as robust. Ultimately it was a moot point as they were acquired by Quickbooks.
Keith
Manager in US
Verified LinkedIn User
Financial Services Software, 2–10 Employees
Used the Software for: 2+ years
Reviewer Source
" Zap that App"
Comments: Zapier is a robust application that let you to schedule repetitive operations between several apps. Zapier can signal to another app to do a certain task when an event occurs in one app. In summary, Zapier is an robotic solution for smartphone apps and online apps through which integrates apps in order to enhance business workflows.
Pros:
It's fascinating to create Zaps. You can share Instagram post Twitter using a bot method. You can also post in Facebook RSS feeds.
Cons:
Their platform can slow down your browser. It's heavy on resources.
Verified Reviewer
Verified LinkedIn User
Internet, 51–200 Employees
Used the Software for: 2+ years
Reviewer Source
Save your time, go Zapier
Comments: I love the fact that you can use Zapier for so many different things that at one point, it becomes for you a reflex to think "Zapier" whenever someone is telling you about a new annoying task he has to do. You can automate your entire life, from personal usage to professional day-to-day tasks that take you a lot of time. I'm using Zapier for waking up in the morning, collecting data, fulfilling reports, sorting my emails, sending automatic answers, publishing on social media, creating music playlists... and that's just 10% of it.
Pros:
What really shines with Zapier is the ease of use, making it very accessible even for non-techie people within your team. After a quick training, they will be able to help themselves with basic automation without having to ask IT support every 10 minutes. Also, the variety of OotB integrations is impressive, there are literally just a few blank spots where you can't find what you were looking for, almost ready-to-go.
Cons:
The ease of use is also a disadvantage for Zapier: since it has a lot of OotB integrations and it's designed to be used by everybody, more technical people who like to build complex apps on their own will be easily frustrated and go to the competition for more freedom. Also, if you plan to do intensive usage of the tool, you will be quickly limited and need to buy a more expensive plan to fulfill your needs. Free version is okay for personal use, but the tool's scalability is not the best on the market.
Souvik
Graduate Engineer Trainee in India
Verified LinkedIn User
Automotive, 1,001–5,000 Employees
Used the Software for: 6-12 months
Reviewer Source
Zapier - A new innovation in the Intergartion Domain
Comments: The overall experience has been pretty amazing as it has helped me automate a lot of my daily tasks and thus helps me save more time on doing monotonous tasks and more focus on the important thinking part of my job.
Pros:
It makes multi app complex integration at the touch of a few clicks and thereby helps you save a lot of time and money by saving a lot on the backend coding segment
Cons:
The integrations are not customizable as per user preferences and the community can be improved a lot for the same purpose. Additionally the pricing can be decreased as in my opinion its quite expensive
Alternatives Considered: Pabbly Connect
Reasons for Switching to Zapier: Zapier had more trusted reviews and the varied integrations it offered was a big green flag