15 years helping Canadian businesses
choose better software
What Is Mailjet?
Discover our easy-to-use platform for designing and sending your email marketing campaigns, newsletters, and automated emails. Use our beautifully designed templates, or build from scratch with our intuitive drag-and-drop email editor. Create emails with your team and work in real-time with our collaboration tool.
Whether you're a solo entrepreneur or collaborating as a team, build emails that impact your customers and grow your business. Start a free trial today.
Who Uses Mailjet?
Mailjet has offices worldwide (including Paris, New York, London and Berlin) and operates with 100k+ clients and partners across 150 countries.
Where can Mailjet be deployed?
Cloud-based
On-premise
---
Mailjet support
Phone Support
24/7 (Live rep)
Chat
Mailjet pricing
Starting Price:
US$15.00/month
Yes, has free trial
Yes, has free version
Mailjet has a free version and offers a free trial. Mailjet paid version starts at US$15.00/month.
Pricing plans
get a free trial
Mailjet support
Phone Support
24/7 (Live rep)
Chat
Mailjet videos and images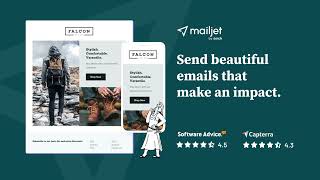 Features of Mailjet
AB Testing
API
Alerts/Notifications
Auto-Responders
CAN SPAM Compliance
Campaign Analytics
Campaign Scheduling
Click Tracking
Contact Management Software
Customer Segmentation
Customizable Fields
Domain Check
Email Campaign Management
Email Management Software
Email Templates
Email Tracking Software
Event Triggered Actions
List Management
Message Personalization
Mobile Optimized Emails
Multi-Campaign
Real Time Notifications
Reporting/Analytics
Simple Mail Transfer Protocol (SMTP)
Subscriber Management
Syntax Check
Team Management Software
Template Management
Third Party Integrations
WYSIWYG Editor
Mark
Vice President of Information Technology in US
Verified LinkedIn User
Market Research Software, 11–50 Employees
Used the Software for: 2+ years
Reviewer Source
Great mailing platform
Comments: Easy to setup, I like how they instruct you to setup your mailing domain in an optimal way and guide you through the process.
Pros:
The overall design of the platform as well as the email builder is one of the best i've seen. It makes it possible for even novice users to design templates and send email campaigns.
Cons:
Price is a bit high compared to some open source and self hosted options like OemPro but for a SASS product its still pretty good.
Alternatives Considered: Oempro
Reasons for Switching to Mailjet: We actually use both for redundancy
Alexandra
CEO in Estonia
Verified LinkedIn User
Marketing & Advertising, Self Employed
Used the Software for: Free Trial
Reviewer Source
A good software but with some flaws
Comments: So far, given we can fix the issues in connecting to our custom domain, we are satisfied. With some reservations mentioned above.
Pros:
I like the fact that Mailjet has a very clear UI- and it is easy to find and craft new campaigns. They have also been one of the very first email systems to be GDPr compliant- and hence on my radar for very long. We had an account since 2019, but only recently started to consider automating our emails. The trial limit for daily emails is generous too.
Cons:
However, there are some issues. Connecting our domain was problematic, and email automation is only available to premium users. This should be available to free users as well, maybe limiting the free daily emails at the same time. It takes time to think automation processes through, and 30 days trial might be too little to decide whether the system is right for a user or not. I at least take time to properly test a software.
Alternatives Considered: MailerLite and Drip
Reasons for Choosing Mailjet: I used Mailchimp ages ago, and did not like their UI.
Switched From: Mailchimp
Reasons for Switching to Mailjet: Cheaper than Drip, More free emails than MailerLite, and GDPR compliant
Sarah
Research Analyst in US
Market Research Software, Self Employed
Used the Software for: 2+ years
Reviewer Source
Mail In A Hurry!
Pros:
There is an extensive and wide variety of email templates that allow you to send and receive emails based around marketing campaigns and/or automated messages, I love that it allows you to add and remove people to the structure of your math emails. Also, you can lock the email itself and only allow certain permissions to certain people so it gives each person a role that you give access via the mail jet system
Cons:
This is definitely a more fifth Decatur set up, this will work excellent with B2b but it's not self owned start-up business focused.
Marketing & Advertising, 2–10 Employees
Used the Software for: 1+ year
Reviewer Source
Easy To Setup, Crazy Terms of Service
Comments: It started off good, as an easy to use software but later turned into a nightmare working with their support.
Pros:
It's really easy to set up and get going on a WordPress site, and I liked being able to authenticate by confirming an email rather than by DNS if I wanted.
Cons:
Their TOS and enforcement of it is absolutely insane. One of my sites sends transactional emails for the purchase of firearms accessories (think like holsters, nothing regulated). They blocked my entire account and all sites associated because of that. I removed the site they flagged, thinking I'd get my account back. The compliance team then had to review my account, and then said one site I had linked which does landscaping is also against their terms because they don't allow real estate sales/related services. I should note, none of the sites on my account were sending any sort of newsletter or promotional emails. It was all contact form submissions and purchase receipts.
Alternatives Considered: Mailchimp Transactional Email and SendGrid
Reasons for Switching to Mailjet: It seemed easier to use at the time. I've since moved on.
Sinch Response
4 years ago
Hi Alexander, Thanks for your feedback and we apologize for any issues you had with our service. Ultimately our sending policy is in place to avoid issues of spam, and illicit sending. We restrict content on self-service plans related to fire arms and real estate due to recommendations from ISPs. Thanks for understanding. Best, The Mailjet team
Frank
Independent Artist and Photographer in US
Fine Art, 2–10 Employees
Used the Software for: Free Trial
Reviewer Source
MailJet Email Software is Best for Experienced Marketers
Comments: The delivery of emails and the stats is very detailed is their strong point so you get the complete picture of your campaigns.
Pros:
The system they use to send and deliver your emails is well done, but can get quite detailed. Keep in mind this is how your mails get a high deliverablility.
Cons:
This softward is strongly designed for team colaboration, and the learning curve is quite high. I also tried to contact support and it took them a long time to get back to me, and then several exchanges by email to get my inquiry solved.
Alternatives Considered: MailerLite, Sender and Benchmark Email
Reasons for Choosing Mailjet: I was going to buy email marketing from my website hosting service, but learned they used a white label of MailJet. So I went right to the source to ty the free option to see how I liked it. I didn't.
Switched From: Constant Contact
Reasons for Switching to Mailjet: Their marketing about how they get the emails deivered and how they are located in Europe appealed to me.