What Is SolarWinds Service Desk?
SolarWinds Service Desk is a cloud-based, IT help desk solution that has helped organizations reduce cost per ticket by up to 15% and issue resolution time by up to 48% with smart ticket routing, automated workflows, and integrated asset management. This, plus an AI-powered knowledge base, can equip your employees with the resources needed to solve problems quickly. Set up can be done in days instead of months & can fit seamlessly into your business by integrating with 200+ cloud applications.
Who Uses SolarWinds Service Desk?
Ideally suited for companies of any size, anywhere, with sophisticated IT organizations looking to deliver superior service to their internal customers (employees & internal other requesters).
Where can SolarWinds Service Desk be deployed?
Cloud-based
On-premise
---
About the vendor
SolarWinds
Located in Tulsa, US
Founded in 1999
SolarWinds Service Desk support
Phone Support
24/7 (Live rep)
Chat
SolarWinds Service Desk pricing
Starting Price:
US$19.00/month
Yes, has free trial
No free version
SolarWinds Service Desk does not have a free version but does offer a free trial. SolarWinds Service Desk paid version starts at US$19.00/month.
Pricing plans
get a free trial
About the vendor
SolarWinds
Located in Tulsa, US
Founded in 1999
SolarWinds Service Desk support
Phone Support
24/7 (Live rep)
Chat
SolarWinds Service Desk videos and images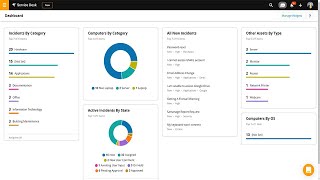 Features of SolarWinds Service Desk
Access Controls/Permissions
Activity Dashboard
Alerts / Escalation
Alerts/Notifications
Asset Tracking Software
Assignment Management
Audit Management
Automated Routing
CMDB Software
Call Center Management
Change Management Software
Collaboration Tools
Compliance Management
Compliance Tracking
Configuration Management
Contact Database
Contract/License Management
Cost Tracking
Customer Support Software
Customizable Branding
Customizable Reports
Customizable Templates
Dashboard Software
Device Auto Discovery
Drag & Drop
Email Management Software
Full Text Search
Help Desk Management
IT Asset Management Software
Incident Management Software
Inventory Management Software
Issue Auditing
Knowledge Base Management
Knowledge Management Software
License Management Software
Live Chat Software
Maintenance Scheduling
Mobile Access
Multi-Channel Communication
Multi-Language
Performance Metrics
Prioritization
Problem Management
Real Time Notifications
Real Time Reporting
Relationship Mapping
Release Management
Remote Access/Control
Reporting/Analytics
Self Service Portal
Service Catalog
Service Level Agreement (SLA) Management
Supplier Management
Support Ticket Management
Task Management Software
Ticket Management
Widgets
Workflow Configuration
Workflow Management Software
Alternatives to SolarWinds Service Desk
Reviews of SolarWinds Service Desk
Sarah
System Administrator in US
Verified LinkedIn User
Information Technology & Services, 10,000+ Employees
Used the Software for: 2+ years
An excellent tool for service management
Comments: For the most part, Solarwinds Service Desk is utilized for automating incident generation through integration and reducing the amount of human work required. Custom dashboards make it possible to see the weekly, monthly, and yearly trends in various types of tickets, such as incidents, requests, changes, and issues, and to perform analysis.
Pros:
It offers a wide range of functions, such as incident tools and an employee support site. In addition, the user interface is simple and clear. To reassign requests, learn about what happened, and access the information you need is simple. I no longer have to worry about maintaining the backend systems. Instead of getting bogged down in making sure all systems are up-to-date, we can concentrate on our business and providing excellent customer support.
Cons:
When a ticket is being updated, the user is not informed that the ticket is in the process of being updated. Moreover, the fact that the search engine does not provide slack binding should be stressed more strongly. During the dynamic page refresh, the page becomes unresponsive.
Krishna
Human Resources Generalist in US
Verified LinkedIn User
Hospital & Health Care, 5,001-10,000 Employees
Used the Software for: 2+ years
It is simple to implement, administer, and update
Comments: In my opinion, web-based program solutions are the way of the future, and SolarWinds is right there with them. I truly mean it when I say I'd want to switch to SolarWinds because of the ease with which everything can be done from a web browser.
Pros:
I like that we can measure time, open rates, add project and task users, and connect files to our projects and tasks. This is a must-have for me in my current position. It's a great way to stay on top of tasks. All task updates are sent to you in real time. Support and asset management use cases are at the bleeding edge of this technology here. An good solution that meets the majority of ITSM criteria is available.
Cons:
The task arrangement for submitting new tickets might be a little complicated at times. Most users won't be able to see or realize how much backend setup is required, thus someone has to do it or teach them.
Verified Reviewer
System Support Specialist II in US
Verified LinkedIn User
Banking, 201-500 Employees
Used the Software for: 2+ years
Good Product for ITIL Best practices
Comments: I am the administrator of the application in my Managed Information Services department. I selected this product, deployed this product and administer this product and the setup and use of the product is intuitive and easy to master quickly.
Pros:
The ease of creating automated workflows makes the product easy to use and creates efficiencies by automating mundane manual processes. Having the ability to work, escalate and integrate tickets all from a single pane of glass is also a good feature
Cons:
Reporting is a downfall for a majority of apps these days. While some of this is mitigated through the ability to filter and export list results, more functionality in reporting is needed.
Alternatives Considered: ManageEngine ServiceDesk Plus
Reasons for Choosing SolarWinds Service Desk: Cost, and functionality issues
Switched From: FootPrints
Reasons for Switching to SolarWinds Service Desk: cloud based and better user interface.
Dillon
Service Delivery Project Manager in US
Environmental Services, 501-1,000 Employees
Used the Software for: 6-12 months
Huge Upgrade
Comments: Overall experience with this product have been great so far. Our employees use this platform more than our last and they have also been able to find their own solutions more. I really love the support from the customer support a lot. The support is always right on top of any issues and I have experience very quick responses when I do need to contact them. A+ on customer support.
Pros:
I like how easy the GUI is, editing the categories and assigning the ticket to a support tech is all very simple right from the first view. I also like how there is a quick view option where you can view the ticket without having to leave the screen.
Cons:
We have an issue with Tasks. They cannot be changed once a service catalog item is ran which has made us have to create work around or create extra tickets in order for multiple people to work on one catalog item.
Alternatives Considered: Zendesk Suite
Reasons for Choosing SolarWinds Service Desk: We needed a friendlier GUI with more User integration.
Switched From: KACE
Reasons for Switching to SolarWinds Service Desk: Cost to features were a big plus. We got everything out of the box with Service Desk that we need currently.
Jean-Louis
VP IT in Canada
Electrical/Electronic Manufacturing, 1,001-5,000 Employees
Used the Software for: 1+ year
Source: SoftwareAdvice
Enterprise Quality at a reasonable implementation cost.
Comments: Great ITSM alternative to the big guys, with all the same features, without the price tag. They offer a full feature trial and will help you with a PoC. Great value, positive ROI and superior TOC. Have a look at this one!
Pros:
This tool is a hidden gem. Compared to it's peers in the ITSM space, SAmanage has all the features you would expect from an Enterprise ITSM without the Enterprise price tag. It's cloud based SAAS model saves you from the hassles of onprem setups, and if you are global it just works for all your users. The feature set is rich, I recommend you do a Proof of Concept (POC) with them to gain an appreciation of everything the product gives you. The on-boarding process was very well orchestrated, they guide your team through the whole implementation via a Trello board. Everything is spelled out for you, there is little risk here. Truly an Enterprise Grade Product at a reasonable SMB Total Cost of Ownership (or Subscription-ship). Worth having a look.
Cons:
The product does not hit the radar in terms of "Known" go to ITSMs. So this left us to do more research and vetting with their existing clients. Also, because they are lean on price, they do not spend a lot of time "Wining and Dinning" you, and this gave us the false impression of the organization being small. They are not small as we found out in the implementation phase. They are a true SAAS so they don't have travelling sales people with territory in the traditional sense, again it gave us the wrong impression of their sophistication. Some of the features compared to the expensive ITSM packages are not as robust, but for the prices difference we can accept those as is. They meet our needs as is. I do recommend you do a PoC with them to gain a full appreciation for what they do offer and where some of their simplicity map-out for your needs.