Podio
What Is Podio?
Citrix Podio is the new way to organize, communicate and get work done. More than 500,000 organizations use Podio to run projects and company departments. This includes everyone from small growing
Read more
companies using Podio to run their entire businesses to innovative teams in enterprises. Podio speeds communication and provides the transparency and accountability needed for efficient teamwork, by enabling people to organize and track work in one easy-to-use place.
Read less
Who Uses Podio?
The flexibility of Podio means it's used by everyone from startups to companies with thousands of users.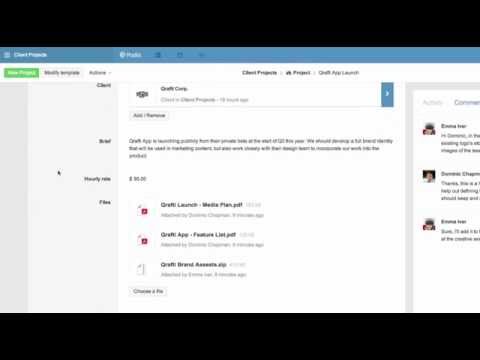 Not sure about Podio? Compare with a popular alternative
Julian
CEO in Spain
Verified LinkedIn User
Education Management, 11-50 Employees
Used the Software for: 2+ years
Alternatives Considered:
Amazing platform for managing anything
Pros:
Podio is a fully featured platform that allows you to manage any process. We use it as our ERP and we manage all our company processes there. We are a corporate training organization and we sell workshops. In podio we create and keep track from the beginning of the process, the delivery of the courses and the follow up. We have developed with time a quite complex and at the same time simple custom platform for our needs.
Cons:
Reporting is quite limited and not very customizable. Also views could be more sophisticated and customizable.
Justin
Project Manager/Estimator in US
Construction, 501-1,000 Employees
Used the Software for: 1+ year
Alternatives Considered:
Serves it's purpose
Comments: The big boss also loves this program, because it can generate many different reports for him, from bid activity, pending logs, securement logs, win percentages with different customers or geographic areas. allows him to see many different metrics with just a few clicks.
Pros:
The website is incredibly customizable, which allows you make this program perform many tasks that vary greatly. Our main purpose was to use this as a bid center for our company, allowing all of our branches to see who was bidding which jobs. After setting that up, we were able to have podio send out reminders after certain amounts of time to follow up on the bid results. If we were awarded the job, it will then send out notices to our purchasing department, project managers, and super intendents with the relevant information (start end dates, contract prices, labor hours estimated, location, contact info, etc). It is very helpful to make sure our branches do not double up estimating the same projects.
Cons:
Being very customizable also means it can be quite tedious to set up initially. There are, however, many premade modules you can either use as is, or customize to fit you needs.
Podio Response
3 years ago
Hi Justin, thanks for the review! Much appreciated. Cheers, Sara from Podio
Real Estate, 2-10 Employees
Used the Software for: 2+ years
Podio is the best CRM
Comments: Overall Podio is so much better than every other CRM we have used. I've recommended it to everyone in my industry.
Pros:
I love how we can customize everything and how many integrations are supported.
Cons:
Not a fan of the UI. Looks outdated and can be confusing for new users.
Verified Reviewer
Owner in US
Verified LinkedIn User
Marketing & Advertising, 2-10 Employees
Used the Software for: 1+ year
Not my favorite
Comments: It was good. Kept us organized more or less. Took a lot of time to setup and automate the processes.
Pros:
I liked Podio for my project management for its ease of use in terms of creating projects and composing the project with team members however we always needed outside assistance if we wanted to get very detailed with our tasks.
Cons:
Not that easy to learn how to use. Can be very intimidating to new employees. They are more hesitant to learn how to use it compared to Trello. Can be a little complicated to create the automatic work flows. You really do need to be an expert with the software to do that.
Eugenio
Professor in Spain
Education Management, 51-200 Employees
Used the Software for: 2+ years
Alternatives Considered:
a good collaboration tool for begginners of companies that can spend a lot of time in it
Comments: it is quite good, the best for us was to share information about leads
Pros:
we can have in one place all the leads we have and all the workers can upload information about that lead, so we check there all we have from them.
Cons:
the support it is not very good, the price it is quite high and at the end we were moving to MNprogram but we still could not do the change