What Is ShippingEasy?
ShippingEasy is the easiest online shipping platform for growing businesses. With ShippingEasy, merchants can access discounted USPS and UPS shipping rates, automate shipping, and get time back to focus on building their business. Robust integrations with all leading online channels allow merchants to manage orders, shipments, and customers from everywhere they sell, all in one easy-to-use platform.
Who Uses ShippingEasy?
E-commerce merchants who ship products to their customers, as well as brick-and-mortar merchants making the transition to online selling.
Where can ShippingEasy be deployed?
Cloud, SaaS, Web-based, Mac (Desktop), Windows (Desktop)
About the vendor
ShippingEasy
Located in Austin, U.S.
Founded in 2011
Phone Support
Chat
Countries available
United States
Languages
English, Spanish
ShippingEasy pricing
Starting Price:
US$5.00/month
Yes, has free trial
No free version
ShippingEasy does not have a free version but does offer a free trial. ShippingEasy paid version starts at US$5.00/month.
About the vendor
ShippingEasy
Located in Austin, U.S.
Founded in 2011
Phone Support
Chat
Countries available
United States
Languages
English, Spanish
ShippingEasy videos and images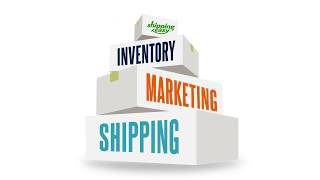 Compare ShippingEasy pricing with similar products
Features of ShippingEasy
API
Air Shipping
Alerts/Notifications
Barcode Generation
Barcode/Label Management
Barcoding/RFID
Campaign Management Software
Carrier Management
Cataloging/Categorization
Channel Management Software
Contact Database
Dispatch Management
Email Marketing Software
Event Triggered Actions
Ground Shipping
Inventory Management Software
Inventory Tracking
Kitting
Lead Management Software
Marketplace Integration
Multi-Campaign
Multi-Channel Management
Multi-Channel Marketing
Order Entry Software
Order Management Software
Order Tracking
Product Data Management Software
Promotions Management
Purchase Order Management
Reporting/Analytics
Requisition Management
Returns Management
Sales Reports
Shipment Price Calculation
Shipment Tracking Software
Shipping Labels
Shipping Management
Supplier Management
Template Management
Third Party Integrations
Alternatives to ShippingEasy
Joshua K.
Owner in U.S.
Verified LinkedIn User
Retail, 2-10 Employees
Used the Software for: 6-12 months
Alternatives Considered:
FREE Plan + Discounted USPS Rates!
Comments: I am a seller on a popular online marketplace that has recently increased their shipping rates for sellers. This led to a substantial profit decrease on lower-weight items shipped via USPS First-Class. The discounted rates on ShippingEasy beat the rates of the online marketplace. This has helped my business restore its profits on such items.
Pros:
The thing I absolutely like the most about ShippingEasy is that they offer a FREE plan with plenty of features - something that's hard to find elsewhere. The most useful feature included with all plans is the integration with an Amazon seller account. This allows me to print labels for orders received, view FBA inventory, and manage reviews. The free plan includes 50 shipments per month, integration with an unlimited number of stores/carts/marketplaces, and batch label printing.
Cons:
One feature that's lacking in the FREE plan is the ability to link carrier accounts other than USPS. It would be nice if I were able to link my FedEx account with ShippingEasy. This feature is included in the paid plans, however.
Verified Reviewer
CEO in U.S.
Verified LinkedIn User
Consumer Electronics, Self Employed
Used the Software for: 6-12 months
Alternatives Considered:
Shipping Made Easy.
Pros:
It's fairly easy to select the best service and ship, and there are inexpensive options for small flat letters, etc.
Cons:
I wish I could connect to my PayPal to pay for packages, rather than using a credit card and paying it off. I also wish it would show combinable orders instead of requiring me to select 'combine orders' box. Finally, it does not save package details when checking between services. Actually, I wish it would compare different services (UPS, USPS, FedEx) to be able to select the most cost-effective option.
Verified Reviewer
Admin in U.S.
Verified LinkedIn User
Retail, 2-10 Employees
Used the Software for: 1+ year
If you ship occasionally, this is for you
Pros:
the features are great and buying a label is super easy
Cons:
I'd like the shipping label order numbers to be modified to match the original order number
Ryan L.
Office Manager in U.S.
Health, Wellness & Fitness, 2-10 Employees
Used the Software for: 1-5 months
Bria rocks and you should do whatever it takes to keep her on your staff.
Comments: Cheaper insurance and contacting Bria (after several tries to other, less awesome, agents).
Pros:
Bria's help and support is the best part of making the change to this platform. The insurance rates are cheaper but with the extra time cost, I am not sure we are actually saving money.
Cons:
It is not user friendly, the labels print from newest to oldest and separate the international and priority from the first class instead of letting me print the labels in the order they were imported, you know, logically. Logic dictates that you would want to print the labels for the oldest orders first, not the newest orders. If I have 50 orders and they are jumbled by mail class and destination, it takes me 5 times longer than Stamps.com to print the batch because I have to do them individually so the orders go out in the order they were received. The training was about showing you all the "cool" (aka useless) features of the platform instead of making it easy for me to use and setting it up for what I need daily. Because of the training lacking usefulness, I have spent extra time sorting out the issues I face (thanks to Bria's help). Bria is the only agent you have that has been willing to help me love a platform I hate, everyone else just says "that feature is not available" or "you cannot do that in this platform" but Bria has worked to come up with creative solutions to get what I need out of this platform. Having to set everything up from packaging to rules is not saving me time and I have found this program to actually take up more of my time than Stamps.com did which I feel is misrepresented by your sales people. I was informed that I could streamline my batches but so far, it's been a lot more work and babysitting from me. Enter Bria the rock star!
ShippingEasy Response
5 years ago
We're thrilled to hear such great things about Bria's level of service. We have high standards when it comes to our customer service, and Bria certainly upholds those standards! Thank you for sharing your experience. As for the concern of functionality within the app itself, we are always looking to make adjustments and improvements based on customer feedback. We have added a feature request ticket based on your conversation with Bria. Once our development team can outline and prioritize the work, Bria will follow-up with you. In the meantime, Bria has informed us that she has presented you an alternative resolution using Shipping Rules. While not precisely what you were looking for, hopefully that can help in the interim. The platform is meant to make life easier for merchants like you, so we are sorry we didn¿t hit the mark right off-the-bat. Again, we appreciate your feedback and look forward to making sure ShippingEasy meets your shipping needs.
Brian S.
Assistant Executive Director in U.S.
Nonprofit Organization Management, 2-10 Employees
Used the Software for: 1+ year
Alternatives Considered:
Simple and easy shipping labels and shipping management
Comments: Our experience has been excellent. We create shipments and print labels when we need to, and there's no monthly fee to worry about when we aren't shipping anything.
Pros:
This was simple and easy to set up and use for a small business that doesn't have a need for a large and expensive shipping operation. We simply created our account and set up our payment method, then we create shipping labels for our shipments one at a time or in groups, and can compare prices for different carriers and shipping options.
Cons:
For our use there was no downside. We don't do a ton of shipping, just enough to need something convenient like ShippingEasy.