15 years helping Canadian businesses
choose better software
What Is Acuity Scheduling?
Meet the personal assistant for your schedule (only better) that works 24/7, behind the scenes to fill your calendar and take work off your plate. From the moment clients book with you, Acuity is there to automatically send branded & customized booking confirmations, deliver text reminders, let clients reschedule on their own, and process payments so your day-to-day runs smoother even as business get busier. All you need to do is show up at the right time.
Who Uses Acuity Scheduling?
Professional services and appointment-focused businesses looking to automate client bookings, cancellations, reminders, and payments by using the world's friendliest online scheduling software.
Where can Acuity Scheduling be deployed?
Cloud-based
On-premise
---
About the vendor
Squarespace
Founded in 2007
Acuity Scheduling support
Acuity Scheduling pricing
Starting Price:
US$16.00/month
Yes, has free trial
No free version
Acuity Scheduling does not have a free version but does offer a free trial. Acuity Scheduling paid version starts at US$16.00/month.
About the vendor
Squarespace
Founded in 2007
Acuity Scheduling support
Acuity Scheduling videos and images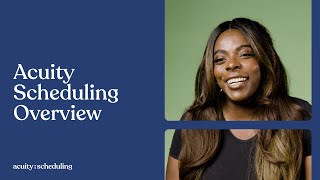 Features of Acuity Scheduling
Accounting Integration
Alerts/Notifications
Appointment Management
Appointment Scheduling Software
Attendance Management
Attendance Tracking Software
Automated Scheduling
Availability Management
Billing & Invoicing
Booking Management
Booking Notes
CRM Software
Calendar Management
Calendar Sync
Calendar/Reminder System
Class Management
Class Scheduling
Client Database
Client Management
Client Portal
Client Profiles
Communication Management
Confirmation/Reminders
Contact Database
Credit Card Processing
Customer Database
Customer Support Software
Customizable Branding
Customizable Forms
Customizable Templates
Document Management Software
Driver Scheduling
Email Reminders
Event Management Software
Faculty/Staff Management
Fitness Plan
For Accountants
For Barbershops
For Martial Arts
For Medical Spas
For Optometrists
For Salons and Spas
For Yoga/Pilates Studios
Forms Management
Gift Card Management
Group Reservations
HIPAA Compliant
Inventory Management Software
Mobile Access
Mobile App
Multi-Location
Multiple Appointment Types
Online Booking
Online Payments
Online Registration
Online Scheduling
Patient Intake
Patient Management Software
Patient Records Management
Patient Scheduling
Payment Processing Software
Performance Metrics
Physician Management
Progress Tracking
Real Time Updates
Real-time Scheduling
Recurring Appointments
Reminders
Reporting & Statistics
Reporting/Analytics
Rescheduling
Revenue Management Software
SMS Messaging
SMS Reminders
SOAP notes
Scheduling Software
Self Service Portal
Social Media Integration
Student Management
Task Management Software
Third Party Integrations
Virtual Meetings
Website Integration
Alternatives to Acuity Scheduling
Reviews of Acuity Scheduling
Dr. Jeanette
President in US
Verified LinkedIn User
Health, Wellness & Fitness, Self Employed
Used the Software for: 1+ year
Reviewer Source
Acuity Scheduling is an economical choice for scheduling and collecting payment
Comments: Acuity Scheduling was an excellent great start and affordable option for online scheduling, billing collections, and basic SOAP notes. It was user-friendly and easy to setup. It also allowed for multiple users that could be set up as administrators or clinicians. I ultimately had to leave the platform for a more advanced EMR system; however, I definitely recommend them as a great place to start or if your needs are more simple.
Pros:
Acuity Scheduling is very user-friendly and easy to setup. I liked being able to customize my account to my brand colors and logo. The online scheduling and billing features are easy for both clinician and client.
Cons:
The SOAP note features are not as robust. This is to be expected since they are not technically an EMR. For basic SOAP notes, they do the job. For more advanced SOAP notes, these can be created within the platform and are not difficult to do.
Alternatives Considered: PT Distinction and Mindbody
Reasons for Choosing Acuity Scheduling: Acuity Scheduling was simpler and more affordable. It also allowed me to have multiple disciplines like physical therapy, personal training, and massage therapy.
Switched From: WebPT and ClinicSense
Reasons for Switching to Acuity Scheduling: Affordability and ease of use. The ability for multiple users.
Melanie
Astrologer in US
Verified LinkedIn User
Health, Wellness & Fitness, Self Employed
Used the Software for: 2+ years
Reviewer Source
Standard of Excellence Within The Online Consulting World
Comments: If there is something I want to create within my services or ask during my client's scheduling process, I love that I can customize that within Acuity. The service truly offers everything you can think of to customize each step of the scheduling journey.
Pros:
It's an all-in-one platform to show your calendar, allow booking, and take payments. Acuity really shines in its paid plans because then you can easily integrate features. It streamlines the booking process and saves time on your end. The Free plan can be effective if you have some alternative options for taking payments outside of the Acuity platform.
Cons:
All of the integrations such as: sending reminder emails, accepting payment methods, syncing to your personal calendar, etc are all paid only features. The Free plan is okay to start but quite limited. The lowest-priced paid plan feels like too big of a step up for business owners who are setting up their business but not yet bringing in reliable income.
Alternatives Considered: Calendly
Reasons for Switching to Acuity Scheduling: I like that Acuity is the standard within the industry of consultation services. I've booked with other astrologers, tarot readers, business consultants, and most everyone uses Acuity. It is a platform I was familiar with seeing and, therefore, I bet my clients will also have an easier time navigating the service, too.
Health, Wellness & Fitness, 2–10 Employees
Used the Software for: 2+ years
Reviewer Source
Source: SoftwareAdvice
No customer service at all
Comments: Since squarespace very poor no response to issues that affect my customers
Pros:
We loved it all until squarespace got involved
Cons:
No customer service since merger with squarespace
Alternatives Considered: Booksy
Reasons for Switching to Acuity Scheduling: It suited all our needs in 2018. We are now looking at alternatives as Acuity have not responded to one single request for help with issues since the squarespace merger.
Melissa
Human Resources Generalist in US
Verified LinkedIn User
Hospital & Health Care, 10,000+ Employees
Used the Software for: 1+ year
Reviewer Source
Excellent reliability and adaptability in scheduling
Comments: It was useful for setting up my clients' group classes and individual coaching sessions. The platform's simplicity and integration with Stripe made it ideal. In addition, it included a space for a pre-payment terms and conditions clause.
Pros:
Making courses or hour-long coaching sessions to sell to clients was a breeze. The problem of missing appointments is addressed with Acuity. It's useful for projecting an image of competence and efficiency to clients. If I needed to set up another customer appointment, I would most certainly utilize it again.
Cons:
Acuity is a premium product that comes at a hefty price. Only if it could help me make money would I consider paying the price. A business with long-term profit potential might also benefit from this investment.
Amanda
Assistant Services Manager in Canada
Education Management, 51–200 Employees
Used the Software for: 1+ year
Reviewer Source
Ease of use for simple bookingsbt
Pros:
I like how user friendly it is for someone like me that doesn't like overly complicated bookings. I like that it easily allows me to schedule time/breaks in between appointments, so that I don't have to manually take it into consideration. It integrates breaks automatically for me.
Cons:
I wish that I can make multiple calendars more easily.
Alternatives Considered: Calendly and Google Calendar
Reasons for Choosing Acuity Scheduling: It was a cheaper price for more features
Switched From: Calendly
Reasons for Switching to Acuity Scheduling: Because we were able to customize the emails that go out to confirm appointments and remind students. It also more easily embedded into our website