15 years helping Canadian businesses
choose better software
Local product
What Is Jobber?
Black Friday exclusive: save up to 50% for 3 months ! Join over 200,000 home service pros already using Jobber. Jobber's powerful software helps you organize your business so you can win more jobs. Automate invoicing and start getting paid 4X faster. With Jobber, scheduling & dispatching has never been easier - and the mobile app lets you run your business from anywhere. Get started today.
Who Uses Jobber?
Jobber is perfect for established and growing home service businesses who need better organization, mobile access, and more efficient scheduling and billing processes.
Where can Jobber be deployed?
Cloud-based
On-premise
---
About the vendor
Jobber Software
Located in Edmonton, Canada
Founded in 2010
Jobber pricing
Starting Price:
US$19.00/month
Yes, has free trial
No free version
Jobber does not have a free version but does offer a free trial. Jobber paid version starts at US$19.00/month.
About the vendor
Jobber Software
Located in Edmonton, Canada
Founded in 2010
Jobber videos and images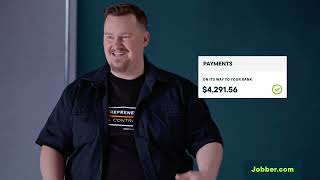 Features of Jobber
Access Controls/Permissions
Accounting Integration
Accounting Software
Activity Dashboard
Activity Tracking
Alerts/Notifications
Appointment Scheduling Software
Assignment Management
Attendance Tracking Software
Audit Management
Automated Quoting
Automated Scheduling
Availability Management
Bid Management
Billing & Invoicing
Budgeting/Forecasting
CRM Software
Calendar Management
Calendar Sync
Change Order Management
Client Database
Client Management
Client Portal
Client Tracking
Comment Library
Confirmation/Reminders
Contact Database
Contact Management Software
Contract/License Management
Contractor Database
Contractor Management Software
Cost Database
Cost Estimating
Customer Database
Customer History
Customer Management
Customer Portal
Customizable Branding
Customizable Invoices
Customizable Reports
Customizable Templates
Data Import/Export
Discount Management
Dispatch Management
Document Management Software
Document Storage
Drag & Drop
Driver Management
Electrical Estimating Software
Electronic Payments
Electronic Signature
Email Management Software
Employee Database
Employee Management
Employee Scheduling Software
Equipment Tracking
Estimating
Facility Scheduling
Fleet Management Software
For AEC Industry
For Arborists
For Carpet Cleaners
For Commercial and/or Industrial Electrical Contractors
For HVAC Companies
For Handyman Industry
For Janitorial Services
For Lawn Care
For Locksmiths
For Pest Control Companies
For Plumbing Industry
GPS
Geographic Maps
Geolocation
Historical Reporting
Inspection Management
Interaction Tracking
Invoice Creation
Invoice History
Invoice Management
Invoice Processing
Job Costing Software
Job Management
Job Scheduling
Job Tracking
Labor Forecasting
Lead Management Software
Location Tracking
Maintenance Scheduling
Messaging
Mobile Access
Mobile Alerts
Mobile App
Mobile Payments
Mobile Signature Capture
Multi-Location
Offline Access
Online Booking
Online Invoicing
Online Payments
Online Time Clock
Payment Collection in the Field
Payment Processing Software
Payroll Management
Performance Metrics
Pest Activity Tracking
Photo Capture
Photos/Images
Pricing Management
Pricing and Cost Calculations
Progress Reports
Project Management Software
Project Planning/Scheduling
Project Scheduling
Project Tracking Software
Purchase Order Management
QuickBooks Integration
Quotes/Estimates
Real Time Data
Real Time Monitoring
Real Time Notifications
Real Time Reporting
Real Time Updates
Real-time Scheduling
Recurring Appointments
Reminders
Report Summary
Reporting & Statistics
Reporting/Analytics
Residential
Route Optimization
Routing
SMS Messaging
Scheduling Software
Search/Filter
Self Service Portal
Service History
Status Tracking
Subcontractor Management
Surveys & Feedback
Takeoff Software
Task Management Software
Technician Management
Template Management
Templates
Third Party Integrations
Time & Attendance
Time & Expense Tracking
Time Tracking Software
Timesheet Management
Work Order Creation
Work Order Management
Workflow Management Software
Andy
Owner in Canada
Verified LinkedIn User
Facilities Services, 2–10 Employees
Used the Software for: 2+ years
Reviewer Source
Jobber is the BEST
Comments: I first started using jobber almost 5 years ago when I decided to test out the free trial. Since that day, I have continued using the software and have grown my business over 400%. I think one of my favourite parts about jobber is the level of exceptional customer service; not only online but also in person. Additionally, my work flow for my business has improved a vast amount over the years. Invoicing: What used to take me hours, is now a simple 30 minute task. Quoting: What used to be done on a scrap piece of paper, is now done on my iPhone. Scheduling: What used to be done on excel, is now organized through the online calendar which can be accessed anywhere, anytime. Overall, I would recommend jobber to anyone running a service based business, and would be happy to answer any further questions.
Pros:
-The jobber platform is very easy to use and can be learned quickly. -Batch invoice creation is extremely helpful. -Jobber makes quoting, booking and scheduling jobs a breeze! -Having a client hub is a real crowd pleaser.
Cons:
Jobber is overall a 5/5 software system that has been the best thing for helping my business grow. Over the almost 5 years of using Jobber, the only thing I would like to remind people is that once you delete something, there is no way to get it back. I accidentally deleted an invoice once, and it was gone for good. This was my mistake, so as long as you're more cautious than I was that day, you'll be good.
Jobber Software Response
5 years ago
Andy! Thanks so much for this thorough feedback. We're so proud to work with your team and are so glad to hear we've been able to help make improvements across your processes. Unfortunately we can't always recover deleted items, but sometimes we can, so always feel free to reach out to our Success Team in the event we can recover something just in case. Thanks again for taking the time to leave a review :)
Megan
Office Manager - Bookkeeper in US
Verified LinkedIn User
Construction, 11–50 Employees
Used the Software for: 6-12 months
Reviewer Source
Source: GetApp
Jobber Does it Better
Comments: We love Jobber. We have had a wonderful experience and continue to have a wonderful experience every single day. We are very very heavy users of this product and we are very happy with this product! Their customer support is phenomenal as well. Available by chat almost always within a minute or so and they are always INCREDIBLY helpful!
Pros:
We love the Jobs being able to be assigned to our Tech's and crews in real time. We love the GPS feature for when homeowners claim that a crew member was or was not there when they said they were. We love the invoice and payment all being directly attached to the job for easy research or review. We love the scheduler and the ability to send booking confirmations in multiple formats. We love the automated Job Completion emails (especially for our property manager clients). There's more but it would take too long.
Cons:
The only thing I don't love about Jobber is when I want to send a booking confirmation or an invoice to a tenant AND the property manager, it will overwrite the phone number in the Client's field due to our connection with Quickbooks Online. It is a glitch that they don't have pointed right at this time, the newly added phone number automatically gets added as the "Main" phone number for the client and then when it syncs to QBO it overwrites the main number in QBO and keeps overwriting the phone # as Main back and forth until we can catch it and delete the auto saved phone number and remark the Client's phone as the main phone. It is a clunky process for us.
Alternatives Considered: Housecall Pro
Reasons for Choosing Jobber: Quickbooks time did not integrate the hours to the projects properly so even though the Project was in Quickbooks and QB Time they did not speak to one another nor were the invoices attached to the Project correctly and 2 separate log ins for the same software is time consuming and clunky. Needing to have two log ins for our Techs, 1 for time tracking and another for expense tracking and then another for the calendar for our clients and staff was just far too much for our crews to manage while in the field and on the go.
Switched From: QuickBooks Time and Google Calendar
Reasons for Switching to Jobber: Cost of the product and the customer service aspect is what caused the final decision to be Jobber
Jobber Software Response
6 months ago
Hello Megan! Thank you so much for the wonderful review. We think it's great that you are benefitting from the GPS waypoints feature and the client communications tools. We love that you love, invoicing and Jobber Payments! Thank you for the feedback on the client sync with the Quickbooks Online Integration. The Support Team is always happy to help and we are so glad that you are having such a fantastic Jobber experience. Take Care!
Consumer Services, 2–10 Employees
Used the Software for: 2+ years
Reviewer Source
Great software
Comments: Overall great experience
Pros:
Its functionality and user friendly interface
Cons:
Needs to have more job costing built in or product/service catalog for easy of quoting and also need to change route opt to be able to be set to certain days/team members. Also drag and drop feature NEEDS to be implimented into route opt. Route op is honestly a pain to use right now for a lawn service business
Alternatives Considered: SynkedUP and LMN
Reasons for Switching to Jobber: Seemed the most adoptable at the time
Jobber Software Response
2 months ago
Hey Gino! Thanks so much for taking the time to share your feedback with us here, especially around job costing! With routing, we can imagine that's a hugely important feature for lawn service businesses like yours. We'd love to connect with you to chat more about what's available now that you'd mentioned in your review and also about your routing wish list, so please don't hesitate to get in touch with our Support team at [email protected] or 1-888-721-1115 (ext. 1). It'd be awesome to learn more about how we can make Jobber even more helpful for you!
Construction, 2–10 Employees
Used the Software for: 1+ year
Reviewer Source
Source: SoftwareAdvice
Run away, don't walk. If you get in, you will be TRAPPED there.
Comments: Horrible. They hooked me with special pricing and then it's done nothing but go up ever since. Jobber payments is a trap. They have horrible, impossible to understand policies regarding your first payment and then again with disputes and especially with customer service. They take NO RESPONSIBILTY whatsoever for anything that their actions or policies cause. Customer service is hit or miss. I love when I get one with an attitude., and that happens a lot. They appear professional, but make little comments and digs. They will absolutely never break character when they are defending one of their crap policies that make no sense though. Tha much is consistent. Again, the policies are ridiculous. I messaged to have management call me yesterday and when I got home, I found a message asking me "why" and telling me they "can't send to management" until I tell them why I want to talk to them. Then, they tell me it's going to be a couple days before someone calls, THE NEXT DAY!! Way to handle an unhappy customer, I guess.
Pros:
Reminders and automatic follow ups. Being able to alert the customer that I'm on the way and to bring up directions to their house.
Cons:
Just an all around bad experience. I feel trapped now cause I have so much in their system and don't have time or energy to move it all over. They have finally pushing me over the line though and I'm working on getting it all moved over... slowly. Can't rely on scheduling notifications. The "Policies" regarding payments all the way around, disputes and how they handle 3rd party vendors is disgraceful. I have almost lost my company THREE TIMES because of them messing with my money. When I call, it's not their fault and they will do NOTHING to fix or or help, in any wa.
Jobber Software Response
2 weeks ago
Hey Joshua! We're so sorry to hear that you haven't had the best experience with us. We understand that getting paid as quickly as possible is super important for businesses and we'd love to look into your situation more to see how we can help. Someone from our Support team will be reaching out shortly!
Bradley
Administrative Assitant, Marketing Lead in Canada
Electrical/Electronic Manufacturing, 2–10 Employees
Used the Software for: 2+ years
Reviewer Source
Jobber from an Electrical Company
Pros:
The dashboard is visualling appealing. I enjoy the customer client hub that is with Jobber. I enjoy the live chat as well as calling in to chat with them about any confusion I may have. We enjoy the expenses that can be added with a total amount.
Cons:
I would enjoy Jobber more if they had more options with setting up quote follow-up notifications to send to the client. I would like the option to customize more messages that can be sent out as well as a bigger word count.
Jobber Software Response
3 months ago
Hey Bradley, We love that you enjoy the client hub and expense tracking features. We really appreciate the feedback on quote follow-ups and templates and will be sure to share that with the team. It sounds like our Support Team has been helpful in the past, so if you need anything or have more feedback you know where to find us! Thank you so much for the review!