What Is Netigate?
Netigate is a feedback platform that allows you to collect and manage valuable business insights using online surveys. Specialising in Voice of the Customer and Voice of the Employee feedback, Netigate is the complete solution for companies that want to take positive action.
We combine a user-friendly survey platform with in-house expertise to bring you advanced data analysis, numerous survey distribution methods, real-time reporting, expert-crafted templates, GDPR compliance, and much more.
Who Uses Netigate?
Enterprise feedback management. HR departments. Business development and marketing teams. Companies requiring GDPR-compliant providers.
Where can Netigate be deployed?
Cloud, SaaS, Web-based
About the vendor
by Netigate
Founded in 2005
Phone Support
Chat
Countries available
Austria, Germany, Norway, Sweden, Switzerland
About the vendor
by Netigate
Founded in 2005
Phone Support
Chat
Countries available
Austria, Germany, Norway, Sweden, Switzerland
Netigate videos and images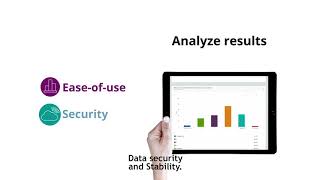 Compare Netigate pricing with similar products
Starting price
N/A
US$49.00/month
US$49.00/month
US$49.00/month
Birgit E.
Online & Secondary Market Researcher in Germany
Medical Devices, 10,000+ Employees
Used the Software for: 2+ years
Komfortable Online Market Research Software mit exzellenter Kundenbetreuung
Comments: Die Netigate Online-Software wird bei HARTMANN zentral von der Abteilung Market Research & Intelligence bereichs- und länderübergreifend eingesetzt und bietet alle Features, die man von einner Online-Befragungssoftware erwartet. Aktuell sind unsere internen Kunden unter anderem das Marketing, der Vertrieb (länderübergreifend), Kundensupport, Regulatory Affairs, Environment & Sustainability, Corporate Communications und Human Resources. Wir führen Kundenzufriedenheitsanalysen, Mitarbeiterbefragungen, Befragungen zur Produktzufriedenheit und zu Webinaren und viele andere Online-Befragungen mehr mit Netigate durch.
Momentan sind wir Testuser für die neue Netigate Version 8. Hierzu bietet die Netigate Academy Videos an, in denen neue Funktionen beschrieben und Einsatzmöglichkeiten erklärt werden. Das ist sehr hilfreich.
Pros:
Online-Befragungen sind mit Netigate einfach und komfortabel zu erstellen. Durch die Möglichkeit verschiedenartiger Verlinkungen können die Befragungen für Teilnehmer unterschiedlicher Zielgruppen passend gestaltet werden. Die Ergebnisse stehen übersichtlich und angepasst an unser Corporate Design (PPT) in verschiedenen Formaten (PPT, Excel, PDF) zur Verfügung. Alle Funktionen der Netigate Software sind im Online Support gut beschrieben. Darüber hinaus können Fragen direkt an den Customer Support adressiert werden. Besonders hilfreich ist auch, dass wir als Kunde einen direkten Ansprechpartner bei Netigate haben. Innerhalb kurzer Zeit werden Fragen beantwortet bzw. Problemstellungen untersucht und Lösungen angeboten.
Cons:
Gerade am Anfang wäre für uns ein Operating Manual (PDF) zum Ausdrucken hilfreich gewesen. Das gibt es in dieser Form nicht.
Netigate Response
9 months ago
Thank you for such a glowing review, Birgit. It's great to hear that Netigate is supporting your work at HARTMANN in so many different areas, and that you have been happy with the support you have received from our CS team and your account manager! Indeed, we don't currently offer a print manual for the platform, but I do hope that you will continue to find everything you need in our support center online. We do, of course, have a brand new center dedicated entirely to the new and improved Netigate platform, which I hope you have been enjoying!
Aleksandar D.
Senior Expert in Germany
Management Consulting, 1,001-5,000 Employees
Used the Software for: 2+ years
Overall great product that could be even better with sone additional power user features
Comments: Overall Netigate is a great solution. It offers not only the survey software, but a complete service around it. From designing the right questions to analysis.
Pros:
Netigate is a very easy to integrate and administrate. It offers great features, amazing reporting and analytics dashboards, extremely easy user onboarding via video tutorials and has intuitive interface. Extremely helpful and competent customer support team.
Cons:
Some features for power user could be improved, such as support for custom JavaScripts, scripting of custom functions and elements.
Netigate Response
8 months ago
Thank you for taking the time to leave your review, Aleksandar. It's wonderful to see that you're benefitting from our GDPR compliance, support teams, and all of the great features available with Netigate. Thank you also for your feedback, which I will pass along to the relevant teams!
Marie F.
HR Project and Process manager in Sweden
Consumer Services, 10,000+ Employees
Used the Software for: 2+ years
Overall feedback
Comments: Good.
Pros:
Easy to navigate, easy to set up customized surveys and good support
Cons:
Issuing in survey send outs, impacting the quality and UX
Netigate Response
2 years ago
Thank you for your review of Netigate. Sorry to hear you had issues with the survey send outs. We had a temporary issue with this a while back but the issue has been identified and addressed so the stability is now restored. This should not be an issue going forwards.
Niklas R.
Referent Marktforschung in Germany
Financial Services Software, 1,001-5,000 Employees
Used the Software for: 2+ years
Netigate: Great solution to conduct your own surveys
Comments: Deutsche Leasing is happy to have teamed-up with Netigate as we have used its online survey platform with our partners and employees extensively over the past years. In this context, Netigate's online survey solution has enabled us to get a better understanding of our external market environment as well as it has supported us to enhance the feedback culture within our company.
Pros:
In particular, we do like the following aspects of Netigate's online survey solution: - Very customer friendly product, its easy and convenient to set up your own surveys - Several options to deliver your survey to the recipient (e.g. unpersonal link, personalised link, QR-Code) - Professional look and feel (both for recipient of the survey and the market researcher) - Dashboards to evalute the results of your survey (incl. an export option to PPT/pdf files in your corporate design) - Good user support (Success center, onboarding support for new additional users as well as highly reachable technical support) - Data security (Netigate servers located in European Union)
Cons:
For us, there are not too many con's in regards to Netigate's online survey solutions. We would appreciate a visualised logic tree when you set up a survey. This feature would help to see if the logics, the user is set to implement in the questionnaire, actually work.
Netigate Response
9 months ago
Thank you for your review, Niklas! We're very pleased to hear that our platform has helped you to enhance the feedback culture at your organisation. Thank you also for your feedback regarding survey logic; we have passed this on to the relevant teams!
Frank K.
IT Organisator in Germany
Cosmetics, 10,000+ Employees
Used the Software for: 2+ years
Super Umfragesoftware!
Comments: Vor allem der Support und Austausch mit den Netigate KollegInnen ist immer zuvorkommend und es wurde versucht für alle Anliegen die Beste Lösung zu finden.
Pros:
In der neuen Version, gefällt mir die unkomplizierte Anlage von Umfragen am besten. Auch das Reporting im Tool selbst ist einfach und verständlich.
Cons:
Dass man noch zu wenig Änderungen selbst an den Designvorlagen vornehmen kann.
Netigate Response
9 months ago
Thanks for your review, Frank. I'm glad to hear that you're enjoying the new Netigate platform and our user-friendly reporting. Regarding design templates, please do feel free to reach out to your account manager who can help you to implement additional changes. We're always happy to help!