What Is Cloud ERP?
Run your entire business on a 100% cloud based ERP offering a single version, eliminating the bait and switch upselling typical of software sold by the version, edition, or module.
We're a reputable U.S. based family owned software company that gets involved in your success in a way our big-tech competitors can't (e.g. NetSuite, Acumatica, SAP).
Our discovery call is all about helping find a solution to your business, not the typical sales call designed to get you turned over to a "closer".
Who Uses Cloud ERP?
- Retail & Distribution - Manufacturing - Professional Services. As a 100% family owned small U.S. based software company, we take a very personal and direct approach to each customer we serve.
Where can Cloud ERP be deployed?
Cloud-based
On-premise
---
About the vendor
BizAutomation
Located in Irvine, US
Founded in 2003
Countries available
Canada, United States
Cloud ERP pricing
Starting Price:
US$79.95/month
Yes, has free trial
No free version
Cloud ERP does not have a free version but does offer a free trial. Cloud ERP paid version starts at US$79.95/month.
About the vendor
BizAutomation
Located in Irvine, US
Founded in 2003
Countries available
Canada, United States
Cloud ERP videos and images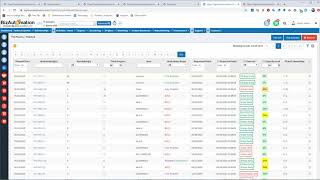 Features of Cloud ERP
3PL Management
Access Controls/Permissions
Accounting Software
Accounts Payable Software
Accounts Receivable Software
Activity Dashboard
Alerts/Notifications
Approval Process Control
Audit Trail
Backorder Management
Bank Reconciliation
Barcode/Ticket Scanning
Barcoding/RFID
Billing & Invoicing
Budgeting/Forecasting
CRM Software
Calendar Management
Calendar/Reminder System
Cataloging/Categorization
Client Portal
Commission Management
Communication Management
Contact Database
Contact Management Software
Cost Tracking
Customer Management
Customizable Branding
Customizable Fields
Customizable Invoices
Data Import/Export
Data Security
Demand Forecasting
Document Management Software
Document Storage
Email Management Software
Email Marketing Software
Enterprise Asset Management
Expense Tracking
Financial Analysis
Financial Management Software
Financial Reporting Software
Fixed Asset Management Software
For B2B
For Real Estate
Forecasting
General Ledger
HR Management
Integrated Business Operations
Interaction Tracking
Inventory Auditing
Inventory Control Software
Inventory Management Software
Inventory Optimization Software
Invoice Creation
Invoice History
Invoice Processing
Kitting
Lead Management Software
Lead Qualification
Marketing Automation Software
Mobile Access
Multi-Channel Marketing
Multi-Currency
Multi-Location
Online Invoicing
Order Entry Software
Order Fulfillment Software
Order Management Software
Order Tracking
Payment Options
Payroll Management
Procurement Management
Product Identification
Project Accounting Software
Promotions Management
Purchase Order Management
Purchasing & Receiving
Quality Management Software
Quotes/Estimates
Real Time Data
Receiving/Putaway Management
Recurring Orders
Reorder Management
Reordering
Reporting & Statistics
Reporting/Analytics
Returns Management
SEO Management
Sales & Operations Planning
Sales Forecasting Software
Sales Pipeline Management
Search/Filter
Segmentation
Shipping Management
Shopping Cart Software
Social Media Integration
Supplier Management
Supply Chain Management Software
Task Management Software
Tax Calculation
Tax Management Software
Third Party Integrations
Transaction Management
Warehouse Management Software
Website Management
Workflow Management Software
Alternatives to Cloud ERP
Elizabeth Jenkins
Director Of Operations in US
Verified LinkedIn User
Consumer Goods
Used the Software for: 6-12 months
Moving to BizAutomation from QuickBooks Enterprise was a leap of faith necessary for growth!
Comments: Ability to customize data input so that we can extract and parse to use in forecasting and planning
Pros:
Without a doubt the best feature of this software is the attention we got from the actual employees of the company, including some actual source code enhancements, that would never have happened at a big software company. We new that we needed to move from QuickBooks and could not afford some of the bigger players in the market, so we took a leap of faith based on what we saw as potential from BizAutomation. As with all software implementation - our move was not without some pain, but we truly appreciate the willingness of the company to take the time to listen to our needs and make improvements and modifications based on our business practice. We believe that Biz is the right system to provide the organization, information and access of information we need for our company to continue to grow
Cons:
The company is small and does not offer 24/7 customer support - but that said, they are very accessible and willing to do what is necessary even in "off-hours"
Chance
Business Solution Consultant in US
Computer Software, 2–10 Employees
Used the Software for: 1+ year
Perfect Solution for an SMB. Has the right features and functions with the right price!
Comments: You get a very strong and modern true cloud ERP solution for a fraction of the cost of NetSuite, Acumatica, SAP Business One or Sage
Pros:
The user interface is nice and modern, coupled with a customizable dashboard. Strong accounting, solid inventory control, great E-commerce and decent CRM. This solution hits the sweet spot for SMBs. Either they are outgrowing their current Quickbooks integrated with multiple other software solutions to get something similar to an ERP or those businesses have a ERP and that ERP is way too much for where they are at. The price is really high, and have more functions and features than they need. BizAutomation is perfect for those that are caught in between!
Cons:
It is a young software and has not matured yet, so in time these "least" comments will be addressed in the near future. If you have any proprietary software or other platforms that will be integrated, chances are it has not been done. Expect customization (not nearly as costly as you think). Reporting is not their strong suit and have been told they are working on an upgrade. Not for businesses that have subsidiaries, although that too is being added.
Shovon
Business Analyst in Bangladesh
Verified LinkedIn User
Consumer Goods, 501–1,000 Employees
Used the Software for: 1-5 months
A Good Solution for Small Business
Pros:
This CRM is ok for a small organization where you want to keep things in one plate and manage everything with one platform. As there are majority of requirements available in one place, integration became easy. With this a small company can manage Majority of tasks related to Accounting, Sales, Inventory management etc. as well as can view reports.
Cons:
Kind of a old fashioned interface for which sometimes it feels complicated. Also based on now a days different software, it could be more clean as most of softwares are.
Bryan
Business Owner in US
Consumer Goods, 11–50 Employees
Used the Software for: 1-5 months
Best Under 100 Employee Cloud ERP software from one of the last private ERP companies left
Comments: The key take away here was our experience with BizAutomation. Billable rates were reasonable, but the fact that they walked us through everything directly, and even performed some source code tweaks that helps our business (and added polish to the suite which their other subscribers likely benefited from) was great.
Pros:
As a software suite it is all inclusive. The fact that they offer a single all inclusive version with a pledge not to provide competing versions meant a lot to us.
Cons:
Documentation could be better but I understand why they rely so much on support and implementation. I'd rather have quality support than a 24/7 helpdesk with people that don't have true depth of knowledge.
Rajesh
Web & Graphics Designer in India
Computer Software, 51–200 Employees
Used the Software for: 2+ years
Comprehensive solution from a Small-Tech ERP company
Comments: As you'd expect from my glowing overview, I'm quite pleased, and of course, recommend this to any larger small business. Fair warning - If you're not growing or most of your employees are Tech Luddites, stay with Excel (In which you likely have bigger problems than ERP software).
Pros:
What I liked most is how flexible they were during the implementation process. One of my biggest complaints in dealing with Big-Tech ERP (no names to protect the guilty) is how everything gets nickel and dimed after the contract is signed, and money is exchanged. Sure, I'm not the one writing the checks, but I feel for clients in this predicament. Not the case here.
Cons:
The only thing I can think of is that like any solution this powerful, it takes time to get to know the ins and outs of the suite. The payoff is worth it, however.