What Is QT9 ERP?
Cloud ERP software made easy. Unify business processes with QT9's cloud-based ERP solution, whether you have a single location or multiple locations. Gain real-time visibility with 18+ modules for Bill of Materials, Supplier Management, Accounting, Inventory Control, Manufacturing Management, Job Scheduling & more. Digitally transform operations with FDA 21 CFR Part 11 electronic signatures & full-traceability ideal for Life Sciences, Medical Devices, Pharma, Aerospace & Plastic Manufacturing.
Who Uses QT9 ERP?
QT9 ERP enables small and medium businesses to digitally transform manual processes with unlimited scalability - Including highly-regulated medical device, pharma, plastics and food manufacturing.
Where can QT9 ERP be deployed?
Cloud-based
On-premise
---
About the vendor
QT9 Software
Located in Aurora, US
Founded in 2005
QT9 ERP pricing
Starting Price:
Yes, has free trial
No free version
QT9 ERP does not have a free version but does offer a free trial.
Pricing plans
get a free trial
About the vendor
QT9 Software
Located in Aurora, US
Founded in 2005
QT9 ERP videos and images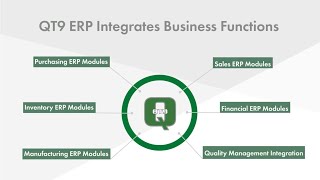 Features of QT9 ERP
Access Controls/Permissions
Accounting Integration
Accounting Software
Activity Dashboard
Aging Tracking
Alerts/Notifications
Approval Process Control
Automated Scheduling
Backorder Management
Barcode / Ticket Scanning
Barcoding/RFID
Billing & Invoicing
Bills of Material
Budgeting/Forecasting
Built-in Accounting
CRM Software
Capacity Management
Capacity Planning Software
Cash Management
Cataloging/Categorization
Change Management Software
Check Processing
Check-in/Check-out
Contact Database
Cost Tracking
Customer Statements
Customizable Invoices
Data Import/Export
Data Visualization Software
Demand Forecasting
Document Management Software
Duplicate Payment Alert
ERP
Electronic Funds Transfer
Enterprise Asset Management
Financial Management Software
Forecasting
Historical Reporting
Integrated Business Operations
Inventory Auditing
Inventory Control Software
Inventory Management Software
Inventory Optimization Software
Inventory Replenishment
Inventory Tracking
Invoice Creation
Invoice History
Invoice Processing
Item Management
Job Costing Software
Material Requirements Planning
Multi-Location
Online Invoicing
Order Entry Software
Order Fulfillment Software
Order Management Software
Order Tracking
Overpayment Processing
PO Reconciliation
Partial Payments
Performance Metrics
Product Identification
Production Management
Production Scheduling Software
Purchase Order Management
Purchasing Reports
Quality Control
Quality Management Software
Quotes/Estimates
Real Time Data
Receivables Ledger
Recurring Orders
Reorder Management
Reporting & Statistics
Reporting/Analytics
Requisition Management
Returns Management
Scheduling Software
Search/Filter
Shipping Management
Sourcing Management
Spend Management Software
Supplier Management
Supply Chain Management Software
Tax Calculation
Traceability
Vendor Management Software
Warehouse Management Software
What-if Analysis
Verified Reviewer
Operations Manager in US
Verified LinkedIn User
Food Production, 11-50 Employees
Used the Software for: 2+ years
Bought Years ago (2017) Good Value for ERP and pretty easy to navigate overall
Comments: It's been good. It's our own companies fault we haven't maximized the potential of the software due to lack of staffing. [SENSITIVE CONTENT HIDDEN] is always helpful when starting up and they had a great support staff (especially [SENSITIVE CONTENT HIDDEN]). I know he isn't there anymore. I haven't built up enough chemistry with the new support staff so I can't really comment too much on them but overall they seem to be doing very well so I take it they are good too.
Pros:
Overall the flow of the software is very easy to follow. I remember shopping for an ERP system around 3 years ago and this was by far the simplest to use and was also by far the cheapest as well which is obviously another great plus. I know it may be silly but I love the manual is always available to look at in a link. I don't use the software everyday anymore so when I get on it, it is always helpful to get a refresh if I forgot to do something say when adding a new product or process.
Cons:
Small things I feel like can be improved. I think the biggest one to me is for sales orders the product you are selling can only show up in the primary UOM. For example we have some products we use for manufacturing and sell them as well. For example, in our plant we use white sugar and also sell it to local customers. UOM white sugar is in lbs, when I sell the local customer a bag of sugar as well, the sales order defaults to lbs of sugar as opposed to being able to switch it off in that case to a bag of sugar. I always found that annoying because I think that is something that can easily be switched.
Alternatives Considered: SYSPRO
Reasons for Switching to QT9 ERP: Price and ease of use. [SENSITIVE CONTENT HIDDEN] navigated everything swiftly. Some of the other presentations I would ask them a simple question and they would be bouncing around different screens and they lost me very quickly. This ERP system seemed very simple to follow and that was main reason.
QT9 Software Response
2 years ago
Thanks for the positive review! We appreciate you taking the time to share your feedback, and we are glad to hear you find the QT9 ERP easy to navigate. Hopefully we can help you maximize the included features soon. Please feel free to reach out to our team at anytime. Thanks again!
Ryan
Production Coordinator in US
Plastics, 51-200 Employees
Used the Software for: 2+ years
Best ERP Value
Comments: Production scheduling and shipping is so much easier than the pen, paper, and spreadsheet way. Prior to using QT9 we would have to break into production runs to complete missed or late orders. Those are now issues of the past, any break in production runs are now due to a customers request. Investing money into QT9 and using all the functions has been the biggest business improvement we've had. From Sales Orders to Shipping all the information needed is in one place. Production runs very efficiently. If you have a small to medium sized company still operating the old way please look into QT9 to solve many of the issues you're having from purchasing, sales, production, and shipping. We found to meet our customers demands we didn't need to add additional machinery, just improve the production efficiency of what we already had.
Pros:
The software is easy to use for all users regardless of their computer skill level. It has reduced paperwork, increased productivity, and given us visibility into a packed warehouse.
Cons:
There are no glaring issues with the software. QT9 is constantly being improved and their support team is good about integrating feature requests.
Alternatives Considered: JobBOSS²
Reasons for Choosing QT9 ERP: The E2 system was never set up properly and management decided to stop updating it. It was determined we needed a functional ERP system badly.
Switched From: DELMIAworks and JobBOSS²
Reasons for Switching to QT9 ERP: We chose QT9 over the other options based on cost and the presentation given. QT9 continues to do what was promised in their sales pitch and work with us to make their software better.
QT9 Software Response
2 years ago
Ryan - Thank you very much for taking the time to write up your positive review for QT9 ERP. We appreciate it. We are happy to hear users find the software easy to use, and that it has helped increase your efficiency!
Joshua
Vice President of Operations in US
Plastics, 11-50 Employees
Used the Software for: 2+ years
QT9 is an Effective and Powerful Software
Comments: QT9 is a very user friendly software. We had previously used Epicor and found it to be overloaded with unnecessary modules which slowed our overall efficiency. The navigation is intuitive and allows for better overall understanding of the processes within our organization.
Pros:
Excellent customer service and training. The navigation within the software is intuitive and improves our efficiency. There are no hidden fees or extra features which require additional modules, the software came complete with everything we needed to run our organization. There are many features which allow users to see full screens of information rather than item by item like other software.
Cons:
Coming from an ERP software which more utilizes Standard Costing methods, QT9 implements Normal Costing Methods. While this gives us a better understanding of our actual costs, it required us to change many of our procedures and processes outside the ERP system. There are also some navigation menus that require a bit more understanding to fully utilize than we originally planned when we first implemented QT9.
Alternatives Considered: Kinetic
Reasons for Choosing QT9 ERP: Epicor had rather poor customer service compounded with an extremely high cost and unnecessary modules which we were forced to purchase but didn't need.
Switched From: Kinetic
Reasons for Switching to QT9 ERP: Ultimately, we felt that QT9 provided our company with a quality ERP system at a price point which made sense for our organization.
QT9 Software Response
3 years ago
Josh - Thank you for the positive review. We are happy to hear you have had a good experience with our customer service and training!
Pharmaceuticals, 11-50 Employees
Used the Software for: 6-12 months
EASY IMPLEMENTATION WITH GOOD CUSTOMER SERVICE SUPPORT
Comments: In previous companies I have worked with SAP Business One and SAP R3 (they both very good options). But I could mention the QT9 software was design to get a easier implementation understanding the most of requirement of manufacturing companies.
Pros:
The most impressive feature for us is the Cloud Data Base. We did not have to install a server in the company or keep a engineer checking the network. Another feature is the shop floor manager. This application is very easy for production employees to use and will helped us improve the traceability of materials for production orders.
Cons:
I think one area for improvement could be make easier the setting of the production schedule (the calendar).
Alternatives Considered: Quickbooks Online
Reasons for Switching to QT9 ERP: Easier implementation.
QT9 Software Response
2 years ago
Thank you for the positive review Augusto! We are happy to hear you like the Shop Floor Manager. Please reach out to us if you or anyone new on your teams needs training.
Plastics, 2-10 Employees
Used the Software for: 2+ years
QT9 ERP
Comments: I have heard about the benefits specifically of using the QT9 for ISO applications and how QT9 has been an incredible time saver. For me and sales, it has been a great program.
Pros:
I am mostly in sales and I like the ability to put together quotes for customers and also to search closed orders to help in my sales efforts. QT9 is very easy for me to work with.
Cons:
I am not real big on how the quotes get closed to pricing and locked. I like to be able to continually work on quotes as I am selling over time. This is probably more a personal choice as I understand that others like that feature.
QT9 Software Response
2 years ago
Nick - Thank you for sharing your positive review of QT9 ERP! We appreciate you taking the time to share your feedback. Please feel free to reach out to our team anytime.