Nimble
What Is Nimble?
Nimble is the simple, smart CRM for Office 365 & G Suite that works for you by automatically combining your contacts, communication histories, email inboxes, and calendar appointments with over 250+
Read more
SaaS business app contacts and social media connections (including Linkedin, Twitter, Facebook) into one unified team relationship manager.
Read less
Who Uses Nimble?
Business Services Media & Internet Retail Software Manufacturing Finance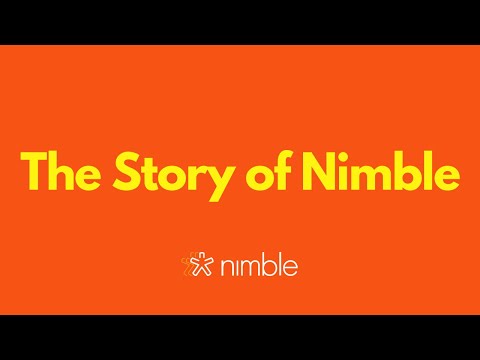 Not sure about Nimble? Compare with a popular alternative
Luke
Owner in UK
Verified LinkedIn User
Graphic Design Software, Self Employed
Used the Software for: 1-5 months
Alternatives Considered:
Nimble is a great CRM with unique features
Comments: Great experience with this, in the end I switched CRM to clientjoy due to cost but I would have a look at Nimble again in future
Pros:
I loved how I could use this with social media and emails. I could easily add social media contacts as leads when I stayed on the platform and I could do with same when I used email It's a lightweight CRM compared to the likes of hubspot, which made it a bit easier to navigate and use
Cons:
Costs can go up depending on how much storage you use on the CRM so it could get quite costly
Andrew
Storage administrator in US
Education Management, 1,001-5,000 Employees
Used the Software for: 2+ years
Alternatives Considered:
Great product all around!
Comments: Great! Easy to setup, kind of a set it and forget it system. When you need to manage it it is easy to navigate and use. Very few issues at all, HPE is great about finding potential issues before they become and actual issue.
Pros:
Almost everything! Speed, reliability, ease of upgrading, and support!
Cons:
Some of the software front end is a bit hard to read. The ability to use it is easy and okay but some of the information is presented to you in a way which isn't the easiest to understand (still way better than other products though)
Internet, 51-200 Employees
Used the Software for: 6-12 months
Making It Easier On Us All | Nimble Product Review
Comments: All in all, though, I think Nimble is definitely worth checking out if you're looking for something that will make your life easier when it comes to marketing automation!
Pros:
I've been using Nimble for a few months now, and I have to say, it's pretty great. It does everything that it says on the tin and then some.Here are some of the pros:1) It's easy to use. You can be up and running in no time at all.2) The support team is great—they reply quickly and are very helpful when answering questions or dealing issues you might have had while using the product.3) It integrates seamlessly with other popular services like Mailchimp or Google Analytics so that you don't have to worry about connecting multiple platforms yourself!
Cons:
Now for some cons:1) The pricing structure can be a bit confusing if you're new to this type of software; there are different plans depending on how many people will be using it within your organization (i.e., 5-person plan vs. 50-person plan). Make sure to ask your sales representative which one would be best suited for your business!
Morale Ugan
Student mentor in South Africa
Mechanical or Industrial Engineering, 1,001-5,000 Employees
Used the Software for: 2+ years
Effective and easy to use.
Comments: It's a very much great experience and makes it easy to keep record of deliveries and other important information.
Pros:
With Nimble you don't have to worry about storage and it helps with customer delivery, to track customers details and keep records of the customers you interacted with. It's very easy and simple to use in a very effective way.
Cons:
There's absolutely no bad thing about the software because you can do things that's needed to be done in a very easy way.
Parth
Software engineer in India
Verified LinkedIn User
E-Learning, 501-1,000 Employees
Used the Software for: 2+ years
Manage workplace using Nimble
Comments: Helps to create a great response system.
Pros:
1. Can manage the database on CRM FEATURE.2. Easy to use interface and attractive too.3. Not required additional training for use of software.
Cons:
1. Some time errors occurred while updating database